I know that these days, bagged vacuum cleaners are not what you see advertised on TV, but there are still some great benefits to having a bagged vacuum cleaner.
I have reviewed five of the very best bagged vacuum cleaners that are available right now. I have two kids and two dogs so as you can imagine there is not a day that goes by where my floors and sofas are not covered in some combination of Oreos and pet hair!
As well as giving my opinion on each of these vacuums, I will also share with you a few of the reasons that I feel a bagged vacuum can still be every bit as good as these fancy vacuums that have canisters.
So if you are in the market for a bagged vacuum cleaner, one of these five is going to be just what you are looking for.
Best Bagged Vacuum Cleaners in 2018
---
Hoover Platinum Collection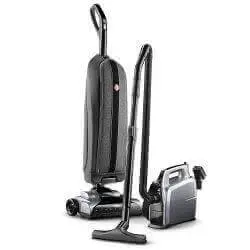 First up is the Hoover Platinum Collection Bagged Corded Upright Vacuum with Canister Vacuum. From the pictures, this looks like it is really heavy and bulky, but once I took it out of the packaging, I was very impressed with how lightweight it was. Not only is it lightweight, but it has some real "quality" to the feel of it.
The living room floor was the first place this was tested. I had left it a couple of days so there was a good cocktail of dog hair, Pringles crumbs and other assorted mess on the floor. The vacuum is powered by a belt driven motor and this allows it to get in really deep and pick up anything that gets in its way. I will admit, I was a bit skeptical about how well this would pick up my dog's hair (you would swear that we have werewolves living here!) but it picked it up no problem at all. There are actually two power settings which can be changed via a little switch on the handle.
Low Profile And Separate Canister Vacuum
I really liked the way that the vacuum can go quite flat, it allows you to get under your coffee table and if your sofas are high enough, even them. I found that I was able to do the whole living room very quickly thanks to this being powerful. What separates the Hoover Platinum Collection Bagged Corded Upright Vacuum with Canister Vacuum from all the rest is the fact that it comes with a bonus canister vacuum!
This is not connected to the main upright vac, instead, it is its own little extra unit that you can use to do the sofa's, beds, stairs and all those other awkward sports that an upright vacuum struggles with. Now the canister vacuum is not as powerful as the main vacuum, but I found that it was more than powerful enough for getting those extra areas that are usually a pain to clean with an upright. It is made all the easier thanks to the different tools/attachments that are included. One of which, the crevice tool was great at getting the junk the kids shove down the sides of the sofa.
HEPA Bags That Trap Dust And Allergens
Now as this is a bagged vacuum cleaner, you are probably wondering about changing the bags. The actual bags that are designed for this are HEPA friendly bags. This means that they trap all of the nasty dust and allergens inside it and do not allow them to escape back into your home which is great if you have allergies.
You, of course, can purchase cheaper bags if you want, but I feel that you are better spending the extra couple of bucks and getting the better bags. Replacing the bags can be a little tricky, but it is the kind of thing that you will get used to. Speaking of which, I have heard some folks have used this for as long as five months and not had to replace the bag! So you get a lot of vacuuming for your money with this vacuum.
Now, this is a corded vacuum and the length of the cord is around 24 feet. I will be honest and say that I wish that most of these vacuum companies would start using a 30 feet cord as standard. Still, it is not that big of a deal and you will at the very least be able to do a whole room with it plugged into just one outlet.
The Hoover Platinum Collection Bagged Corded Upright Vacuum with Canister Vacuum may be a little more pricey than you would like, but the inclusion of that portable canister vacuum makes it well worth the money. Not only that, this has far more power than you would think.
---
Oreck Commercial U2000R-1
Next up we have the Oreck Commercial U2000R-1 which is a commercial grade vacuum cleaner so you know this thing is going to be in it for the long haul with you. Oreck has made this as "no frills" as possible and that is something that I think many people will appreciate, especially in regards to the asking price which is well under 200 bucks.
Once I opened this up, there was a little assembly required, but it was as simple as screwing in two screws to connect it all together so do not be put off by the "assembly required" tag that this has. Its size is not bad at all and it will take up very little space in your closet, cupboard or wherever you decide to store it.
Read More: The best commercial vacuum cleaners of 2018
As always when testing a new vacuum cleaner, the living room was the first place that was going to put this through its paces. The Oreck Commercial U2000R-1 may not look like much at first glance, but the brushes Oreck have used are very cleverly designed and I found that the pet hair and the pastry my kids had dropped (which is weird as we had that 3 days ago!) were no match for this vacuum, I did have to go over it a couple of times, but thanks to this being lightweight it was not any kind of hassle at all.
Automatic Floor Adjustment For Any Surface
One of the main selling points and features of this vacuum cleaner is the automatic floor adjustment that it has. The idea here is that you can go from your carpet to your hardwood floors and then right back again. I was a little unsure of how this would actually work, but I went from our living room to our hallway which is all hardwood floor and I did not even notice the automatic floor adjust kicking in, but I can tell you that it managed to pick up the dog hair that was on the floor and it did it without scratching up the floor! I can also be used when it is pretty much flat which is cool.  I was able to get under the beds, the sofa and the coffee table with ease.
This particular set that I am looking at is a special bundle. You see as well we the Oreck Commercial U2000R-1, you also get a special 25 pack of disposable bags, the XL kind so they can take a lot of garbage before you even have to worry about changing it. Speaking of which, the large zip bag where the disposable bags are kept is nice and large, so putting in a new bag and getting an old one out is very easy to do. Not only that, I did not start sneezing up a storm when I did so the filtration that this has must be good.
Extra Long Power Cord
The power cord is phenomenal! It is one of the longest power cords that I have ever seen, so long that I would bet that the power cord weighs more than the actual vacuum cleaner! Some people are complaining about this, but being able to do a few different rooms without having to change the power outlet is cool in my book.
While the Oreck Commercial U2000R-1 may not be the fanciest bagged vacuum cleaner on the market, I was very happy with how it could go from carpet to hardwood floor and then back again with no trouble at all.
---
Soniclean Soft Carpet Vacuum Cleaner
The Soniclean Soft Carpet Vacuum Cleaner is a vacuum cleaner that I was very excited to check out. I knew this was coming in the mail and as soon as it arrived I had it out the box and ready for work in no time at all. I like the upright design and I feel that out of all the vacuums on this list, this one has a more "cool" look to it.
I wanted to put this thing to work right away and the reason for that is the Soniclean technology. This is the only vacuum that offers this and you are probably wondering just what the heck it is? Well, basically it vibrates at 200 times per second. What this does is loosen up any dirt and mess and makes it much easier for the vacuum to pick it all up.
It is really neat and you do not have to worry about your arms wobbling like you are using a jackhammer. This Soniclean technology allows the vacuum to pick up even the deepest and mushed in mess (thanks kids) that is ruining your carpet.
Great On Carpet And Hardwood
The vibration along with the brush roll work so well together that the first time I tested this on my living room carpet, I only had to go over it once! Speaking of the brush roll, they have used this very soft material which makes the vacuum suitable for hardwood floors as well. I was actually quite surprised by this as Soniclean spend a lot of time talking about how good it is for carpets, so seeing that it can also get dirt and pet hair off my hardwood floors was a very nice surprise.
Now I must tell you that going from different surface to different surface does require a little work from you, but I actually mean this in a good way. You see the Soniclean Soft Carpet Vacuum Cleaner has a "patented adjustable vent system" this is what you need to adjust when going from light carpet to high carpet to hardwood floor. You quickly realize what setting you need for what surface. I really like this as it means you can utilize the full power of the vacuum no matter what kind of surface you are cleaning.
Different Settings And Automatic Shut-Down
While I am testing vacuum cleaners, as a parent who also has pets to deal with, vacuuming is a chore. This bagged vacuum cleaner though made it much easier. Not only because of the power but because of the overall design. For example, there is an easy to use button on the handle which allows you to pick what setting you want and there is even a feature where it will shut down and let you know if there is something stuck. This is such a great feature and it prevents the vacuum from overheating or the belt from breaking. It is so good that they actually give you a lifetime warranty on the belt.
The kind of bags (which are easy to put in and remove) that are designed to work with this vacuum are designed with your air in mind. So none of that awful dust and dirt is going to be floating around causing you to sneeze as you are cleaning.
One other neat feature that this vacuum has is that you can install Sonicfresh Fragrance Pods. These will put out a scent as you vacuum, it keeps your carpets smelling good and also the vacuum. While these are not essential, I think they are well worth it, especially if you are like me and have some smelly dogs….. and kids!
I know that this may be a little more expensive, but the Soniclean Soft Carpet Vacuum Cleaner is one of the easiest to use, powerful and just generally awesome bagged vacuum cleaners that I have had the pleasure to test.
---
Panasonic MC-UG471 Bagged Upright Vacuum Cleaner
The Panasonic MC-UG471 is the kind of bagged vacuum cleaner that is aimed at you folks who want something that is going to get the job done, but not cost you well over a hundred bucks in the process. As I getting ready to use this, I was looking over at the instructions and I had to keep checking the asking price as this does a heck of a lot considering how affordable it is.
I will say right off the bat that this does not have the most powerful suction that I have come across and you may have to go over those really pesky messes (such as Cookie Crisp cereal, I swear this stuff welds onto the darn carpet!) in order to get it all up, but it will eventually get the job done. One thing that helps is the very large head, I like what Panasonic has done here as it means that while you may have to go over the same spot a couple of times, it covers a lot of ground while it is doing it.
Lots Of Accessories And Tools
What I like about this and what is missing from many other bagged vacuums these days is that this one actually has a couple of wands. These come in really handy for reaching up high, covering the sofas, the kid's beds and even under tricky spots too. There is a dusting tool and a crevice tool. The dusting tool is really neat and at first, I thought that I would not really use it. However, I found that for taking care of the arms of the sofa that has pet hair almost glued onto them, it worked like a charm. It is certainly an attachment that I could see getting a lot of use.
Of course, the crevice tool is what you are going to be using if you have kids as it can get into all the areas they like to leave junk. The air turbine brush is what they class as a "bonus attachment" this is great if any kind of dirt or mess is really mushed in good!
HEPA Filter And Automatic Cord Return
The most surprising thing of all about the Panasonic MC-UG471 Bag Upright Vacuum Cleaner is the fact that it has a HEPA filter. I thought for sure that I would be coughing and sneezing up a hurricane when using this, but that was not the case at all. Even when it came to changing the bag, I never once got a face full of dust and dog hair.
Another neat feature is the way the power cable has an automatic return, it saves you having to wrap it up, but it does mean it is a little shorter than I would like, but at the end of the day, the convenience of the auto return makes up for it.
Sure this may not be as pretty as the other bagged vacuum cleaners that are on this list, but I think it does what it does very well. As it costs sometimes as much as half the price of a couple of the other vacuums on this list, you have to expect that it has a less powerful motor. Still, even with the less powerful motor, the Panasonic MC-UG471 Bag Upright Vacuum Cleaner is a great deal and will handle any mess your family can throw in its path.
---
Sanitaire SC888K Commercial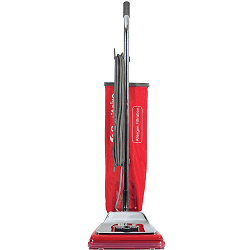 Last, but by no means least we have the Sanitaire SC888K Commercial vacuum cleaner. This bagged vacuum cleaner is a commercial grade vacuum cleaner so you can rest assured that it is ideal for those who want to have a vacuum that they can use on near enough daily basis. It may not be the fanciest looking, but that is not what Sanitaire was going for.
Once I got this out of the packaging and did the little bit of assembly that was required, which is very easy to do, I decided that the living room, as usual, would be the first room to put this through the paces. My living room thanks to the kids, dogs and a partner who seems to think that a plate is a fashion accessory and not something to hold food, sees a lot of mess so it is perfect for a first run.
Wide Head For Cleaning Large Areas
The head is nice and wide and I was impressed with the overall power that it had. The suction was ideal for our living room and while it was not the best when it came to the hardwood floor, I found that with a couple of runovers it got the job done. Some reviews say that it does not work at all on hardwood floors, this is false, it does work, but it takes some time. So in that regard for someone with a lot of hardwood floors, it may not be the best choice.
However, on the other side of this, for a family that has mainly carpets and carpets that need vacuuming on a near enough daily basis, you will be very happy with this. A commercial cleaner is great for this kind of regular use and thanks to the design, it is very easy to use so if you have slightly older kids, if they make a mess, they can clean it up.
It can get nice and low too so if you have a coffee table like we do or even if you have a sofa that has a little bit of room under it, you can get this under there very easily. One thing that I think this deserves a lot of credit for is the way it deals with pet hair on the carpet. It gets in there nice and deep and sucks it right up.
Extra Long Power Cord And Solid Build
As this is a commercial grade bagged vacuum cleaner the Sanitaire SC888K Commercial has a really robust and long power cord, some people say it is too long! How is that even possible. It easily wraps around the vacuum cleaner once you are done and it allows you to pretty much do a whole floor of your house with the same outlet.
The disposable bags that you can use with this are nice and large, so even if you do vacuum multiple times per week, you are most likely only going to have to change the bag a couple of times a year. In my experience, next to no dust at all is kicked out by this thing at all which is something that I always like to see in a vacuum.
I know that this is not the fanciest vacuum cleaner on this list and arguably it is the most basic on this list, but I feel that could be to its benefit. For a family that just needs something that can clean the carpet and clean the carpet well, the Sanitaire SC888K Commercial vacuum cleaner could be just what you are looking for.
---
The Benefits Of A Bagged Vacuum Cleaner
While we have been looking at some of the best bagged vacuum cleaners, you may still be wondering why a bagged vacuum cleaner is the way to go. Well here are a few of the things that make a bagged vacuum cleaner so good.
What Is In The Bag Stays In The Bag
Modern bagged vacuum cleaners are incredibly hygienic. The reason for this is that they are designed with not just getting the dirt, dust and other mess in the bag, but with keeping it in there! More and more bagged vacuum cleaners use HEPA filters, actually, it is harder to find one these days that does not than does. This also prevents dust from getting back into the air and from also clogging up the insides of the vacuum.
Take It Outside!
What I mean by this is that as the bag is kind of large you will not be dumping all the remains into your garbage can in the kitchen like you would with a bagless canister. Instead, you will be far more likely to put the dust and mess right outside. This may seem like a very small "plus" in a bagged vacuums favor. However, I say that it is actually a huge plus as it means that all the dust you have vacuumed up is not staying in your house.
Maintenance Free (Kind Of)
Most canister based vacuum cleaners have a ton of stuff going on. From having to remove the canister to empty it and clean it to having to clean or replace filters. Bagged vacuum cleaners tend to be much simpler and as a result, require far less TLC. As the filters are built into the bags themselves, there is never a need to replace the filter or even clean it. Also once the bag is full, you change it and that is all there is to it. There is very little that can go wrong with a bagged vacuum cleaner.
Replacing Bags Is Easy
Some people will tell you that a bagless vacuum is the way to go because replacing a vacuum bag is a hassle. This is not actually something that is true, especially for the kinds of bagged vacuum cleaners we have been looking at today. If you can remove a canister, empty it and then put it back, you can replace a vacuum bag! It is designed to be as easy and straightforward as possible so do not worry.
They Tend To Be Cheaper
Ok so this one here may not be a huge plus as the price of bagless vacuum cleaners has certainly come down a heck of a lot the last few years. However, I will say that bagged vacuum cleaners on average can still be a fair bit cheaper than their bagless counterpart.
Many Come With "Extras"
A couple of the vacuum cleaners that I was sent to test out did have extras like a wand and even a separate canister module! This makes cleaning the whole house very easy and it is worth looking at vacuums like this if you want something that is going to be able to clean your whole house. So do not just think that the likes of Shark and Dyson only offer vacuums that have extras!
Bagged vs Bagless, What Is Better?
I hate to take the easy way out here, but both of these styles of vacuum cleaner have their own advantages. Bagged is the way to go if you want to make sure that all the dust you suck up, stays in the vacuum and can be put straight outside into the garbage. Plus they can be far cheaper which is always a good thing! Not having to clean components is also a plus in favor of bagged vacuum cleaners as they do require far less maintenance in order to keep running.
While they may not have quite as many extras or features like a modern bagless vacuum does, bagged vacuums can still have things like a wand and other attachments that can get those hard to reach areas. Rather than focus on the whole bagged vs bagless thing, I would suggest you look at the vacuums themselves and then decide which one fits your home and family's needs best.
---
What Is The Best Bagged Vacuum Cleaner?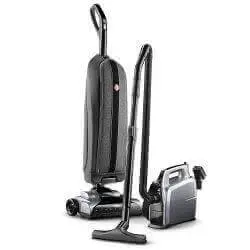 My house certainly appreciated getting the chance to test out all of these vacuum cleaners. I think that all five did a good job, but there are a few that stood out for me. The Hoover Platinum Collection Bagged Corded Upright Vacuum with Canister Vacuum was awesome in how it came with an extra canister vacuum to get those awkward and annoying spots. However, it also means it takes up a bit more real estate when it comes to storage.
The Panasonic MC-UG471 Bag Upright Vacuum Cleaner though has many of the things that make a bagless vacuum so great. I am talking about those wands and the extra attachments, I loved these and found that with this vacuum, I really was able to clean the whole house. If you only have carpets then you may want to take a closer look at the Soniclean Soft Carpet Vacuum Cleaner. With its unique technology, it can pretty much handily anything that is spilled on the carpet.
When picking a new bagged vacuum cleaner, make sure you are picking the one that is right for your home….. and the abuse your family gives your home!