If you have hardwood flooring in your house, you need to find a way of easily maintaining it. Even if you only have one wooden surface in your home, you still should treat it differently than carpets when it comes to cleaning.
Cordless, battery-operated vacuums are a good choice when it comes to solid hardwood floors. Wooden surfaces are generally quicker to clean than carpeted floors, so it makes sense to quickly use a cordless model rather than having to plug in and then unplug a non-cordless vacuum.
Best Cord-Free Vacuums For Wooden Floors in 2018
| Name/Image | Learn More | Brand | Rating | Weight (lbs) | Features |
| --- | --- | --- | --- | --- | --- |
| Dyson V6 Absolute | view pricesfull reviews | Dyson | | 5.1 | Trigger release for up to 20 minutes of powerful fade free suction, Soft roller cleaner head made for hardwood floors, Whole machine HEPA filtration, Handheld mode and mini motorized tool |
| Hoover Linx | view pricesfull reviews | Hoover | | 7.3 | Powered Brushroll with Windtunnel technology, Interchangeable battery with charger, Fuel Gauge to show remaining battery |
| Shark Navigator Freestyle | view pricesfull reviews | Shark | | 7.5 | Very powerful for a cordless, extended run time for longer cleaning, 2 speed settings for carpet and hard floors |
| Hoover Air Cordless Upright | view pricesfull reviews | Hoover | | 9.9 | WindTunnel 3 technology, 50 minutes cleaning time with 2 rechargeable batteries included, LED headlights, Lithium-ion battery |
| Dyson V8 Absolute | view pricesfull reviews | Dyson | | 5.8 | Up to 40 minutes of powerful fade free suction, 50% quieter than the V6, Max power mode for more difficult vacuuming tasks |
In this guide, I will be reviewing the best cordless vacuums for hardwood floors, and also show you what you should look for when you buy one.
Cleaning Wooden Flooring Requires Great Care
Hardwood floors are very popular, and it's easy to see why. They are clean, shiny and finish off any room in style. But when they are not looked after properly, they can quickly become dull, scratched and damaged.
The first step in looking after your wooden floor is to use the correct vacuum. Some vacuums are made for carpet, some are made for wooden floors, and some are made for both.
Be sure to check that the vacuum is suitable for hardwood. In general, look for:
Beater brushes or brush rolls are designed for carpet. If the vacuum cleaner that you like has these, ensure that there is an on/off switch so you can safely use it on your solid floors.
Vacuums that are lightweight will generally be easier to maneuver and have less chance of scratching the hard surfaces of your home.
Strong suction is just as important for wooden floors as it is for carpets. Dirt and crumbs can get in-between the cracks of your flooring and eventually start to cause damage.
I have researched and reviewed 5 vacuum cleaners that I believe are the best on the market for cleaning hardwood floors.
Top 5 Cordless Vacuums for Hardwood Floors
---
Dyson V6 Absolute Cord-Free Stick Review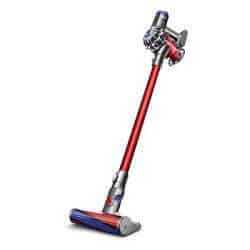 Dysons may be at the higher end of the pricing range, but the range of features along with the powerful suction means that the price is justified.
The Dyson V6 Absolute is the only one of Dyson's V6 range that is designed for use on hardwood floors. It can be used on carpets too, but this model comes with a soft roller cleaner head which is made for hard surfaces. Combined with Dyson's powerful suction, this makes the Dyson V6 Absolute one of the best hardwood floor vacuums.
The soft roller head picks up anything from fine dirt to large debris (such as cereal or cat litter), and actually, leaves your surfaces looking shiny and polished.
Top Features
The Dyson V6 Absolute uses a trigger mechanism to start the suction. This means that you only use the battery power for cleaning, so when you let go of the trigger the battery stops. This gives you up to 20 minutes of powerful fade-free suction when using this Dyson cordless vacuum.
The whole machine HEPA filtration, handheld mode, and mini motorized tool all ensure that this vacuum definitely is the full package.
Customer Reviews
The Dyson V6 Absolute vacuum cleaner has a lot of positive reviews on Amazon, with a high average review score, making it one of the best cordless stick vacuums on the market.
The main theme that I picked up on from the reviews was the fantastic suction from this vacuum. One user said "I'm thrilled with the suction power… I'm more than thrilled with its ability to pick up every bit of sand and pet hair." With another saying "Very powerful suction – no loss of suction".
A few reviewers thought that the battery runtime was too short. The advertised runtime is up to 20 minutes, however, users are saying that if the product is on MAX mode the actual runtime is only 6 – 7 minutes.
While this is true, it is also worth pointing out that MAX mode is only really needed for very stubborn cleaning tasks. The standard cleaning mode will perform fine for most tasks, giving you up to 20 minutes of cleaning time.
---
Hoover Linx Review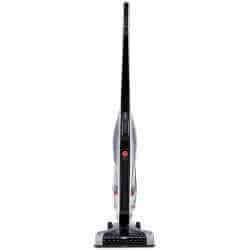 The Hoover Linx is a cordless and bagless stick vacuum cleaner, and it is one of the best-selling cleaners of the last few years.
The Powered Brushroll along with Hoover's WindTunnel Technology make this an ideal cleaner for both hardwood floors and carpet, and switching between surfaces is easy thanks to the Motorized Brushroll switch that is located on the top of the machine.
The edge cleaning bristles mean that no extra tools are required to get into sides and corners, and because of the wide cleaning path you really do spend less time cleaning and fitting different attachments.
Top Features
The powered brush roll is definitely one of the best features of the Hoover Linx, and it is the ease with which you can switch between surfaces that make it so appealing. The power switch is located on the top, and there are 3 options: off, on with suction only (for wooden floors), and on with suction and motorized brush roll (for carpets).
The Hoover Linx uses a Lithium-Ion battery for fade free power. The battery fuel gauge is a clever way to see how much battery is remaining, and once you start using the vacuum regularly you will get to know exactly how much time you have before the battery runs out.
Customer Reviews
The Hoover Linx has many thousands of positive reviews, making it one of the most popular vacuums on Amazon. It has an impressive average review score which is high for its category.
The majority of the positive reviews say that the way the product switches between hardwood floors and carpets so easily is one of the best things about it. One user said "…absolutely shines in two areas: ease of use (switching from brush roll on to brush roll off, going between surface heights & types), and cleaning ability…" while another user states "…for my hardwood floors and oriental rugs, this is the one for me."
Some reviewers mention that they are disappointed with the Hoover Linx battery life, saying that it is too short. I noticed that the battery does drain faster when you use it on carpets, I suppose the motorized brush roll uses more power. Other reviewers say that they managed to vacuum their whole house on one charge, so I guess it depends on the size of the house, or how fast you clean. Overall, the Hoover Linx is one of the best stick vacuums for wood floors.
---
Shark Navigator Freestyle Review
The Shark Navigator Freestyle is a cordless and bagless stick vacuum that is affordable, powerful and convenient.
It costs less than $100, but don't let the low price fool you. This Shark cordless vacuum is up there with the most expensive cordless vacuum cleaners in terms of suction, battery life and ease of use.
Swivel steering, 2-speed settings and an extra-large and easy to empty dust cup are just some of the features that make this one of the best and most popular cordless stick vacuum cleaners on the market.
Top Features
The Navigator Freestyle benefits from advanced swivel steering, which gives excellent control when maneuvering around furniture. It practically glides over hardwood floors, and it is pretty good on carpets too.
This vacuum cleaner is ideal for use on wooden floors and other hard surfaces thanks to the 2-speed settings.
Read More: Which Shark vacuum is best for me?
There is a simple floor/carpet button that is located at the bottom of the machine that you operate with your foot. It really is as easy as a tap on the button to move seamlessly between surfaces.
On the carpet setting, the motorized brush roll will move faster, and the suction will be stronger. Because of this, the battery will last longer when you use this vacuum on the hardwood floor setting.
Customer Reviews
The Shark Navigator Freestyle has lots of positive reviews on Amazon and a high average review score.
Most of the positive reviewers seem to be pleased with how well it cleans wooden floors, which is something I agree with.
One user said "It's awesome on wood floors… If you have a lot of hard floors or need a 2nd "quick" vacuum, this little thing might surprise you."
Another reviewer said, "…cleans carpet, hardwood, AND tile and is lightweight enough to easily carry from one floor to the next."
A few of the reviews mention a possible negative feature of this vacuum, which is the placement of the button to switch between carpet and hardwood floors. The button is located on the bottom part of the vacuum, which means when you are cleaning under furniture the button sometimes accidentally gets pushed.
This isn't really a big deal in my eyes, and once it has happened a few times you are more likely to take extra care to ensure it doesn't happen again.
---
Hoover Air Bagless Upright Review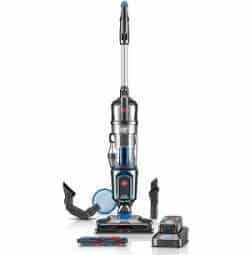 The Hoover Air Bagless is an upright vacuum cleaner that competes with Dyson in the design department. This is one of the best looking cordless vacuums on the market, even the box is state of the art!
From the LED headlights to the blue plastic and metal trims, this is definitely a good looking machine that you won't mind leaving out on show.
It's not all about looks, however, and the Hoover Air Cordless has the features and build quality to match the aesthetics.
Top Features
As well as looking great, the Hoover Air boasts excellent and fade-free suction thanks to Hoover's WindTunnel technology with 3 air channels.
The 2 Lithium-ion batteries that are included give a total cleaning time of 50 minutes, with a charging time of 3 hours per battery. Spare batteries and spare chargers can be purchased for a longer cleaning time, however, for most people, 50 minutes will be more than enough time to clean the whole house.
The reusable easy-rinse filter and the easy-empty and easy-clean dirt cup makes the Hoover Air really easy to keep clean and it doesn't clog up all the time. The dirt cup is large at 1.05 liters, which should in most cases enable you to clean the whole house without constantly emptying it.
This machine comes with an abundance of attachments. There is the 2-in-1 dusting and crevice tool (which fit together to save on storage) and a pivoting dusting tool which makes it easy to clean high up and hard to reach places. There is also a soft roller brush which is specifically for cleaning hardwood floors, and you also get a spare washable filter too.
Customer Reviews
The Hoover Air Upright has many positive customer reviews on Amazon, with a high average review score.
Most of the reviewers are pleased with the fact that this vacuum is just like a regular upright, but with the convenience of a cordless.
One user says "It's a regular vacuum, not a flimsy thing designed for dust bunnies, and small accidents. It holds plenty of dirt in the canister……Pushing a regular vacuum around the house with no cord—that's for me!"
Another reviewer states "The Air is powerful, yet nimble… is cordless and never lost suction… and is hands down the finest vacuum I have owned to date. Highly recommended."
One reviewer mentioned the fact that if your house has mostly carpets, you may find yourself emptying the dirt cup several times a day. She also mentioned that she has a lot of pets, so if you have mostly carpets or have pets this may be something to think about.
If however, like me, you have a lot of wood floors or other hard surfaces in your home, then the dust cup will last a lot longer before needing to be emptied.
---
Dyson V8 Absolute Review
I was debating whether to include the Dyson V8 Absolute in this list simply due to the high price. But since this page is focusing on the best cordless vacuum for hardwood floors, I couldn't leave it out.
This vacuum cleaner is quite simply the ultimate cleaning machine, and it is made for wooden floors and other hard surfaces. It is an upgrade of the V6 Absolute (which I have also reviewed on this page) with the following improvements and features:
Longer Battery Time
Thanks to a new Lithium-ion battery, the Dyson V8 delivers up to 40 minutes of powerful fade-free suction. That is a 100% improvement over the 20 minutes offered by the V6. The max power mode still only gives you 7 minutes of even more powerful suction for difficult tasks, however, you should rarely need to use this.
More Power, Less Noise
The V8 Absolute is powered by Dyson's latest V8 digital motor, producing up to 115AW (Air Watts) of suction, compared to 100AW produced by the V6. It is also 50% quieter than previous versions, and if you owned a V6 you will definitely hear the difference.
Attachments
The Dyson V8 Absolute works excellent on both carpets and wooden flooring. The direct-drive cleaner head is 150% more powerful than the V6, and the soft roller cleaner head lifts large debris and fine dust from hardwood floors, leaving a clean and polished look.
It also includes a mini motorized tool, a combination tool, and a crevice tool, all of which feature a new quick release catch which makes for smoother switching between attachments.
Customer Reviews
At the time of writing this review, the Dyson V8 has hundreds of positive customer reviews on Amazon. Even though it is an expensive product, it still has a high average review score.
Most of the reviews are positive and mention the improvements that this vacuum has over older models.
One reviewer says "The best vacuum I have ever owned!!!!… I was struck by how much quieter the motor is vs the V6, even when on maximum power."
Another user is amazed at the improved suction power: "I just recently purchased this V8 Absolute and I am amazed at not only the suction power of this cordless vacuum but also the ease of use of this new design."
There are a few negative reviews on Amazon, and they are mostly about the shipping box, not the product. The user has stated that the serial number was removed from the bottom of the box. However the company has replied and stated that it was a previous shipping label that was removed, and another helpful customer has replied with the locations of the serial number.
---
How to Choose a Vacuum for Wooden Surfaces
Sometimes cleaning your house is not as simple as getting out the vacuum cleaner and having a go at it. Different flooring on the premises can affect your choice when it comes down to selecting the right vacuum cleaner. This is especially a concern if you own a commercial property or need to keep your home pristine for letting/selling and do not wish to damage your floors in the cleaning process.
In this guide, I will have a look at what is the best vacuum for hardwood floors and what one can expect when looking to buy one on the market.
Why a Cord-Free Cleaner is Good for Hard Surfaces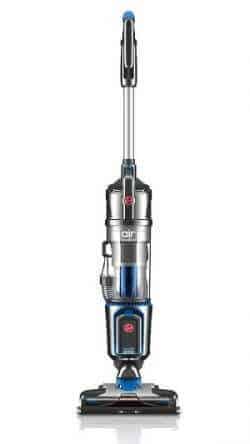 Many of you may have come to this page after doing a little bit of research and you will have noticed that cordless vacuums have been recommended over and over for hardwood floors. The obvious perk about them is that cordless models are highly convenient for the user, being battery powered and giving you maximum freedom of movement.
There are a few more reasons why they are the best for wood flooring specifically. The ultimate threat for your hardwood floor is naturally anything that can scratch or damage your floor.
Vacuum cleaners with cords are definitely a potential hazard in this regard, especially if you have a large wooden floor to cover. The cord can get in the way and if you're not careful, the vacuum can topple over and nick the floor. This can happen either with the wheels dragging on the rims or a more pointed part that's usually not in contact with the floor being dragged on it.
Read More: How to clean battery terminals on toys
When you reach your cords limit as well and tug a bit too hard to go further, the vacuum either disconnects from the wall or does a backflip, again potentially damaging your beautiful home.
Having a cordless vacuum cleaner is a no-brainer, making cleaning very simple and hazard-free.
What Properties Should I Look for?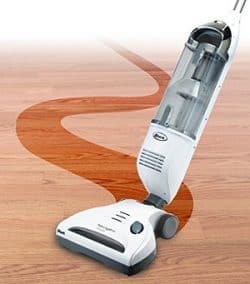 Now that we understand why one needs a cordless vacuum to safely clean wooden flooring, let's examine what properties to look for when searching for the most suitable products.
Suction Strength – this is a property you will need to assess in any vacuum cleaner, the power of the suction. The question you need to ask yourself here is what kind of dirt or mess do you anticipate needing to clean on a frequent basis? Do you live in a house with kids, dirt, pet hair, the works? Then you will want quite a strong vacuum cleaner that can deal with particles of all shapes and sizes. Do you just need to remove dust from your work environment? You are thus in the market for an average suction powered vacuum – perhaps a motorized model that can remove allergens from the air with HEPA filtration technology will suit your needs better, keeping your workspace as sterile as possible.
The Wheels – for hardwood flooring especially, the wheel track on your cleaner can make or break the deal here. You do not want a cheap set of wheels that are made of plastic to move across the hardwood floor. The chances of damaging the surface are far too high. Find a vacuum cleaner with a padded track or with wheels that have more rounded edges if you really have to buy in plastic. Look to minimize the dangers of leaving trails on your floor. Another point to bring about here is that the cheaper vacuum cleaners often have wheels that fall off over time. Avoid this by just spending a few extra dollars for quality wheels!
Battery Power & Charge Time – you will need to assess if the cleaning time allowed for by the vacuum is long enough for you to get the job done. It's also a great idea to then compare the go time with the time it takes for the battery to recharge. Cordless machines usually have a standard cleaning time of 15 – 20minutes and recharging can take anywhere from 3 – 5hours on average. This may seem like very little time, but if you don't have a large floor or the suction power of the vacuum is high, this is actually more than enough time. There are more energy efficient cleaners on the market, however, going up to 40 and even 50 minute cleaning time spans. These are highly useful, especially if you own a restaurant or have a studio section with a larger floor space in your home.
Warranty & Price – The average vacuum cleaner tends to break down after the warranty expires, a clever trick often instituted by manufacturers to reduce their costs. It's not always the case, but it is good to get a longer warranty, especially if you are on a budget or into cleaning for the long haul. It's often also a good reflection on the quality of the vacuum and can be matched against the price and materials for an overall assessment of whether a vacuum is a worthy buy or not. The price, of course, is another reasonable guide to giving insight on the quality of a vacuum cleaner. Bear in mind that there are budget-friendly options out there that do not compromise the overall quality, however, it's a better idea to invest in a more expensive vacuum if you are in the property market or own a business where cleanliness will improve your reputation (like a restaurant).
Final Thoughts
To conclude this buyers guide to hardwood floor vacuum cleaners, the most appropriate product to buy is most definitely a cordless vacuum cleaner. This will automatically enhance your cleaning experience, save you time and most importantly, save you the cost of having to repair scratches on your wooden floor, often caused by tripping over the cord.
You need to keep your eyes peeled for a cleaner with safer wheels for much the same reasons and remember: warranty and pricing play an important role in assessing quality! I hope that this empowers you to make the best-informed choice when selecting a vacuum cleaner.
On this page, I have reviewed 5 vacuums that I believe to be the best cordless vacuums for hardwood floors. There are certain features that vacuums require to be suitable for solid wood floors, and you need to be aware of these to ensure you maximize the life of your wooden floors.
The Dyson V6 Absolute is without a doubt one of the more expensive vacuums, but in my view, the price is more than justified. The suction power, cordless convenience and the fact it has so many positive reviews on Amazon mean that this will be a firm favorite for hardwood floors for many years to come. Or at least until the Dyson V8 Absolute comes down in price!
All of the vacuum cleaners that I have reviewed on this page can be purchased on Amazon, and it is a good idea to have a look at reviews there and see what other users have to say about them. For your convenience, here's a link to the top-selling cordless vacuums on Amazon.
Read More: