In a hurry?Best Budget Choice: Eufy Robovac 11

| Best Overall Choice: Ecovacs Deebot N79

Any dog owner will tell you that the main frustration they have is piles of dog hair all over the house.
Vacuuming is fine, but what about 5 minutes later when more hair appears? You can't be vacuuming all day.
Let me tell you what you need:
A robot vacuum.
They are the best type of vacuum for picking up pet hair, and because they can run continuously, your home will be free from hair at last!
Read on as I show you which robot vacuums make my top 3.
3 Best Robot Vacuum Cleaners For Dog Hair
1. Ecovacs Deebot N79
As an owner of two rather large dogs, as much as I love them the fact of the matter is sometimes I feel that the floor of my house is made up of more dog hair than carpet and hardwood!
I would vacuum it up and then five minutes later notice a load more.
That is why I decided to give the ECOVACS DEEBOT N79 Robotic Vacuum Cleaner a try as it is regarded as one of the top robotic vacuum cleaners for people who love their dogs, but hate their hair getting everywhere.
Sleek Looks and Easy Connectivity
To start with the obvious this thing looks cool, I love the black design which is modern and pretty sleek looking as well. When I took it out of the box, I needed to connect it to my home Wi-Fi network so that I could have it paired up with my phone as it uses an app.
Doing this was very easy and even if you are not the most tech-savvy person in the world, you will find it easy. If you have ever connected something to your router or downloaded an app, you will be fine.
So once I had it all set up, I had a large pile of dog hair in the back room that I wanted to test the ECOVACS DEEBOT N79 Robotic Vacuum Cleaner on. There are three different cleaning modes that this has, but I just picked the general cleaning one to start with.
Quiet Operation and Long Battery Life
Apart from looking cool as it made its way around the room. I was very impressed with how quiet this thing was. I am not sure what I expected, but you do not have to worry about it making noises like R2-D2 as it cleans your house.
I let it do its thing for around half an hour and when I opened up the dust trap I was amazed at not just all the hair this picked up, but other rubbish as well.
You get around 100 minutes off a single charge with this and you can set it up so that the DEEBOT will go and find its charger when it is time to be charged.
This is a really cool feature and along with the automatic cleaning option, you can set it so that it will go around and clean on a schedule. So there is no more need for you to dig out the large vacuum that weighs a ton, DEEBOT has you covered!
Keeping DEEBOT clean is much easier than a regular vacuum as well. Once I emptied it, I had a look under him (he did not mind, honest!) and I noticed that just after that first clean he was a little dirty so keep an eye on that.
Now as I bought this to take care of all the pet hair that was driving me nuts, I was a little worried that the dogs may mess with it, but after a short while they did not seem to care and just ignored it, which thanks to how quiet it is, is very easy to do.
Now I do have one little criticism and that is the charging dock/station. I feel if it was a little heavier, DEEBOT would be able to charge itself a little easier, I found that making sure it was on a hard surface (not a shaggy carpet) it worked much better.
Final Thoughts
In all, I am very impressed with the ECOVACS DEEBOT N79 Robotic Vacuum Cleaner and if you want something that is going to keep the pet hair to a minimum, you cannot go wrong with this!
2. iRobot Roomba 960
Technology has revolutionized the world of vacuum cleaners forever. Pet owners no longer have to worry about large amounts of hair.
The iRobot Roomba 960 is a great option when it comes to cleaning up pet hair.
This model is jam-packed with excellent features such as WiFi connectivity and voice-activated controls. The enhanced iRobot Home app

has the ability to let you customize a schedule for when your Roomba cleans right from your Android device.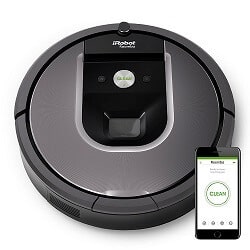 It even has cleaning options where you can choose from one sweep or two. This model is compatible with Google Assistant and Alexa.
Cliff Detect Sensor Prevents Drop Offs
This model is equipped with a Cliff Detect sensor. This simply means that if your Roomba 960 reaches the edge of the stairs, it has the technology to prevent a fall.
Drop offs are not a problem for this unique vacuum.
The iRobot Roomba 960 is a highly praised model that has the power to run for seventy-five straight minutes before needing to be charged. It is powered by lithium-ion and recharges before resuming cleaning the level of your home. Recharge times are relatively quick.
Lift and Loosen Dog Hair with the Aero Force Cleaning System
It is equipped with an Aero Force Cleaning System that works hard at loosening dirt and hair with up to five times more air power.
The tangle-free brushes lift hair from the carpet easily, making this the perfect Roomba for the job. The iRobot Roomba 960 can handle all types of floors and automatically adjusts to the type of floor it is on.
Visual Localization Allows Easy Navigation through Your Whole Home
The iAdapt 2.0 Navigation with Visual Localization prevents the vacuum from wandering around aimlessly.
It successfully navigates under furniture through an entire level of your home without going over the same place over and over again.
This cutting-edge navigation technology

allows the Roomba 960 the ability to cover every square inch of your home regardless of floor type.
Read More about Best Alternatives To Roomba Vacuums
Dirt Detector Sensors Concentrate on High Traffic Areas
This model has dirt detector sensors that monitor high traffic areas in your home. The Roomba 960 will pay special attention to these spots.
The filter promises to catch ninety-nine percent of pollens, allergens, and other small particles. This model weighs just under eight pounds but is heavy duty enough to attack the toughest jobs.
Final Thoughts
The iRobot Roomba 960 robotic vacuum has all of the features you could possibly want in a vacuum. It is powerful enough to handle toughly matted on hair, yet it is lightweight.
The technological features this model is equipped with is nothing short of impressive. This model provides real cleaning solutions that will let you say goodbye to pet hair on your floors forever.
3. Eufy Robovac 11
As well as having kids who make a mess, my beloved dog likes to leave hair all over (and I mean all over!) the house. That is why I have been looking for a robot vacuum to help me deal with this problem.
It is not an exaggeration to say that I would have our vacuum out at least once a day getting rid of the dog hair as well as the mess the kids make.
That was why one of these cool looking robots was the way I wanted to go, and the Eufy Robovac 11 fits the bill nicely.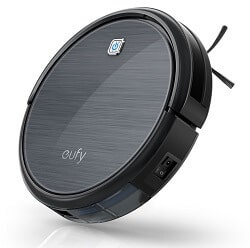 Sleek and Thin – Ideal for Low Profile Furniture
Many people say that when it comes to a robotic vacuum for specifically dealing with hair from your pets, you will struggle to beat the Eufy Robovac 11.
That sparked my interest and once it arrived and I took it out of the box, I was amazed at how small it was. It easily fits not just under our coffee table, but our couches as well. This is one of the thinnest models on the market and I must admit I love the sleek and cool black design that it has.
3 Different Cleaning Modes
Ok, so enough about how it looks, how does it work? Well, it has its own charging dock and once charged you get around an hour and a half cleaning time! It has three different cleaning modes that you can set it to, but I found just turning it on and letting it do its thing was the way to go.
It can detect things in the way, steps and it will even head back to the charging dock when it is time to recharge. I was very impressed and I will fully admit that when I first used it I spent an unhealthy amount of time watching this work.
Before the Eufy Robovac 11 arrived I thought that it basically had some kind of sucker on the bottom and that was that. Well, it does have a very powerful vacuum on the bottom, but as well as this it has brushes on the side and a large rolling brush.
This means that even your beloved pooch's hair that is stuck right in the carpet is no match.
We have a hardwood hallway and it runs right over that no problem, picking up dog hair, stones from peoples shoes and any remains from the kid's raid on the snack drawer.
Quiet Operation and Remote Control
It is as easy as turning it on and then just letting it go and clean. The included remote control makes playing with the settings (which I am sure you will do) very easy and a lot of fun. I thought that I may have to get the regular vacuum out as well as this, but there was no need.
Another nice bonus is how quiet it is. Our other vacuum sounds like a jet engine and it drives the dog nuts, this one though does not bother the dog in the slightest and I feel that is another reason why it is regarded by many as one of the best robotic cleaners.
I was very impressed with the Eufy Robovac 11. From the cool design to the way it was so easy to use. Offering over an hour of solid cleaning, if you are as sick as I was of having to vacuum dog or cat hair on a daily basis, I cannot recommend this robot vacuum cleaner highly enough.
Resources