If you have pets that shed a lot of hair, you'll know the familiar sight:
Hair on your floor, hair on your clothes, hair everywhere you look!
It seems that no matter how much you vacuum, you can never get rid of all the hair. You need a vacuum cleaner that is powerful, and it also needs to be easy to navigate. How can you choose?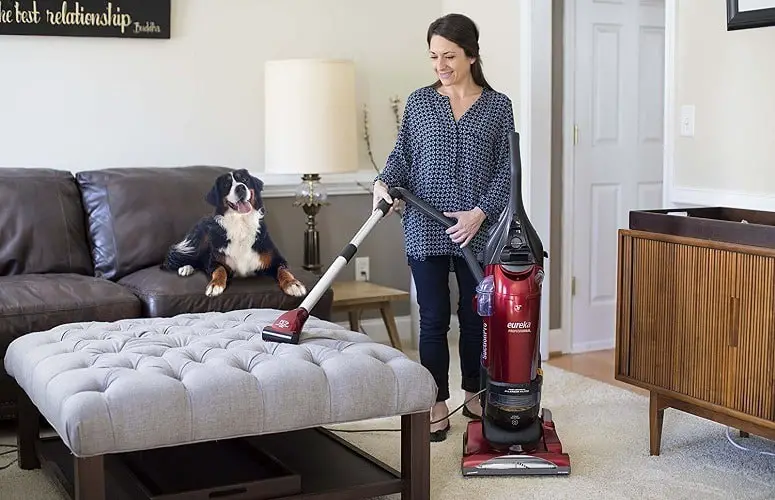 Here's the deal:
An upright vacuum cleaner is the best for pet hair.
Let me show you the best vacuums to get rid of all that hair.
3 Best Upright Vacuum Cleaners For Pet Hair
1. Shark Rotator Lift-Away True Pet
The folks at Shark are still pushing their way to the top and I think the Shark Rotator Powered Lift-Away True Pet lets that be known. This vacuum is known for its powered lift-away mode which allows for easy access under couches, tables, and any ordinarily harder places to reach with other vacuums.
This flexibility really sets it apart from many of the vacuums on the market, especially when factoring in the pet hair that is left behind. The True Pet is Shark's first vacuum cleaner to feature a 3-in-1 lift-away which makes it much easier to clean from the floor to the ceiling.
One outstanding feature of the True Pet is its ability to retain allergens, which many customers have agreed is a top selling point for them. In an environment with pets, allergies are bound to be high, but the True Pet makes sure to contain any dirt and dust. To me, this makes the True Pet a true contender for the top of my list.
Like most Shark vacuums, the True Pet offers dynamic swivel steering, which works well with the powered lift-away mode. This flexible movement is truly one of the strengths of this vacuum cleaner, which makes an ideal fit for an environment with many pets.
In addition to the great navigation, the True Pet is a very quiet and adaptable vacuum cleaner. Even when cleaning different surfaces, such as hardwood, the True Pet still remains relatively quiet, and this helps for an almost silent environment.
The hose has been seen as somewhat of a downside about the True Pet. Despite the vacuum having a 3-in-1 feature to make it easy to clean from floor to ceiling, the stiff hose has been seen as an issue.
With a stiffer hose, this makes corners, crevices under low to ground furniture, and anything else that may be hard to reach, a tad difficult. This is one of the reasons why I do not know that I can say the True Pet is the best on the market, but a stiff hose is certainly a hefty limitation.
The Shark Rotator Powered-Lift Away True Pet is just an example of the power and reliability of Shark vacuums, and especially when it comes to a decent upright vacuum for pets.
The powered lift-away along with the swivel steering makes this a big sell to me in terms of flexibility and navigation. Not to mention the 3-in-1 lift-away makes it a lot easier to reach the harder spots such as under furniture.
While the True Pet really does wonders for pet hair and all kinds of allergies across the board, it does have its limitations with the hose. A stiff hose makes those harder to reach places even harder and I can see how that would be frustrating over time. Still, the True Pet is a solid choice, even it is my top pick for a pet hair vacuum.
2. Dyson V8 Absolute
When I think of Dyson, I know that I will be getting a quality product and the V8 Absolute is no exception to that. Off the bat, the bagless, cord-free vacuum received full attention from me because I am all about convenience when cleaning.
Not only is the cord-free a nice step forward for Dyson, but the digital motor helps give this vacuum cleaner all the extra kick that it needs. Compared to most vacuums on the market, the Dyson V8 Absolute has to rank up there as one of the best pet hair vacuums.
At just a little under six pounds, the V8 Absolute is also one of the lightest vacuum cleaners you will find. Because of this, it makes the V8 a lot easier to carry around and it can transform into a handheld vacuum when needed. The fact that this vacuum cleaner is so versatile in what it can do makes it a big sell to me personally.
When cleaning, I find it easier to use less equipment and since the V8 can act as a regular sized vacuum or become a handheld make it all the better to use, especially when cleaning up after pets. Even for those of you who may hate cleaning, the V8 is a surefire way to make sure that the time spent cleaning is for once well worth it.
The one downside to the V8 Absolute is indeed the cord-free feature. The battery life is significantly better than most cord-free vacuums, averaging out at around 40 minutes, but it still can be a hassle for those with larger or dirtier areas.
Certainly, cordless or even wireless technology is still somewhat new in the eyes of advancements, so it may take some time for users to get used to them over conventional vacuums.
The cordless feature, while nice, can make things a bit aggravating due to having to charge the V8. While this complaint is not mentioned nearly as much, some users did say that the V8 does not feature a flex hose, making it harder for them to clean corners and even cars.
In the end, the Dyson V8 is a solid choice among most of the vacuums out there. To me, it definitely ranks as the best bagless vacuum for pet hair. It does have a few issues, such as the need to charge it, but this has been addressed with a somewhat longer battery life.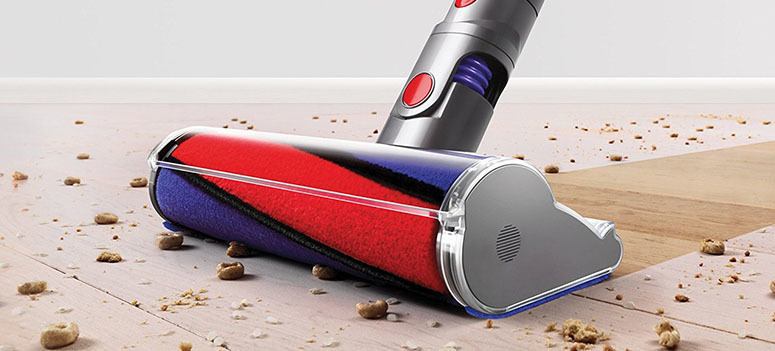 Still, many users feel conflicted on whether or not to use a cordless vacuum cleaner because of the inconvenience it may or may not cause.
The versatility, however, is a huge selling point for me and I think that may triumph most of the concerns I personally have.
That said, this vacuum cleaner is not perfect and if it does not include the flex hose as indicated by some users, then that could be a deterrent, but it seems like a small complaint. For pet hair, I think the V8 Absolute has to be near the top.
3. Hoover WindTunnel Pet Rewind UH70210
Hoover has been on the vacuum market for a long time and it should come as no surprise that they made this list.
The WindTunnel UH70210 is one of the cheapest options out on the market and despite that, it is still a quality vacuum and is bagless.
The WindTunnel offers multiple ways to adjust the height of the vacuum, making it easier to work in different areas and spaces. While working in tight spaces or even on the seats of furniture, the WindTunnel includes a pet hair hand tool that can be used in those areas that a vacuum cleaner cannot reach. The WindTunnel, as indicated by the name, has a great suction power.
Perhaps the biggest compliment I have seen for the WindTunnel is the cord rewind feature. The vacuum features a 25' cord, which can be rewound with the tap of a pedal.
For most corded vacuums, retying the cord or trying to get it unstuck is a major hassle, but Hoover finally corrected the error of so many other vacuums by addressing this issue.
Once the pedal is touched, the cord neatly tucks away inside of the vacuum, leaving even less clean-up when you are done with it. Not many vacuums offer that and in fact, some have even switched to cordless overtime just to avoid the issue.
I can say from personal experience that continually chasing down and wrapping a vacuum cord is a tiresome process, but Hoover makes it easy.
The reviews for the WindTunnel, while mostly positive, are a little more divisive than the other vacuums on this list. The biggest complaint I've seen is that the vacuum does clog quite often, which can be a nuisance to pet owners with animals that constantly shed.
In addition, the brush has received criticism for not working, or at least not working efficiently over time. To me, if a vacuum cannot sustain its performance over the span of months or even years, then it becomes a little suspect to me.
Granted, this is not the case with all WindTunnel vacuums, but the fact that I have seen it posted multiple times does raise some concern for me personally with the vacuum.
The negative reviews of the Hoover WindTunnel may sway some potential customers from buying the vacuum, but I am here to say that it should not.
Even though it may not be as powerful or flexible as some of the other vacuums on this list, the WindTunnel is cheap and offers multiple ways in which it does exceed other vacuums.
The suction power has been noted as great by multiple users and the cord rewind is a feature I just simply do not see in a lot of other vacuums.
Even though the WindTunnel has issues with clogging and a sometimes malfunctioning brush, these are issues that can easily be fixed. All in all, the Hoover WindTunnel UH70210, while not the first on my list, is still a solid vacuum when it comes to pet hair.
Resources