When cleaning your house, the staircase is one of the most important areas to keep clean. The stairs are the only way to get from the lower floor to the upper floor, and as such, they are the most used surface in your home. When looking for the best vacuum for stairs, you don't want one that is good, you want one that is great. This means you should look at every aspect of the vacuum cleaner, including suction, design and cleaning power.
There are many important decisions involved in purchasing a vacuum for your stairs. Corded or battery powered? Handheld or canister? In this article, I will attempt to answer some of these questions and give you a helping hand in your choice.
Most of us can relate to the problems that come with vacuuming a staircase:
The cord not being long enough and having to unplug it at the bottom and then plug it back in at the top of the stairs is the most common frustration.
Another annoyance is having to lift a heavy upright machine up each stair, at the same time trying not to run over the cord.
Running out of battery half way through cleaning is a major gripe among cordless vacuum owners.
I have researched and decided on 5 vacuum cleaners that I think are the best for cleaning your stairs. Each product has a short review written below. Before you read the reviews, here is a comparison table of the top 5 cleaners for your stairs.
Top Selling Vacuums for stairs in 2018
| Name/Image | Learn More | Brand | Rating | Weight (lbs) | Features |
| --- | --- | --- | --- | --- | --- |
| Shark Navigator Lift Away Professional | view pricesfull reviews | Shark | | 13.7 | Detachable lightweight canister, Never loses suction technology, Anti-Allergen Complete Seal technology + HEPA, Swivel steering for easy movement |
| Dyson V6 Cordless | view pricesfull reviews | Dyson | | 4.5 | Docking Station, Max Power Mode, Trigger Grip for maximum battery use, Additional Attachments |
| Hoover Platinum Collection Lightweight Bagged Upright with Canister | view pricesfull reviews | Hoover | | 11 | Powerful 12 amp motor, Air-flow and Wind-tunnel technology for efficient cleaning, Includes canister vacuum, crevice tool and other attachments, Self-sealing HEPA bag |
| Black & Decker 20V Max | view pricesfull reviews | Black & Decker | | 3.4 | Pivoting nozzle for tight spaces, Docking station for charging, On-board brush and crevice tool |
| Hoover Linx | view pricesfull reviews | Hoover | | 7.3 | Powered Brushroll with Windtunnel technology, Interchangeable battery with charger, Fuel Gauge to show remaining battery |
Shark Navigator Lift-Away Professional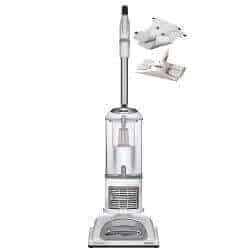 The Shark Navigator Lift-Away Professional offers a lightweight vacuum with a feature many others in its class don't have; a powerful machine that never loses suction! The suction is incredibly powerful, rivaling many other available models on the market, and it even includes a HEPA filter so that you are cleaning the air as well while you suck up the dust, dirt, mold, etc.
At a lightweight 14 pounds, there should be no problem taking this vacuum wherever you need it; portability of cleaning has never existed like this before.
Read More: Which Shark vacuum is best for me?
It also includes helpful features such as a 30-foot power cord so that you're not constantly finding a new outlet to plug into as you clean, which is very important when vacuuming a staircase.
It is bagless to prevent waste, and also has a swivel head to reach as much as possible. It even boasts a low noise level so that you're not wanting to plug your ears just to clean the floor.
The Shark Navigator has a pet-hair brush for furniture, and the lift-away function is incredibly handy for getting rid of the vacuumed material as quickly and easily as possible. You can adjust the suction, as well as have the ability to turn the beater bar on and off.
If you're looking for a lightweight vacuum for your stairs that never loses suction, for a price that is honestly much cheaper than other companies that promise the same thing, it is definitely a product that I recommend.
---
Dyson V6 Cordless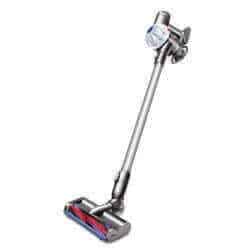 The Dyson V6 Cordless offers more than any other cord-free vacuum on the market. With a cord-free design, it allows you to move easily around the room or house without constantly having to relocate your cord and find a new outlet to plug it into.
Unlike the other available cordless vacuums, this Dyson offers a host of other great features that make it second to none in this industry. The most valuable feature is its powerful, fade-free suction for at least the first 20 minutes of use.
To use the Dyson V6 Cordless you simply pull the trigger when you need suction, and let go of the trigger when you're done using it; the battery is ONLY used for cleaning, no wasting battery to run the vacuum when you're not using it!
Other features offered by the Dyson V6 Cord-Free Vacuum that you can't find in its alternatives include; a motorized cleaner head that can be used on any floor type, an easy to use, convenient, handheld mode, it's hassle-free because you don't have to worry about moving from room to room with nothing holding it back, and a center of gravity that leans toward the handle for easy, lightweight cleaning on the ceilings, walls or floors.
With all these available features, and even optional attachments if you want them someday, this is one of, if not the best cordless vacuum for stairs, and it truly is one of a kind in its market.
---
Hoover Platinum Collection Lightweight Bagged Upright with Canister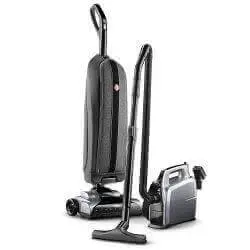 Hoover has done it again with the creation of The Hoover Platinum Collection Lightweight Bagged Upright Vacuum.
Hoover has been around for many, many years creating and innovating vacuums, so it's no surprise that each and every one of their products is made and performs well.
The lightweight design of this model comes with a total weight of 12 pounds so you can move it around with ease, and Hoover's Patented WindTunnel Technology extracts the dirt from your carpet in less time than other vacuums on the market.
This Hoover also offers HEPA bags that trap 99.97% of dirt, dust, and pollens, dual speed controls, not to mention the 5-year warranty in case anything ever happens to your Hoover vacuum.
The lightweight, portable canister includes a crevice tool, dusting brush, and hard floor attachment for ease of cleaning any surface, and a telescoping wand to be able to reach areas you couldn't get to before.
The Hoover Platinum Collection Lightweight Bagged Upright has a varied list of pros and some minor cons that are worth looking into before making a purchase. However, Hoover is a well-known and trusted company, and the list of positives combined with the low price make this a vacuum worth considering.
---
Black and Decker 20V Max
The Black & Decker 20V MAX Lithium Pivot is a small cordless handheld vacuum with plenty of power thanks to the 20V MAX Lithium Ion Battery; you will get suction and power for much longer than the standard handheld you're used to.
Another great feature you'll find in the Black & Decker 20V is the fact that it's also lightweight so that you can easily use it throughout your entire home; you don't have to worry about lugging a super heavy vacuum around anymore!
The Black & Decker 20V MAX Lithium Pivot also boasts the ability to be able to easily clean out the filter and bowl simply by rinsing it with water; no need to replace your filter all the time! Not only that, but the bagless dirt bowl can hold 42% more than the original Pivot model, so you get higher capacity and easy cleaning with a lightweight handheld vacuum.
If you're looking for a good quality, low-cost stair vacuum, the Black & Decker 20V MAX Lithium Pivot is definitely one of the top-rated hand vacuums.
---
Hoover Linx Cordless Stick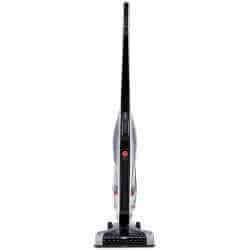 The Hoover Linx is a battery powered cordless stick vacuum with fantastic performance and features that have helped Hoover sell thousands of models over a number of years. It is one of the most popular lightweight models on Amazon and it is easy to see why.
One of the main benefits of the Hoover Linx is the amazing suction power thanks to Hoover's WindTunnel technology.
Another big advantage the Hoover Linx holds over its competitors is the battery fuel gauge. The battery indicator lets you instantly see how much charge is left, which I found to be very accurate. An Interchangeable rechargeable battery is included, which means a spare one can be kept for back-up.
The edge cleaning bristles make this a perfect vacuum for cleaning stairs, no attachments are necessary as it is able to clean the baseboard as well as the floor. No more awkwardly bending down to remove a piece of fluff from the baseboard; the edge cleaning and wide cleaning path ensure that vacuuming your stairs is a quick and painless task.
Another impressive feature of this product is the clean, modern look and the clear canister. There is nothing more satisfying than seeing just how much dirt is being sucked up from your carpets!
All in all, this is a very impressive cordless stick vacuum and if you decide to purchase it, you will see why thousands of other happy customers have been using it to clean their homes for years.
---
What To Look For In A Vacuum Cleaner For Your Stairs
Dust, dirt, and tiny pests can thrive in carpets and flooring which can be difficult to reach and remove with just sweeping. That's why vacuuming has become an important part of any homeowner's cleaning regime. But it pays to keep in mind that not all vacuums are made the same, and this becomes even more apparent when you try to use one on a set of stairs.
Read More: Cleaning carpet on stairs: a complete guide
The Problems of Cleaning Stairs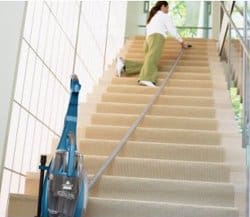 Stairs are often the most overlooked part of any home when it comes to cleaning, and this is because we often forget that they're actually part of the floor area. Stairs that are subjected to high traffic can easily accumulate filth, dirt, and dust that are transferred from people's shoes and into the steps, especially stairs with carpet.
The difficulty when it comes to cleaning stairs is that they're not completely flat like other floors. This means there are lots of little crevices that dirt can hide in, which makes them harder to clean.
The job of vacuuming stairs is made a challenge by the fact that you inevitably need to ascend or descend them when you clean them, and that can be tough if you have a giant machine in tow or a short power cord.
The Benefits of Having the Right Vacuum for the Job
A Thorough Clean – This has to be the biggest factor you need to consider when choosing the right vacuum cleaner for your stairs. Of course, it would be an absolute waste of time, effort, and money if the machine you have can't properly and thoroughly clean your stairs. The best stair vacuum will be able to reach and remove all the dirt, filth, and dust that may have accumulated in your steps, leaving it as clean as possible until the next time they're scheduled to be cleaned again.
An Easy Cleaning Process – If you were planning on lugging your human-sized vacuum cleaner up your steps, then you've probably got to rethink your plan. The wrong product can turn the supposedly simple task of cleaning stairs into a herculean challenge. There's no need to put yourself through all that physical effort. The right cleaner can be brought up and down stairs with ease and should require minimal changes and adjustments along the way so you can clean seamlessly.
A Safe Cleaning Process – Pulling a big, heavy machine up and down your stairs with cables and cords running all over the place is an accident waiting to happen. Take your safety into consideration when cleaning your stairs, as it becomes ten times easier to fall and break something if you're working on a surface that's not level. The right vacuum cleaner for stairs should minimise the potential for accidents, and eliminate the chances of you falling into an unwanted injury.
What Type of Cleaner Should I Use on My Steps?
Cordless or Corded? – The power source of a vacuum cleaner will determine whether or not the unit will have a cord. Battery operated options can operate even without an outlet connection, but some models can be significantly less powerful than those that need to be plugged in. Taking the fact that stairs can house lots of dirt, filth, and dust into consideration, it's easy to see that a corded model would be best to efficiently and effectively remove all contaminants. But because corded models need to be plugged and re-plugged as you go along, using them on stairs can be a bit tedious. What's more, wrestling with a full-sized, corded vacuum cleaner on a set of stairs can be hazardous.
Handheld, Canister, or Upright? – A handheld vacuum can be easy to use on stairs because they're compact, lightweight, and powerful enough to get dirt and filth out without too much effort. But most of the time they are not convenient to use on other areas of your home, so if you do purchase one, it will probably be used exclusively for your stairs.
An upright vacuum cleaner is the hardest to use on stairs because of its bulky and often large build, but there are some that come with a removable canister. If you don't mind re-positioning your vacuum cleaner on a set of stairs as you ascend or descend, a canister unit might be suited for you. What's more, these can be used around the rest of your house, making it a worthy investment for any homeowner.
Attachments? – The crevices and corners along steps can be difficult to clean with a simple hose end, that's why it's ideal that you equip your vacuum cleaner with the necessary attachments to better reach and remove accumulated dirt. A crevice tool or a pet brush can be a very helpful attachment for stairs, and the latter also serves a worthy purpose if you have any pets in and around your home.
Final Thoughts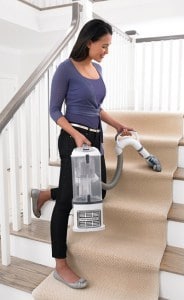 I hope that this page has been of some assistance to you in your quest to find the best vacuum cleaner for stairs. There are a few things to consider, but I fully believe that if you take my advice and look for the product that best fits your needs and has the features that you need, you will make the correct choice.
Remember, having the correct vacuum cleaner to use on your stairs is of great importance for your convenience but also your safety. You do not want a machine that is too heavy or one with too short a power cord. The products that I have reviewed solve these problems, and they are the best solutions for the job.
The Shark Navigator Lift-Away Professional is consistently on the best sellers list on Amazon, it has a high number of positive reviews, and in my view, it is the best vacuum for stairs. The extra-long power cord, lift-away canister, and powerful suction all combine to make a popular and efficient vacuum cleaner.
All of the above vacuum cleaners can be purchased on Amazon, so I would encourage you to have a read of the reviews that other people have posted on Amazon. For your convenience, here's a link to the top-selling vacuum cleaners on Amazon.
Read More: