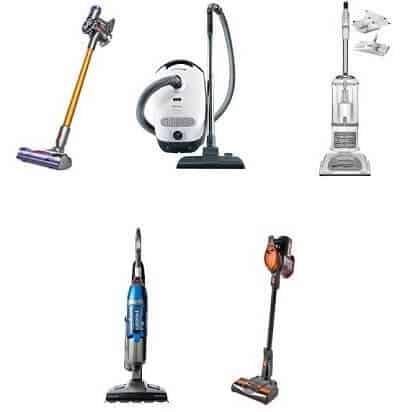 Cleaning a tile floor can sometimes present a challenge if it is not cleaned right away. Unlike carpet where a vacuum can just suck up the dirt and grime, the dirt can build on tile making it a bit more difficult to try and clean. However, with the right vacuum, this problem really goes away after a while, making your kitchen, bathroom, or even dining room floors spotless.
For me personally, I have two rooms with tile flooring so staying on top of them to make sure they are always clean can be a bit of work, but it is well worth it when it is all clean. With that said, I need a vacuum that can not only perform well on carpet but make tile flooring a big focus too.
What I am going to do today is show a comprehensive list of the five best vacuums for tile floors. The vacuums on this list are all very good in their own ways, with some having fewer faults than others. Either way, these vacuums will get the job done no matter how dirty your tile flooring is.
Some vacuums on this list focus more on the range of their cleaning abilities, while others have powerful suction forces that can clean the tiles rather easily. Hopefully, this list of the best cleaners for tile floors will be able to point you in the direction of a vacuum that you think might suit your needs the best in the long run.
Best Vacuum Cleaners For Tile Floors 2018
Image
Name
Learn More
Weight (lbs)
Features
Best Overall

Dyson V8 Absolute

view
prices
Read Review
5.8
Up to 40 minutes of powerful fade free suction, 50% quieter than the V6, Max power mode for more difficult vacuuming tasks
Best Budget

Shark Rocket Ultra-Light Upright

view
prices
Read Review
7.6
Never loses suction technology, Lightweight with swivel steering, Versatile with lots of accessories

Miele Compact C1 Olympus

view
prices
Read Review
12.9
Classic FiberTeQ tool which is made for hard surfaces, 6 power settings, VarioClip with three onboard accessories

Shark Navigator Lift-Away

view
prices
Read Review
13.7
Detachable lightweight canister, Never loses suction technology, Anti-Allergen Complete Seal technology + HEPA, Swivel steering for easy movement

Bissell 1132A Symphony

view
prices
Read Review
10.1
Vacuum and steam at the same time, easy touch digital controls, variable steam control
---
Dyson V8 Absolute
When it comes to tile floors, Dyson has most of their competition beat by miles. The V8 Absolute is one of their most recent successes with it being a number one best seller; clearly, Dyson did something right with this vacuum cleaner.
The very first feature the V8 has is its cord-less technology that allows you to move between rooms rather easily without having to worry about getting tripped on the power cord. Along with the cordless feature, the V8 Absolute can be used as a handheld vacuum. To me, this makes moving from my kitchen to the bathroom super simple and I think this is a big selling point for the V8 Absolute.
One of the best features aside from the cord-less technology is its suction power. As with most pieces of technology that are wireless or are not natively plugged into a wall outlet, battery life can be an issue. However, the V8 Absolute offers up to 40 minutes of powerful suction.
Not only that, but it has a motorized floor tool attached that gives 25 minutes of cleaning. Dyson thought ahead when putting together the V8 as the battery is only used for cleaning, and does not drain when not in use. However, Dyson still recommends that users charge the vacuum for at least for four hours.
The V8 is also known to vacuum up allergens and other grime that we can breathe in. The HEPA filtration system takes care of any and all of the allergen problems, which is rare in a vacuum. Not only can it do that, but it has a max power mode which can easily wipe a tile floor clean.
This to me makes this vacuum an absolute must buy because not only does it vacuum tile well, it gets rid of all the harmful things you can find on your floor. It also has a dirt ejector, which eliminates any and all dirt found inside of the dustbin, making clean up very efficient.
Some critics have said that the price of the V8 Absolute is what makes them unsure of the purchase. While it is one of the more expensive models on the market, the performance and long-lasting capabilities of the Dyson V8, at least in my mind, far outweigh the cost.
If you are budgeting for a vacuum, I would still recommend the V8 as my top model on this list simply because of how effective it is with not only picking up during cleaning but sweeping up allergens with the HEPA filter.
There are many positives about the V8, which is why it is at the top of my list. The flexibility behind the handheld back to a stand-up vacuum is a huge positive for me, along with the many great features it has such as the HEPA filter and dirt ejector.
The price may come into play for the V8, but at the end of the day, it is still well worth the investment.
---
Miele Classic C1 Olympus
Miele's rise on the vacuum market in the past few years really should not come as a surprise. With their Classic C1 Olympus vacuum, it is no wonder that the company continues to rank so high. The Olympus features a system that works well on any type of flooring, especially tile.
While it can perform well on rugs and carpets, tile sometimes is the hardest area to work with as dirt and stains tend to stick a little easier. For the Classic C1 Olympus, this is no issue as it sweeps up the problem areas with little to no problem.
The Olympus has what it calls an SBD 350-3 classic FiberTeQ tool, which makes vacuuming on smoother surfaces like tile flooring, much more easier. The rotary dial also helps you select the amount of suction power you need in order to get the area you are working in clean as a whistle. The switch attached to the tool makes it simple if you are going from carpet to tile, which in this case, is something that is very welcome.
One neat accessory of the C1 Olympus is the telescopic, stainless steel wand, which can work up to 29.5 feet. This wand features an XXL handle that lets you get into the nooks and crannies of an area, especially under say a cabinet or even a refrigerator. Dust buildup in those types of spots is not uncommon and if unchecked for long periods of time, it can create a rather unhygienic area.
The wand, along with the AirClean system, makes sure that even the biggest build ups of dust, dirt, and all the grime is swept up, especially in the harder to reach areas.
One complaint some users have had is specifically with the head of the vacuum. While the C1 Olympus does offer a powerful suction force, some users felt that it attached itself too much into the floor, especially carpeting in this instance, making it harder to get off of the floor.
Others said the vacuum has a "flimsy" build and materials. While there may be some validity to these claims, it makes me wonder exactly how the vacuum was being used. Miele typically makes a solid vacuum, but if some users have been having issues with the durability of the C1 Olympus, it does raise some questions.
All in all, the C1 Olympus is a solid vacuum from Miele. It features many handy accessories such as the stainless steel wand and its XXL handle, making the hard to reach areas easy to clean. With its suction power and the FiberTeQ attachment, it does well on any type of flooring, especially tile.
There are some users suggesting that the vacuum could use a better build, both with its design and material such as the hose which some got stuck on the carpet. Still though, for its price, the Classic C1 Olympus ranks high on this list for all of its features but still does not quite take the top spot.
---
Shark Navigator Lift-Away Professional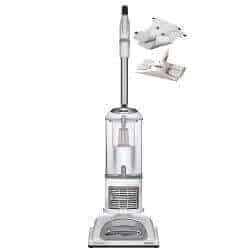 The folks at SharkNinja have continually impressed me and their Navigator Lift-Away Professional vacuum cleaner is the latest and greatest that they have to offer. To me, it is no surprise that the Navigator has so many positive reviews because while it may be one of the cheaper models Shark offers, it is also one of the best.
As it states in the name, the Lift-Away feature allows the user to lift away the canister and get into the harder areas clean like corners and under furniture. When cleaning tile, any vacuum that allows me to easily reach into the cracks and crevices is a winner in my book.
Perhaps the best feature the Navigator has for tile and hard flooring, in general, is its dusting brush. As some users have said, the dusting brush helps clean tile flooring easily, and with the Dust-Away attachment, tile becomes as easy as carpet to clean. The Dust-Away feature helps scoop up dust and dirt on not only tile but bare floors as well. This kind of versatility that the Navigator offers is a huge plus point and I think it is definitely one of its strongest features.
The Navigator has typically been thought of as a vacuum mainly used with pets, but its range goes beyond just animals. When animals leave hair and fur behind, such as my cat, for example, it can be anywhere. Usually, I find bits of fur in the carpet, but I do occasionally find some tucked under the cabinets in my kitchen, so the Navigator is able to help me clean up those areas.
The brush roll feature is great and features two modes, the standard which is used for carpeting, and gentle which is what I primarily would use in the kitchen or bathroom to get pet hair from building up over time.
One downside to the Navigator is how often it can become clogged. Despite its impressive suction force, the Navigator gets clogged with hair and animal fur somewhat quickly, but the vacuum itself is easier to clean out. I can definitely see how this could be a nuisance to someone who cleans multiple times a week.
The other issue I have seen pop up is the weight of the vacuum. Now while the Navigator is far from the heaviest vacuum I have looked it, as one user put it, the Navigator's weight could be a deterrent for older people who may have a tough time using it around their home. The weight itself seems to be in the central portion of the vacuum.
Still, the Navigator is a solid Shark model. While some may praise its success for pet hair, I believe its versatility makes it a great competitor to other vacuums out there, and it is great for cleaning stairs. The Navigator's Lift-Away and Dust-Away features are pretty handy in the long run.
The Navigator may have its issues with frequent clogging, but that does not stop me from recommending it. After all, a 4.5 out of 5 rating is pretty decent all things considered.
---
Bissell 1132A Symphony All-in-One Vacuum and Steam Mop

Bissell is one of the bigger names on this list and with their 1132A Symphony, it is no wonder they are on here. The Symphony's crowning feature is its all-in-one vacuum along with a steam mop. Not many vacuums can offer what the Symphony does as it allows the user to sweep and steam the floors in one single motion.
Despite this though, it isn't the highest rated vacuum on this list but still is pretty useful in the long run especially considering the lower cost of this vacuum compared to so many others.
What the steam mop does is it allows the user to not have to worry about using an extra bucket when cleaning. It features easy touch digital controls that allow you to switch from vacuuming to steaming in a matter of seconds. I think this is a really handy feature that the Symphony has and it definitely makes cleaning more efficient when working with tile flooring.
The steaming feature allows tile and even hardwood floors to get an extra cleanse that some vacuums simply cannot offer. There is also a dry tank which as the name states, keeps the tank dry while steaming.
In addition to the steaming, the Symphony has a quick-release mop pad tray which has up to four washable pads for scrubbing. The pads can also be replaced when needed. The vacuum to mopping versatility is extremely nice to have and one nice feature of the Symphony is its five-way adjustable handle that allows for easier steering.
Read More: Full review of the Bissell Symphony 1132a all-in-one
Many people overlook this handle, but I think it works well considering the vacuum transitions from different types of flooring. Steering the vacuum is not much of an issue either as the Symphony is pretty light, only weighing around 10.1 pounds.
Some complaints about the Symphony, however, came with the steaming function. One user said that they could not tell the difference between the low and high settings of the steam mop while others said the function was inconsistent. This to me is a concerning area, especially with a vacuum that lets it be known its basis is the half vacuum and half mop make up.
Many other users have said that the vacuum simply stopped working after a few months of use, which I think can be in the case with any vacuum as there are bound to be some defective models.
Bissell has a quality product in the Symphony, despite some users having issues with the steam mop function. If it works well, the switching from vacuuming to mopping makes cleaning much more efficient and does wonders for tile flooring. The complaints about the steam mop are a little concerning, along with some of the Symphony vacuums just not working after a few months.
Still, the Symphony is a solid little vacuum and for under $200, it is definitely something that can easily fit into a budget. While it does not reach the top of my list, I still recommend this vacuum.
---
Shark Rocket Ultra-Light Upright
SharkNinja made this list twice and when you see what their Rocket Ultra-Light Upright vacuum offers, you will see why. The Rocket is one of SharkNinja's cheaper models price wise, but that does not mean its quality suffers from that.
There are so many things the Rocket offers and perhaps the biggest feature of them all is its versatility when cleaning areas around the apartment or house.
The Rocket's versatility makes it a vacuum unlike the rest as it can clean the floor, but also the ceiling as it can turn into a hand vacuum. The Dust-Away feature that the Rocket has makes its versatility even stronger. When vacuuming with the Rocket, its Dust-Away allows a user to sweep up bigger piles of dirt and grime, which makes it a pretty efficient when working on tile flooring in particular.
Not only is the Rocket versatile, but it is extremely lightweight, weighing in at just under 8 pounds. Because of it being so lightweight, many users reported that they were able to get under couches and tables without any effort.
Working on tile flooring, in particular, seems to be one of the bigger strengths of the Rocket as many users reported after using it, there was no residue left behind. The Rocket also works well on rugs and carpet, along with other areas such as cars. In fact, the Rocket has several accessories such as a car kit and appliance wand which some vacuums do not offer.
There is also a wall mount for the vacuum to hang it up instead of it taking up space in a closet. Some users complain about not being able to fit their vacuum into a tighter space, but with the Rocket that does not seem to be the issue.
Some of the more critical looks at the Rocket deal with its suction power and cleaning the vacuum itself. Many users reported that the suction power of the Rocket seems to vary while some had good results and other said they would have to vacuum the same area multiple times.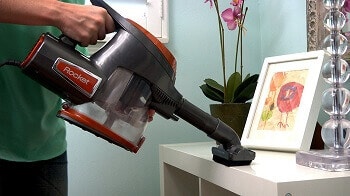 Others said that the Rocket is not an easy vacuum to clean and sometimes it has to be disassembled in order to get any potential clogs out and just making sure the vacuum is clean in general.
While the suction performance makes me a little skeptical, I think overall the Rocket is a solid vacuum and for SharkNinja to make my list twice says something about the company. The Rocket is a lightweight vacuum that is mainly known for its flexibility and work on tile flooring.
It also can become a handheld vacuum which can clean harder to reach areas and even the inside of cars if needed. Despite the Rocket being a bit lower on my list, I still think it is well worth its cheaper price. The Rocket vacuum is definitely worth a look.
---
Choosing a Vacuum for Tile Floors
When cleaning the many different types of flooring, you want to make sure you have the proper tool, or tools, for the job. In this case, choosing the best vacuum to handle multiple types of flooring is not always easy as some will handle one over the other, but rarely will do both well.
There are many things to consider before buying a vacuum, especially if there a few that you are wondering about purchasing. Hopefully, some of the considerations on the list below can help steer you in the right direction toward the vacuum that is right for you.
What Kind of Vacuum Works Best for You?
When trying to find a vacuum, it is not always easy to find one that meets all of our expectations. There are vacuums that work better in certain environments and when going to purchase a vacuum, it is important to keep that in mind.
Trying to determine what vacuum is best for you depends on a few factors such as the cost of the vacuum, the time spent cleaning, and potential maintenance to consider. For instance, upright vacuums may suit your needs more than a robotic vacuum if you want to manually monitor what is getting cleaned and what is not.
There are multiple types of stand-up vacuums too such as upright, bagless, canister, and handheld, all of which play very different roles from each other, so that is something to keep in mind.
Is the Vacuum an Investment?
If you are looking to buy a vacuum that will last you a long time, you may have to spend a little extra. I cannot count the number of times I have read a review of someone who said that the vacuum broke after a certain amount of time. In this case, investing in a vacuum that is not only solid performance wise, but can hold up over time after being used, is a pretty big consideration.
After all, you do not want to spend the money on something that is liable to end up breaking in a few months. For me personally, I do not mind spending the extra money if I know what I bought is going to last me a while. However, this may not be the case for you, but I would still recommend finding a trusted brand that will last you for a while.
How Much Tile Are You Cleaning?
The area that is being cleaned, along with how much of it, is something that will factor into your vacuum search. Finding a vacuum that can handle a larger area is what I would recommend, especially if you have multiple rooms that have tile or even hardwood floors, such as kitchens and bathrooms.
You will want to consider a vacuum that does not clog easily and can handle adjusting speeds as tile can be a little more challenging to clean. If you have a cordless vacuum for example, then you will want to be sure you can clean as much as possible in the allowed battery life, but this seems to be getting better over time with newer models.
How Frequently Are You Cleaning the Vacuum?
I have read countless stories of users who were fed up with their vacuums simply because they would have to clean them more often than prior models they had. However, these complaints were not necessarily invalid as there are some vacuums that have an issue with clogging.
If you are vacuuming often, say a few times a week, then you will want to get a vacuum that does not need to be constantly monitored and cleaned. Now, not all vacuums can go long periods of time without being cleaned, but if you find yourself cleaning your vacuum after every usage, you may want to consider a new model.
Do Accessories Matter to You?
Some vacuums feature a neat assortment of accessories and those can range from hoses to brushes. For tile, either a hose or brush would work, but it just depends on what exactly you are cleaning. If it is dirt and grime, a hose may work well, but if it is a liquid, then perhaps some sort of washable pad would easily clean the mess.
Not all vacuums offer accessories so if you purchase one that is simply just the vacuum, it can come at a lower price. But, if accessories are something you would like instead of having to purchase individual components to finish cleaning, then you may want to consider paying a little extra for a vacuum with extra parts.
What Other Factors May Pop Up?
Pets for some users are a big reason as to why they look for a more powerful vacuum and one that can work on multiple surfaces. On the other hand, kids are another big reason why they are constantly looking for something to clean up messes.If you have Berber carpets you will need a vacuum cleaner that is not going to damage them.
Either way, there will be factors, both unexpected and expected that do occur and you will want to make sure you have the vacuum to handle it. If something falls that could stain your tile flooring, which vacuum would be the best to clean it up?
When looking for a vacuum, I would recommend your all-in-one types as they are pretty efficient at making sure you do not have to use extra supplies. However, whatever fits your budget at the end of the day is the vacuum you should consider purchasing.
All in all, I hope that these considerations can help you in your search. Tile is not an easy type of flooring to clean and you will want something that can handle that and hopefully carpet so that you are not looking for two different vacuums.
Personally, when I look for a vacuum, I want to find something that will allow me to do more than just simply vacuum. Flexibility and versatility are big sellers to me. All in all though, buying a vacuum should not be a difficult process and hopefully, these tips make the process easier.
---
Final Thoughts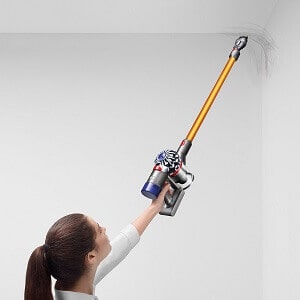 There are a lot of vacuums that are adequately equipped and able to clean tile flooring. I hope that my list of vacuums was able to help you narrow down your search quite a bit as these five are the ones I think can perform the job the best.
The Dyson V8 Absolute, however, is what steals the show for me and its cord-less feature makes cleaning so much easier than before. Plus, I do not have to worry about storing my V8 Absolute away like I did with prior vacuums and having their cords becoming tangled up.
For your convenience, here's a link to the top-selling vacuum cleaners for tile floors on Amazon.
One thing that sold me on the V8 Absolute is its ability to go from a stand-up model to a handheld vacuum. This allows me to cover much more territory than I could before. Not only am I able to cover a lot of room, but the powerful suction force of the V8 is something that has completely refreshed my apartment because of how efficient it is at picking up dirt and grime.
This is not to say that the other vacuums listed here are not worth your time. In fact, you might find out that the V8 Absolute is not what you are looking for and maybe another vacuum on this list works better for you.
For me though, I cannot recommend the V8 enough and it definitely has made my kitchen and bathroom a whole lot cleaner in the long run. It will make your tiled floors cleaner too.
Read More: