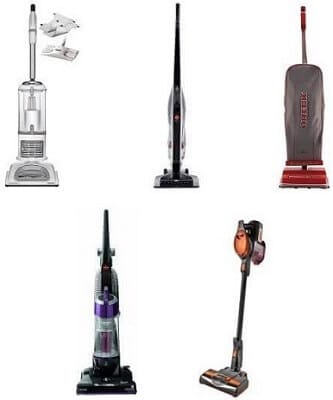 When it comes to buying a new vacuum cleaner, you have to ask yourself a question:
Do I want a cheap vacuum cleaner, or do I want one that will do the job I need it for?
Today, you are in luck. Why?
I'm going to show you that it is possible to have both.
 I have spent a lot of time researching the best cheap vacuums available today, so all you have to do is decide on a budget and go to the relevant section –
Best Vacuum Cleaners Under $200
Image
Name
Learn More
Weight (lbs)
Features

Shark Navigator Lift Away Professional

view
prices
Read Review
13.7
Detachable lightweight canister, Never loses suction technology, Anti-Allergen Complete Seal technology + HEPA, Swivel steering for easy movement

Hoover Linx Cordless

view
prices
Read Review
7.3
Powered Brushroll with Windtunnel technology, Interchangeable battery with charger, Fuel Gauge to show remaining battery

Oreck Commercial U20000RB-1

view
prices
Read Review
8
40 foot power cord, Exclusive helping hand handle – commended by the Arthritis Foundation, Moves between carpet and hardwood floors easily

Bissell CleanView 9595A

view
prices
Read Review
15
OnePass technology with powerful suction and innovative brush design, Easy Empty dirt tank, Washable foam filter, TurboBrush tool

Shark Rocket Ultra-Light Upright

view
prices
Read Review
7.6
Never loses suction technology, Lightweight with swivel steering, Versatile with lots of accessories
---
Shark Navigator Lift-Away Professional Review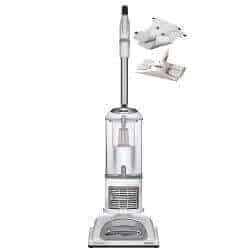 The best budget vacuum for $200 on the dot would have to be the Shark Lift-Away Professional Vacuum Cleaner. This machine takes the best of middle ranging vacuum cleaners and is ideal for allergy sufferers and hygiene conscious individuals with tight budgets.
Top Features
The best feature of the Shark Navigator would have to be where it gets the "Lift-Away" reference in its title. You can literally lift away the top of the vacuum cleaner, revealing a hidden second tool, which is both portable, lightweight and able to reach ceiling crevices and high up edges. The second best feature is the hypoallergenic HEPA filtration system, which is capable of sucking up 99.97% of particles down to the size of 0.3 microns! Combined with complete seal technology (100% sealed suction), this vacuum cleaner becomes a mean hair and pet dander removal machine.
Read More: What is the best Shark vacuum for me?
The Shark Lift-Away Pro is lighter than the averagely marketed 'lightweight' 14lb vacuum, weighing in at 13.7lbs. As with most shark vacuums, steering is made easy with the gravity friendly design. Change modes for carpet or hardwood/ tile flooring with the push of a button to deactivate the motorized brush roll (if active whilst on a hardwood or tile surface, it may damage the brush roll or the floor). On top of all these fabulous features, it comes with a whopping 5-year warranty!
Customer Reviews
There is a lot of great talk about the Shark Lift-Away vacuum cleaner. Currently, among photos of people hugging their new purchases after testing the shark out, reviewers loved the price. One person mentioned that other brands charge as much as $600 for the same functionality in their vacuums. Across the pole on Amazon with many thousands of user votes, the shark lift-away pro has gained a high average review score. Reviewers had things to say such as "never thought I'd love a vacuum this much!", "the best vacuum for any money" and "Still runs great 3 years later".
The top critical reviews I saw actually still had much appreciation for this vacuum cleaner. After digging a bit deeper into the reviews, I finally found reviews of users who purchased it after it broke and complained about the wait while Shark fixed or replaced their vacuum cleaners. One valid point to mention is that if it breaks, Shark may ask you to pay postage fees both ways. This only occurred to a small proportion of the reviewers, and will not apply to most cases, however. For a five-year warranty and great vacuum functionality when it is working, this is possibly a small concern with regards to purchasing the Shark.
This is the best vacuum cleaner under $200, offering you state of the art home cleaning technology at a third of the price! We all deserve to live in a clean home without breaking our budgets and with the Shark Lift-Away Pro, that is now possible.
---
Hoover Linx Cordless Stick Review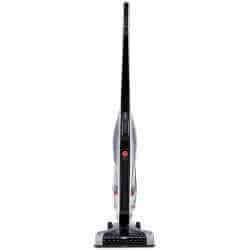 Another really fantastic vacuum for anybody needing one with a budget under $200, is the Hoover Linx Stick BH50010. This is actually a vacuum that could be placed in the under $100 category, giving even more value for what you would have purchased.
Top Features
This vacuum was the first invention made by Hoover with their wind tunnel technology, effective at sucking up deeply embedded dander, fine dust, and tiny particles off of surfaces. Its best feature would have to be the fact that it's a cordless vacuum cleaner, possibly the best cordless cleaner on the market for under $100. The Hoover Link's bristles are placed closer to the front of the suction head to allow for easier cleaning of walls and edges. Incorporating Cyclonic Filtration Brush Roll technology, it really digs deep to find that hidden dirt that ordinary vacuums would possibly miss.
The battery, once fully charged, will give you 20 minutes of cleaning power. This seems like an awfully short length of time, but due to the impressive suction and unique brush design, 20 minutes is all you need to create a spotless home with the Hoover Linx Cordless. it has a gauge that lets you know when it's recharge time too and comes with a 2-year warranty. It's designed especially for carpets and a great buy for anyone needing to save a few $100 on a vacuum cleaner purchase!
Customer Reviews
Most customer reviews of this product are naturally spectacular. Many people reported that it was enjoyable to use, being light, movable and with enough suction power to do a satisfying job. There are thousands of reviews on Amazon at the time of writing this with a high percentage of top ratings. Overall, reviewers love this product, leaving behind joy-filled comments such as "Simplicity at its best" and "I absolutely love this vacuum!".
I read a very useful comment from a user who said that this vacuum has a set of wheels underneath it, which allows it to move really well across the floor but landed up damaging their tiled floor. Other reviewers have stated the contrary, saying this works great for their hardwood or tiled flooring. The bristles in the design indicate that this was designed for carpets, which require combing, as opposed to hardwood floors. Don't purchase this if you only have tiled flooring or it could be a mistake. Other critical reviews mentioned that it broke in under a year, having faulty components and not working properly. These problems can be resolved by calling the manufacturers and evoking the 2-year warranty.
At the end of the day, the fantastic cordless functionality and freedom of movement whilst cleaning your home that the Hoover Link provides one with makes it a superior under $200 bargain.
---
Oreck Commercial U2000RB-1 Review
Finding an industrial vacuum cleaner that can withstand heavy duty cleaning can be very difficult to achieve with a limited budget. Most industrial vacuums are at the top of the range and can cost you a miniature fortune! The Oreck Commercial Upright U2000RB-1 could be the solution you are looking for and will comfortably fit a budget under $200.
Top Features
The best features of the Oreck Commercial Light Upright Vacuum Cleaner is that it functions with a powerful suction and has a brush roll that moves at high speeds (5000-6500 RPM) at different settings. The 12-inch long brush roll has a double helix design and works using Microsweep technology (i.e. the brush roll is very fine and picks up fine dust at a high RPM). It is suitable for both hardwood flooring and carpets, automatically adjusting itself accordingly for the floor type it's on! It has a 40ft cord and a large bag, much larger than the standard vacuum has, at 630 cubic inches. You can clean easily underneath low surfaces easily, as the handle can be pushed lower for convenience or better storage options.
The handle for the vacuum has been approved by the Ease-of-Use Commendation from Arthritis Foundation, having all buttons and switches directly at your fingertips for maximum functionality. It comes with a one-year warranty on the vacuum and a 5-year warranty on the slip-free belt. This is an ideal vacuum for retail flooring that needs to be kept clean for customers consistently.
Customer Reviews
Out of the hundreds of people who have so far purchased and reviewed the product on Amazon, The majority of them have given it a high review score. Customers have enjoyed the Oreck Commercial because it works so well that their bags tended to be overfilled with dirt they did not realize was there. The other quality that was immensely appreciated by many was the special arthritis attention to detail the handle has to offer. Users mentioned that it helped them with their arthritis pains in the hand. "Great product", "BUY IT!" and "Best Vacuum Ever!" are among some of it's acquired positive review comments.
In a critical review, a person mentioned something very valuable to note about the Oreck Commercial cleaner. She wanted replacement bags and bought one that says it works for all models of Oreck, however it didn't. If you need to buy spare bags for your Oreck, make sure it matches the Oreck Commercial U2000RB-1 bag color and mentions the vacuums extension code. Nevertheless, she still gave a rating of five stars.
An excellent vacuum cleaner for a budget of under $200, the Oreck Commercial U2000RB-1 has fantastic suction power and is a relief to hands that hurt. Businesses and homeowners alike can benefit from the qualities of this budget vacuum cleaner.
---
Bissell 9595A Review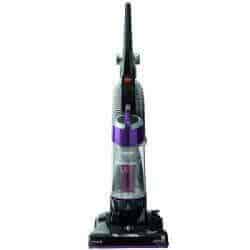 It's no longer necessary to struggle to buy a decent vacuum cleaner these days at a low price. If your vacuum cleaner just broke and you have a very tight budget, or you saved up a budget of say $200 to get a new one, but could use extra cash right now; the under $100 Bissell corded 9595A is my recommendation to you.
Top Features
The Bissell 9595A's uses and functionality are really brilliant for its below $100 price! Weighing 15.1 lbs, this upright canister vacuum is cleverly designed to center the bulk of the vacuum's weight on the ground. Having centered weight allows you to navigate the floor easily, working with gravity to smoothly steer the machine around the house. It has a 30 ft cord, no batteries, and no recharge fuss. The suction power is decent, using a cyclonic system with a fully sealed suction head.
Cleaning the Bissell 9595A is made to be easy for the user. Empty the canister contents into the rubbish bin and simply wash the removable foam filter in the washing machine. Lastly, this vacuum cleaner has a handheld turbo brush tool, specialized to clean stairs or any sudden messes. It is suitable for cleaning hardwood flooring as well as carpets.
Customer Reviews
This is certainly one of the best selling vacuum cleaners on Amazon and for good reasons. Customers have loved how this vacuum sucks up dirt and cleans so well for the fabulous price. Reviews exclaiming "worth the money if you have pets", "excellent value for performance!" and even such high praise as "this vacuum is my religion" point to this Bissell's good reputation. In the end, it has been reviewed by thousands of users, who have given it a very high average review score.
I went to look at the critical reviews for the Bissell 9595A and saw many complaints on how it broke in under 6 months of use. In this instance, you can call the supplier to get a brand new one at no further cost. Other reviewers have documented that this happened to them, the vacuum broke or something went wrong and that it got replaced; making statements like "Broke but replaced for free". If you look after your Bissell well and clean your home frequently, you should have no further issues to contend with.
Bissell's longstanding reputation for great vacuum cleaners still stands with this model's exceptional functionality and suction power. You can save your cash flow from being ruined this month if you need a vacuum cleaner with the Bissell 9595A.
---
Shark Rocket Ultra-Light Upright Review
Looking at some of the best vacuum cleaners on the market, I've begun to sort them out one by one to find the ultimate deals under $200. Here we have a perfect example of a top-notch vacuum cleaner for under $200, the Shark Rocket Ultra-Light Upright.
Top Features
The best feature about the Shark Rocket aside from its catchy name is that it's super light and easy to use! Vacuum carpets effectively at the click of a button that rests in your hands as you move along. It comes with an attachable wall mount, so you can keep it securely in one place. This upright cleaner can be transformed into a shorter handheld suction device for convenience when vacuuming up the stairs. It has swivel steering, allowing you to navigate as dynamically as a shark when cleaning your floors! The Shark Rocket is light enough to convert to a hand vacuum and suck up dirt in all the crevices from floor to ceiling.
Read More: Which is better: Dyson or Shark?
The Shark is very easy to clean too, via emptying the canister contents into the dustbin. It has a fully sealed suction that never loses strength when sucking up dirt, dust, and dander off hardwood floors. This is not a cordless vacuum cleaner, so there is no battery charging or replacement to worry about.
Customer Reviews
Many customers on Amazon have absolutely loved the Shark Rocket, with hundreds of users leaving a high review score. They loved the fact that the vacuum was so easy to use, due to its lightweight body, suction power, and maneuverability. Furthermore, everybody appreciated the price! A few have said "No regrets on this purchase!", "amazing!!!" and "The suction is very good".
A few negative reviews I have read have said that due to the air that blows from the rear end out of the vacuum cleaner, the product is undesirable. They also mention that it's not light-weight enough and clumsy to hold. If the air blowing from the bottom end bothers you, hold the vacuum with the cord moving behind you. That way, the air can get directed next to you as opposed to onto you. As for its weight, the Shark Rocket is very little over half the weight of standard upright vacuum cleaners, which usually weigh about 14lbs. If this is still too heavy for you, consider buying a bottom-heavy canister that you don't have to lift.
The Shark Rocket Ultra-Light Upright is one of the best vacuums you could purchase on a budget of $200 and exhibits middle range properties for half the price! Clean your living space effectively and quieter with this vacuum for a better quality of life that doesn't break the bank.
Best Vacuum Cleaners Under $100
Image
Name
Learn More
Weight (lbs)
Features

Bissell CleanView 9595A

view
prices
Read Review
15
OnePass technology with powerful suction and innovative brush design, Easy Empty dirt tank, Washable foam filter, TurboBrush tool

Hoover WindTunnel T-Series Rewind Plus

view
prices
Read Review
21
WindTunnel technology for consistant suction, no-scuff bumper, extra-long retractable power cord, lots of extra tools

Dirt Devil Lift and Go

view
prices
Read Review
13
Upright vacuum with removable canister, Extra-long extended power cord, Quick-rinse HEPA filter, Washable Microfiber Dusting Pad

Shark Rocket Corded

view
prices
Read Review
3.7
Powerful handheld that never loses suction, 15ft power cord, use on any surface, washable filters

Shark Navigator Freestyle

view
prices
Read Review
7.5
Very powerful for a cordless, extended run time for longer cleaning, 2 speed settings for carpet and hard floors
---
Bissell CleanView 9595A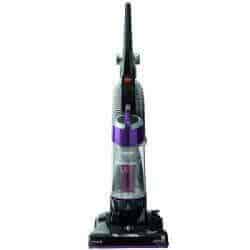 The Bissell CleanView 9595A is a lightweight upright corded vacuum cleaner which is powerful, reliable and most importantly, cheap!
But don't let the low price fool you into thinking this is a below-standard machine. Quite the opposite, in fact, this machine performs just as well as models in the higher end of the pricing scale.
With OnePass Technology, a vast collection of premium attachments and an easy empty dirt tank that opens from the bottom, this Bissell is definitely a contender for king of the budget vacuums.
OnePass Technology
The main feature of the Bissell 9595A is the OnePass Technology. This ensures that by using a combination of powerful suction and innovative brush design, your carpets and floors get a thorough clean.
Essentially, more dirt and debris is picked up after the initial pass. Because more gets sucked up, you spend less time and less energy cleaning.
Customer Reviews
The Bissell CleanView 9595A has many thousands of positive reviews on Amazon and an impressively high average review score.
The majority of the positive reviewers are impressed with the amount of dust and dirt it picks up, even from what they thought were clean carpets.
One user says "I vacuumed the kitchen rugs (with my old vacuum) and immediately did a follow up with the Bissell…I filled the Bissell cup!"
Another reviewer says "This vacuum seems to be picking up so much more dust that has been left behind by years for other more expensive vacuums."
A few of the reviews mention that the on/off switch is placed in an inconvenient location. The switch is located on the side, lower down than most models. However, when I used this vacuum I did not find myself having to bend to reach it, once I knew where it was there was no problem.
---
Hoover WindTunnel T-Series Rewind Plus
The Hoover WindTunnel T-Series Rewind Plus is a great looking lightweight cordless upright that hovers just around the $100 mark.
With Hoover's patented WindTunnel Technology, it boasts powerful and consistent suction that that will leave your carpets looking and feeling much cleaner.
The bagless canister, HEPA filter, and cord rewind feature are just some of the reasons why this vacuum cleaner is one of the best you can buy in this price range.
Main Features
The 27-foot power cord is retractable, which is great as a lot of similar models have long power cords that you have to wrap around the machine when you are finished.
The filtration system contains both washable filters and a permanent HEPA filter. The HEPA filter cannot be washed, it needs to be tapped to remove the dirt and it must be replaced every 2 years.
The main filter is located at the top of the dirt cup for easy access and can be rinsed with water to remove the dirt. It is recommended that the filter is completely dry before placing back into the vacuum. Overall the filtration system works very well.
Customer Reviews
The Hoover WindTunnel T-Series Rewind Plus has been reviewed on Amazon thousands of times, with an average review score that is high.
A lot of the users who left reviews are very impressed with how much dirt this vacuum picks up compared to their older machines.
One user is quoted as saying "Picks up so much hidden dirt in our thick carpet, it scared us the first time we looked in the canister!"
Another user states: "The amount of dirt this vacuum picks up out of the carpet amazes me!"
A fair few users say that the fact the Hoover WindTunnel T-Series Rewind Plus is a bit messy when emptying it can be a bit of a downside for this machine. However most of the same users, and I agree with them, say that if you empty the vacuum outside and use a bag, it is not so bad. The other plus points of this product more than make up for this minor inconvenience.
---
Dirt Devil Lift and Go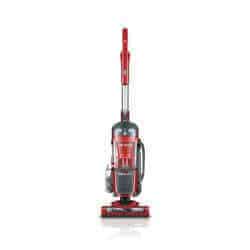 If you are looking for a vacuum cleaner that easily takes care of both carpets and hardwood floors, the Dirt Devil Lift and Go would be a good choice.
The powerful upright vacuum combined with the Lift and Go canister, as well as the Vac + Dust floor tool, means that every surface in your home gets a thorough clean.
Add to that a quick rinse HEPA filter, multi-purpose tools and attachments, and a washable microfiber pad and you can see why this is one of the bestselling vacuum cleaners under $100 on the market.
Carpets, Hardwood Floors, and Tiles
If you have different surfaces in your home, such as carpets and hardwood, you need a versatile machine that can deal with them all. There is no point in buying a top of the range and expensive model with lots of features if you can only use it to clean half of your house.
Read More: Which tile floor vacuum is the best?
This Dirt Devil is lightweight, powerful and gives carpets a really deep clean thanks to the Dual Cyclonic Filtration and the Direct Path Technology. These technologies combine to provide constant, powerful suction evenly across the whole cleaning path.
The Lift and Go canister is portable, so you can clean high and low surfaces. It is also ideal for stair cleaning as you don't have to maneuver the upright up each stair.
The Vac + Dust floor tool comes with microfiber dusting swipes that feature DirtLock technology. The floor tool is perfect for cleaning hardwood floors and any other smooth surface, such as kitchens and bathrooms.
Customer Reviews
The Dirt Devil Lift and Go has many reviews on Amazon to date, with a high average review score.
Many happy reviewers point out the excellent suction power of the vacuum cleaner, with one saying "This vac offers excellent suction… I'm very pleased with the suction." And another saying "This thing has a lot of suction power and really does a nice job."
A few users mention that one of the attachments does not fit into the housing on the machine properly. I think they must mean the upholstery tool because it does seem a bit tight when you try to put it back. This is a minor complaint, however, and an easy solution would be to store it on a shelf or in a cupboard.
---
Shark Rocket Corded Hand Vacuum
The Shark Rocket is a corded handheld vacuum cleaner that is lightweight, portable and powerful. Unlike other handheld cleaners, it has incredible suction power due to the fact that it is not a cordless machine. The 15-foot power cord means that you can clean the same places as a cordless, with much more power.
Shark's Never Loses Suction technology plays a big part in the performance of this vacuum, and it is also very light making it ideal for quick clean-ups, stair cleaning and also for cleaning the car.
TruePet Motorized Brush Accessory
Included with the Shark Rocket is a range of accessories, such as a 12" crevice tool, a dusting brush and an extended-reach stretch hose. However, the most impressive and useful attachment is the TruePet motorized brush.
If you have pets you will know how hard it is to remove hair from carpets and upholstery. The TruePet brush easily picks up pet hair and is also great at picking up dirt from deep inside your carpets. The tool is perfect for use on stairs, car interiors and upholstered furniture.
Read More: These vacuums are great for cleaning the car
The washable filter means that you don't have to spend hours picking pet hair and other debris out of the filter, you simply run it under a tap and then leave it to dry before inserting it back into the vacuum.
Customer Reviews
The Shark Rocket Corded Handheld has hundreds of reviews on Amazon, with a high average review score.
A lot of the reviewers are pleased with the performance of this vacuum, with one user stating "…it's everything I wanted in a handheld — lightweight, powerful and very easy to use".
Another user says "Love this vac, perfect in every way… The power is fantastic, it really has strong suction and cleans very well".
While most of the reviews are positive, a few people said they would have liked somewhere on the machine to store the accessories. While I think this would be more convenient, it would also make the vacuum bulkier and possibly off-balance. Storing the attachments separately keeps the vacuum lightweight and portable.
---
Shark Navigator Freestyle Cordless Stick
The Shark Navigator Freestyle is a stick vacuum cleaner that is cordless, bagless, powerful, and best of all, cheap. It can be used on all surfaces thanks to the 2-speed settings for bare floor or carpets, and the powerful motorized brush makes it an ideal vacuum for picking up pet hair.
The extra-large dust cup is supposed to mean that you empty it less frequently, but with the amount of dirt and debris it picks up, it doesn't seem like it! The dust cup is very easy to empty however, you just press a button and everything falls out of the bottom and into the bin.
2 Speed Settings For All Surfaces
One of the most convenient features of the Shark Freestyle is the ability to switch between carpet and hardwood flooring with the press of a switch. The switch is located at the base, but it can be operated with your foot so there is no need to bend down.
Read More: Best way to clean your feather pillows
With a 12 – 17 minute run time depending on what surface you are cleaning, this vacuum is not going to clean your whole house in one sitting. It is ideal for a quick spot-clean, or for cleaning stairs and hard to reach areas.
The good news is that it only takes 4 hours for a full recharge, and the vacuum can safely sit in the charging base permanently without damaging the battery.
Customer Reviews
The Shark Navigator Freestyle currently has thousands of reviews on Amazon, with an impressively high average review score.
The popularity of this vacuum cleaner is evident when you read the reviews on Amazon. Almost every review contains the words "I love this vacuum!"
Some users were also impressed by the long charge time, with one saying "…holds a charge more than long enough for me to vacuum the entire house (3000+ sq ft)" and another stating "I have about 3,000 square feet total, and was able to do my whole main floor, stairs, and about half the master bedroom before the charge ran out."
---
Things To Consider When Purchasing A Budget Vacuum Cleaner
The days of having to spend hundreds of dollars on a vacuum cleaner are in the distant past. Of course, you can buy one for hundreds of dollars if you wish, but there really isn't any need to. The products that I review on this page all cost less than $200, and they all perform excellently for the job they are required for.
There are a few things to think about when purchasing a lower priced vacuum, you need to ensure that you are buying the best product for your needs.
Price – If you are looking to purchase an inexpensive vacuum cleaner then you are shopping on a budget. It may be best to work out exactly how much you can afford to spend before you look, this way you can come up with a shortlist of vacuums in your price range. Just be aware that the cheaper you go, the less likely it will be that you find one with all of the features that you need.
Attachments – Cheaper vacuums are a bit hit or miss when it comes to attachments; some have them and some don't. In each of the above reviews of my best inexpensive vacuums, I have mentioned what attachments, if any, come with each. You need to ask yourself if you really need attachments such as a crevice tool, or a pet brush attachment, and then look for a vacuum that has what you need.
Suction – The suction power of some of the budget vacuum cleaners I have reviewed is the same, if not better than some of the more expensive models. The best cheap vacuums have excellent suction, and the manufacturers save money by not including attachments or leaving out some features. On the other side of the coin, some higher priced models come with every attachment under the sun and include all the latest features, but have poor suction. It is always wise to do some research and read reviews so that you see what other users think of the product. Compare these top robot vacuum reviews and see which is the cheapest.
Durability & The Warranty – This brings us to the next point about the vacuum cleaner's lifespan. How long does it last and does it need continuous maintenance to keep it operational? Usually, a warranty is a good indication of how long a product will last for, as manufacturers will replace defective vacuums within a certain time frame and do not wish to be responsible for models past their prime, understandably. One can nearly guarantee that a vacuum will break after the warranty is up, however, this is not always the case, it's merely a very good guideline to go by. Look for warranties in vacuums that suit your long-term budget, in case it breaks after that time.
Gravity, Weight & Orientation – A property of vacuum cleaners that may be overlooked is how much they weigh and how the weight is distributed for ease of movement. Upright cleaners usually are the preferred vacuum cleaners for the majority of people, all the weight is centered at the base and/or evenly distributed throughout their often slender designs. Sometimes non-upright canister vacuums are better equipped to dealing with hardwood flooring, but ultimately uprights provide the best maneuverability. Check the weight of your vacuum cleaner and decide if it suits your needs. People with back problems, the elderly or that are not as fit as they'd like to be will need to consider this carefully indeed.
Will I Get All The Features I Need With A Cheaper Machine?
This is where you have to think about exactly what you want from your vacuum cleaner. Models under the $200/$100 mark will inevitably sacrifice some of the features that more expensive vacuums have and they may not last as long.
This does not mean that the vacuum cleaner is no good, and in fact, it may perform perfectly well for what you need it for. For example, if you do not have pets or children you don't necessarily need a HEPA filter or additional tools to remove pet hair. If you live in a small flat with no stairs then an extra-long power cable and telescopic wand may be an unneeded luxury.
Top Features That Make Budget Cleaners A Bargain
HEPA Filtration Systems – this stands for a High-Efficiency Particulate Air Filtration System and is a sophisticated feature that carries on throughout to the top vacuum cleaners. Look for models that have multiple chambers to their HEPA filtration systems and you will have found something worthy of at least double your budget! It cleans 99.97% of particles down to 0.3 microns.
Turbo or 100% Sealed Suction – This is referring to suction. The ability to seal itself when in contact with the ground is the basic mechanism behind a vacuum cleaner, creating a vacuum to suck up dander. If it seals fully or is turbo powered, the suction ought to be much better.
Brush Attachments – these add much value to your vacuum cleaner, allowing you to clean inside all those hard to touch nooks and crannies. Brushes are particularly useful if you have animals that shed lots of hair or have thickly carpeted segments of your property.
Motorized Attachments – having this included into your vacuum also transforms it into a cleaning machine, able to efficiently suck up dirt from places that you can't reach. Some products have neat handheld mini cleaners that are perfect for small messes on the spot and others have motorized attachments with wands, allowing you to just simply suck up dust that would otherwise live happily on the ceiling.
Cordless Vacuums that go for 25-40 minutes at a time – this feature is only appropriate for those that are not afraid to bother with batteries. A lightweight cordless vacuum that goes for 25 minutes or more is an excellent buy. Usually, it means that only that length of time is required to clean your house, that the suction is much stronger to achieve this effect and naturally, no cords to trip over!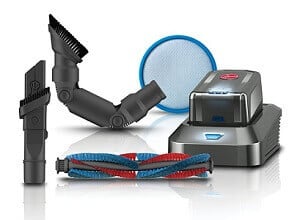 Reading Customer Reviews Helps For Credibility
One of the last items on this list to consider is what other people have to say about the vacuum. Often times facts and information that the sneaky manufacturer doesn't put in surfaces in customer reviews. It's often helpful to see if what is advertised meets the reality of the product. Remember that everyone also lives in a different environment, so look for detailed reviews of somebody who describes a similar living condition to you to understand the product better. If somebody bought a vacuum for a hardwood floor that is meant for carpets, for example, you can discount this opinion when assessing for your own hardwood floor.
Second-hand is Always an Option
Lastly, if you are still desperate and can't find the perfect budget vacuum cleaner, going second-hand is an option. You might find a vacuum cleaner from the next value range and not the lower range in a $200 or less budget. Not to mention, recycling is a big plus for the environment. Keep in mind all of the above considerations when looking second-hand.
These considerations should help you to spot the best cheap vacuum for your budget, without making an error in judgment. Happy Hunting!