A walk-in closet is a space not just to store clothes but also to display them and use the space as a dressing room. Owing to its benefits, it's understandable that you may be thinking of getting one for your home. However, how do you decide if a walk-in closet is a practical choice for you?
A walk-in closet is only worth it if you have the clothes to fill it, the space to construct it, and if your routine can benefit from it. You have to consider these factors to determine whether a walk-in closet is worth the space and investment.   
In this article, I'll discuss each of these considerations and the other pros and cons that can help you decide if a walk-in closet is worth it for you.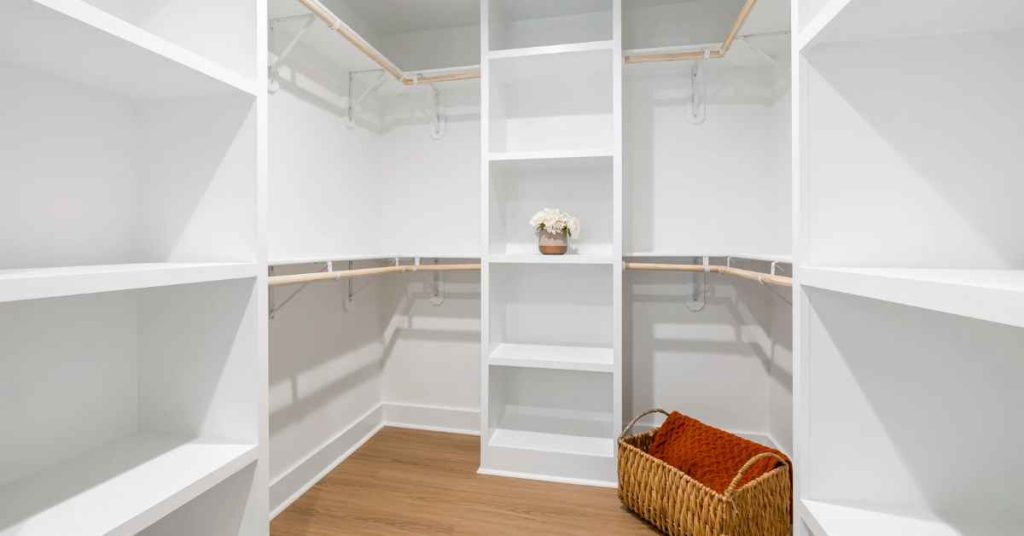 Consider the Clothes You Have
One of the first things to consider is the amount of clothing you have. Are a small closet and set of drawers enough for your clothes or are they full to bursting? Do you like shopping or collecting outfits?
My brother is the type who believes you should never have more clothes than what you can fit in a suitcase. The built-in closet and chest of drawers in his room are more than enough to store all his clothes.
On the other hand, I have a friend who cosplays and likes to collect dresses and outfits. She would benefit from a walk-in closet because cosplaying involves not only clothes but also shoes, accessories, and wigs.
Now, these are opposite ends of the spectrum. You can still be somewhere in the middle and find that having a walk-in closet is worth it.
Clothes That Need Hanging
A walk-in closet might work well if you have outfits like dresses, shirts, suits, formal wear, or other clothes that need ironing and hanging for appropriate storage.
After washing and ironing (or pressing) these outfits, a walk-in closet can provide you with enough hanging space, which ensures they don't get wrinkled or get creases from folds.
Shoes for Different Days
If you have a variety of shoes for different occasions that you can't keep on a single shoe rack, then a walk-in closet can come in handy. You can dedicate shelf space or organizers for your shoes to make them easy to spot, especially if you own a wide range of shoes, from sneakers to boots, sandals, leather shoes, and heels. 
Accessories
Walk-in closets aren't just meant for clothes. They also work as great storage spaces for accessories. You may think of bags, scarves, and hats, but watches and jewelry also count.
You can have wall hooks and shelves for bags, scarves, and hats. If you have a wide collection of watches or jewelry that won't fit in a jewelry box or top of your vanity, you can add a drawer made just for those.
This Rubbermaid Configurations Deluxe Closet Kit (link to Amazon) has various cloth display options that range from hanging rods to adjustable wire shelves for your shoes or accessories. These rods and shelves are adjustable to suit your needs and are relatively easy to install.
Check if You Have the Space for a Walk-In Closet
A walk-in closet doesn't need to have a defined shape or dimensions as long as it can fit in an unused space. However, for a walk-in closet to comfortably accommodate two people, the standard dimensions are 7 ft x 10 ft (2.13 meters x 3.05 meters) (source).
For a walk-in closet to have storage space on three walls and a small sitting area in the middle, you should have around 100 sq ft (9.29 sq meters), though there is no absolute upper limit to the size of a walk-in closet.
If you'd prefer a smaller walk-in closet or have less space, your walk-in closet can be as small as 25 sq ft (2.32 sq meters). The depth of a walk-in closet can go as low as 4 – 5 ft (1.22 meters – 1.52 meters) for a single-sided walk-in closet (source).
Consider Your Routine
A walk-in closet isn't just a place for you to store your clothes. Depending on your routine and other needs, you can incorporate different spaces into your walk-in closet.
Some examples of accessory spaces for your walk-in closet are:
Sitting/ Dressing area: You can add a comfy chair or two in your walk-in closet if you have space. Pair this with a lovely full-length mirror, and you can try out different outfits with relative ease. 
Laundry table/ Ironing board: With these, you can sort, iron, and fold your laundry before placing them in the closet. This way, there is no chance of leaving clean and pressed laundry piled where it might get dirty or creased before being hanged.
Vanity: Instead of placing your vanity in your bedroom, you can also allow a space in your walk-in closet for it. You can do hair, makeup, and final touch-ups in your walk-in closet, so when you walk out, you're fully prepared and ready to wow everyone with your outfit (source).
Pros and Cons of a Walk-in Closet
Here are some other pros and cons that you should keep in mind before deciding if a walk-in closet will be a worthwhile investment for you. 
In general, the pros of a walk-in closet include the following:
Can be cost-effective: Walk-in closets don't need covers and doors to seal most of the storage space as it's meant to be open to display your clothes and allow for easy access. You can save a lot without having to spend on closet and cabinet doors, handles, and finishes.
Your clothes can stay fresh: The spacious nature of a walk-in closet means that air can circulate and keep your clothes fresh and mold-free, unlike stuffing clothes in a closed, built-in, or standing closet (source).
Increases the market value of your home: A walk-in closet can be a good investment as it can increase your home's market value. When properly installed, walk-in closets can look very attractive and help convince potential clients to buy (source).
On the other hand, there could be disadvantages such as:
More space can be tempting: A walk-in closet gives you more floor space, easily tempting you to pile clothes on the floor. You also have more storage space, which can tempt you to buy more clothes and items that you may not need just to fill up the extra space (source).
Final Thoughts
A walk-in closet is worth it if you have the clothes, accessories, and items to fill it. Your routine can also benefit from a walk-in closet as you can do everything in one area. 
However, a walk-in closet can be an extravagant, unnecessary, or even impractical addition to your home if you don't have the space or budget for it.
Declutter your home once and for all (Even if you have no time and don't know where to begin)! Learn More.