Nobody ever asked for a small laundry room–yet that's all some of us can get. But with a bit of creativity, even the smallest laundry room can be transformed into a Pinterest-worthy creation where the issue of space is no object.
Here's how to deal with a laundry room that's too small:
Install floating shelves.
Use stackable storage containers.
Use wall-mounted drying racks.
Use under-cabinet storage.
Use collapsible laundry baskets.
Invest in a smart washer and dryer.
Stack your washer and dryer.
Install a ventilating fan.
Keep reading along to find out how you can make the most of your tiny laundry room with these simple storage and organization tips and tricks.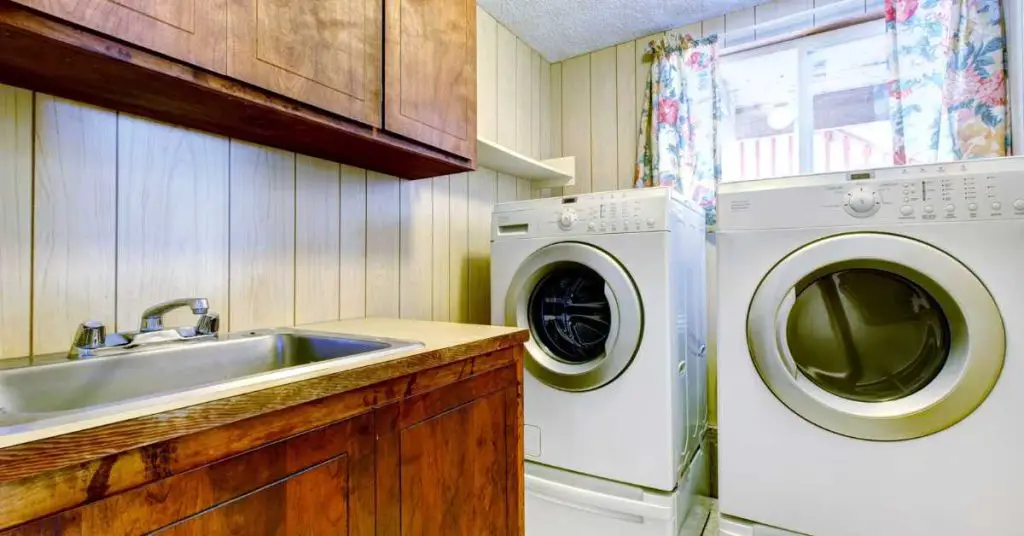 1. Install Floating Shelves
The biggest challenge with small laundry rooms is storage space. And as you might be aware, proper storage is the key to keeping the area decluttered. 
A small laundry room is only a bad thing when it's disorganized and chaotic. With limited space, your options are few, but the few are all you need!
Installing floating shelves takes advantage of the vertical space that's being underutilized. 
Why have a blank wall if you can install floating shelves that will solve your space problems in one fell swoop of DIY magic (source)?
Floating shelves such as the Bayka Floating Shelves (link to Amazon) are a great option. They are made of Paulownia wood, which is waterproof and lightweight. 
It's essential that your shelves are waterproof because small spaces where there is moisture tend to be humid, which can easily cause rot.
The Bayka Floating Shelves have as much aesthetic value as functionality. They have a rustic look that adds a touch of homeyness to your laundry room. The sturdy steel brackets have invertible functionality, meaning you can install them with the board on top of the brackets or below.
2. Use Stackable Storage Containers
What better way to further maximize space than to use stackable storage containers on your floating shelves? Since you are working with a small space, things must be organized so that they are easy to spot and access.
That's where mDesign's Stackable Storage Containers (link to Amazon) come in. 
These handy storage containers are transparent, so you know what's what and where at a glance. 
You can fill your storage containers with dryer sheets, detergent pods, and even detergent powder. These containers come in different sizes to fit your unique storage needs.
3. Use Wall-Mounted Drying Racks
One of my personal favorite laundry room items is the HEILAIYI Clothes Indoor Drying Rack Indoor (link to Amazon). It's great for hanging clothes you want to put on hangers straight out of the dryer. You don't have to worry about space because its retractability lets you keep it out of the way when it's not in use.
A wall-mounted drying rack makes hanging clothes quick and convenient and is a laundry room must-have, especially when dealing with limited space. 
4. Use Under-Cabinet Storage
If your laundry room has a sink, chances are it also has a cabinet beneath it. That space can be utilized with under-cabinet storage containers. 
One of the best under-cabinet cabinet organizers is the Spacekeeper Sliding Undersink Organizer (link to Amazon). This under cabinet storage is great for organizing laundry chemicals and other cleaning supplies.
It's easy to install and comes with additional accessories that increase its storage capacity, making it a great bargain. It is made of durable plastic, so you don't have to worry about rot resulting from any humidity under the sink (source).
5. Use Collapsible Laundry Baskets
Another great addition to your tiny laundry room is a set of collapsible laundry baskets. A highly reviewed one on the market is the Brookstone Collapsible Laundry Basket (link to Amazon), which is great for carrying laundry to and from your laundry room. 
And when they are not in use, you can just collapse them and hang them on hooks on the wall or stick them somewhere where they'll be out of the way.
These space-saving baskets are perfect for small laundry rooms.
6. Invest in a Smart Washer and Dryer
What could be more space-saving than having a washer and dryer rolled into one? Marvels of modernity, such as LG's WiFi-Enabled Front Load Washer with TurboWash 360 Technology and Electric Dryer with TurboSteam, have revolutionized how we do laundry.
You can finish an entire laundry load without leaving your couch or hitting pause on whatever Netflix series you're binge-watching because you can control everything through the LG ThinQ app. When the whole cycle is done, the app lets you know.
The catch is it's definitely much pricier than the washer-dryer duo we've known for most of our lives. But if you can scrape together enough to buy it, do it. Give yourself the gift of convenience and uninterrupted couch-lounging.
7. Stack Your Washer and Dryer
The fact that you have a small laundry room in the first place tells me you're living small and within your means. So maybe a smart washer and dryer isn't anywhere in your budget plan at the moment. Besides, you already have the washer-dryer duo, and they've grown on you.
Thanks to laundry stacking kits like the TOMOON KSTK1 Laundry Stacking Kit (link to Amazon), you can solve the problem of space by stacking your washer and your dryer safely and securely. This is definitely the more budget-friendly option (source).
8. Install a Ventilating Fan
Small spaces that have moisture can get very humid. Without a ventilating fan, you will have all kinds of problems with mold, rot, and rust. This is bad news for your laundry equipment and even your fabrics.
If it doesn't already have one, installing a ventilating fan is advised to keep the humidity under control and spare your laundry equipment and fabrics from damage. For this, however, you might need to enlist the services of a professional.
Final Thoughts
The key is to take advantage of vertical space using floating shelves, stackable containers, and even laundry stacking kits when working with a tiny laundry room. 
Retractable and collapsible items (that can be kept out of the way) can also make all the difference. 
Small laundry spaces can be reinvented into fully functional laundry rooms with some imagination and a little help from DIY tutorials on YouTube.
Declutter your home once and for all (Even if you have no time and don't know where to begin)! Learn More.