Hiring a house cleaner is a great idea, especially if you are a very busy person. Everyone looks for a cleaner to make their lives much easier, but it can be disappointing and frustrating if you discover they are stealing from you. But how do you know for sure if your house cleaner is stealing?
The best way to know whether or not your housekeeper is stealing from you is to install cameras and record them in the act. However, you could also confront them directly and ask if they took certain things, or you can unexpectedly ask to search their bags before they leave your home for the day. 
In this article, I'll discuss further how you can know if your house cleaner is stealing from you, how to catch them, and what to do after you catch them. You will also learn what measures to take to prevent this from happening.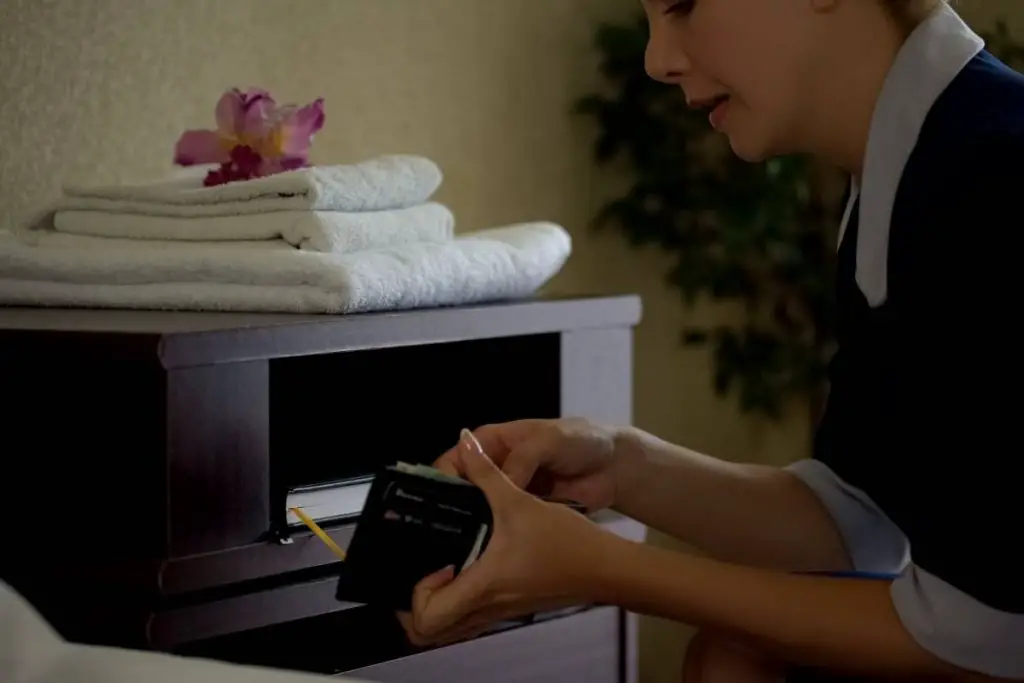 How To Know Your House Cleaner Is Stealing From You
It's easy to suspect if your house cleaner is stealing from you. Do detergents run out faster than they used to before you hired them? Do you have to buy groceries more often than you once did? 
These could be signs that your cleaner is taking some things from your household, and that's why they are running out faster than usual.
Some even go to the extent of stealing your clothes. If you can't find one of your favorite tees or another garment, it could be that the cleaner is responsible for the disappearance.
But wait! Don't jump to conclusions too fast.
If you have other people living with or visiting you frequently, you shouldn't automatically assume that your house cleaner is the thief. In such a case, you might want to do some more research before making accusations.
How To Catch Housekeeper Stealing
If the cleaner is live-in staff, it can be easier to catch them than a live-out house cleaner. If you suspect they have been stealing your items, wait until the day they are going for their off day. 
After they finish packing their bags and are almost leaving, ask them to sit down with you and request to search their luggage. If there's anything that belongs to you in there, then you have evidence right there.
However, this may not be a very effective method since the cleaner can refuse to let you search their bags. Furthermore, proving that the housekeeper has been stealing in this way may be risky, especially if they turn violent due to being caught. 
So how else can you catch the housekeeper stealing? Using hidden cameras is one of the best ways.
Clean Your Clothes Without A Single Drop of Toxic Laundry Detergent. Patented Magnetic Technology. Learn More.
Simply buy and hide cameras in your home. You can put them in the entire house or a specific room, then place something valuable there that you think the housekeeper might want to steal. 
This way, if your cleaner is stealing, you will catch them on camera, and you can use the videotape as evidence if you decide to report them.
What To Do When Your House Cleaner Is Stealing From You
It can be very frustrating to think that the person you have trusted with your household has started stealing from you. Sometimes, someone can steal something very valuable from you. Other times, it is not about the value of the item but the broken trust. 
So what do you do once you've confirmed that your house cleaner is stealing from you?
Fire Them
If you are certain that your cleaner is stealing from you, you can decide to just let them go and not take any legal action. You can let them know the reason you are firing them or not. It's on you to decide what is best. 
It's normal to get disappointed with them, but you will eventually calm down and then go back to the process of hiring another cleaner.
Of course, not everyone is comfortable with this. You can still take further action apart from just firing the cleaner, especially if they have stolen something very valuable that you want to get back.
Talk to Them
You can also decide to talk to them about the behavior and give them a second chance to change their ways. Some cleaners won't repeat the act after you let them know you are aware of the vice and that you will take legal action if they steal again.
Talk With Their Employer
This will only be possible if you got that cleaner from a domestic service provider. 
Call the service, explain everything, and, if possible, show them evidence. Some companies will handle the situation well and give you a replacement. If they don't, the only option is to handle the situation on your own.
Call the Police
If you feel like the matter is a bit weighty, call the police. Have a record of what is missing beforehand to provide correct details once you're speaking with them.
Having the police handle the matter may potentially enable you to get back the items stolen from you or even get compensated.
How To Prevent Your Cleaner From Stealing From You
There are some things you can do to prevent your housekeeper from stealing from you. For example:
If you have had a cleaner who stole from you and you fired them, tell your new cleaner about that experience. Let them know you don't wish to go through such a situation again and that you don't tolerate such behavior in your household. That might discourage them from stealing.
Install cameras around your home and let the cleaners know you have them to avoid violating regulations. The cleaner might even fear carrying something that doesn't belong to them when they know they are being monitored.
Keep your valuables out of sight. Sometimes, people get the urge to steal something when they see it. Therefore, keeping all your valuables somewhere safe where they cannot be easily seen may help reduce the chances of your cleaner stealing them.
If you don't know your cleaner well, avoid leaving them at home alone. This is especially advisable if you have just gotten a new cleaner.
Hire cleaners from a domestic service provider rather than doing it independently. Most service providers usually perform background checks of their employees to ensure they don't have any criminal records.
Conclusion
Domestic theft is very common, especially if you don't take the necessary precautions when hiring housekeepers. 
When you suspect theft, the first thing to do is to verify the act, then take the necessary actions such as talking with the employee, firing them, or reporting to the police. 
You can also do things to prevent theft, such as keeping valuables out of sight, installing cameras, and hiring house cleaners from domestic service providers.
Recommended Reading:
Declutter your home once and for all (Even if you have no time and don't know where to begin)! Learn More.