A pool table is one of the most awesome and cool things you can have in your game room, basement, man cave or wherever you have it in your house. It can be the place that you hang out with your friends and if you have kids, it can be something they can enjoy with their friends as well.
In short, a pool table is a lot of fun. Sometimes that fun can get a little much and before you know it you or a buddy has spilled a beer on it or one of the kids has spilled their Dr. Pepper all over it!
You think that you have a big nasty stain on your prized pool table forever right? Well wrong! You can clean felt on a pool table, but you have to do it in a certain way which I am going to teach you today as well as a few other tips for keeping your pool table looking great.
What Not To Do When Cleaning A Pool Table
Let's start with the things that you should never do when there is something spilled on your pool table.
Use Warm Water On The Felt
It is only natural that the first instinct is to get some warm water and clean the stain, but this can ruin the felt and cause the stain to take up permanent residence on your pool table.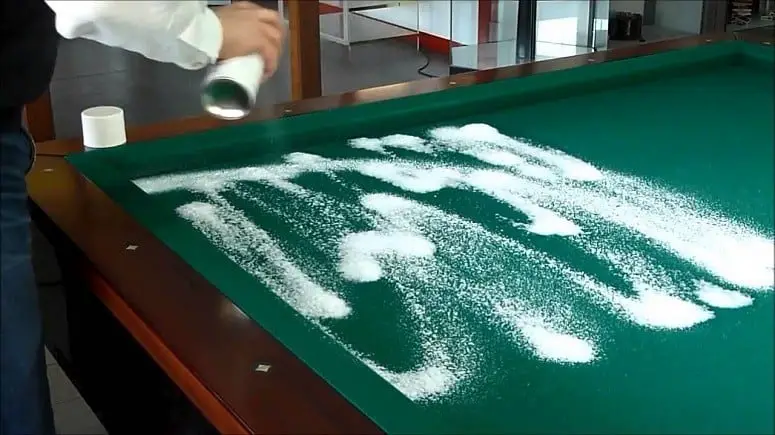 Leave The Stain Until The Morning
So many pool tables get ruined because people think they will get rid of that stain in the morning. Well, that is not the case, you need to act quickly when something is spilled on your pool table, especially if it is something dark like a Coke or a beer.
Use Heat On The Pool Table Surface
I already mentioned hot water, but using any kind of heat to "dry" anything that has been spilled on your pool table is a terrible idea!
How To Clean Felt On A Pool Table
So you have a stain on your pool table? Well, this is how you can get it out and get it out quickly and without damaging your pool table.
What You Need
If The Spillage Happens When You Are There, Start Here
Step 1: Blot the spillage with a cloth. It is very important that you make sure you just blot it and do not wipe the surface of the pool table as you will be just rubbing the stain into the fibers.
Step 2: Using a clean cloth, run it under a cold tap and rinse it out so that the cloth is damp, not wet. Once again blot the stain to get as much of it up from the felt as you can.
If The Spillage Happened A Day Or More Before, Start Here
Step 3: Now you will want to mix some cold water and white vinegar in a bowl. A tablespoon of white vinegar is all you need to add to the water. Dip the cloth into the water and give it a good wringing so that once again, it is damp, not wet. Blot the stain, firmly, but make sure you are not rubbing the table surface.
Step 4: If the stain is really stubborn and is still there, you can do it again. Keep on doing it until the stain is gone.
Step 5: Once the pool table has air dried take a closer look at the area the stain was. If the stain is still there, give it another blotting with the white vinegar and cold water mix. Really awkward and stubborn stains can take a few tries, patience and not rubbing are the key here.
Other Tips That Will Help You Clean Felt On A Pool Table
Here I want to share with you a few tips and rules that I have used over the years (ever since I spilled a Diet Pepsi on my pool table) that have helped me keep my pool table in great shape.
A No Drink Zone Around The Table
Let's start with the obvious, the way that drinks get spilled on a pool table happens one of three ways. The first is that someone is standing too close to the table with a drink in their hand.
The second is that the person actually playing is trying to play with a drink in their hand. The most common though is someone placing their drink on the side of the pool table. No drinks should be anywhere near the pool table!
Buy A Proper Pool Table Brush
I have a pool table with a red felt top and it looks great, but it shows up dirt and dust really bad. The way that I keep it clean is with a proper brush that is designed for pool tables. Do not just go into the kitchen and get the dustpan and brush! Use a brush that is actually made for pool tables. They have much softer bristles that capture dirt but are gentle on the felt.
Brush The Felt Properly – Don't Over Brush
There is no point in having a proper pool table brush if you are just scrubbing away like a maniac! Start in the middle of the table and work towards each side, then give it a brush from the top to the bottom. People have a tendency to over-brush their pool tables. Brushing should take no more than a couple of minutes at the most.
A Hand Vac Can Work Wonders
If you have a vacuum that allows you to turn it into a hand vac (or maybe you have a separate hand vac) this can be a great and easy way to clean felt on a pool table.
Put it on the lowest setting and run it gently along with the felt. If you have a crevice tool, you can even use that to get into the corners and under the edges too. If you are really serious about your pool and you love your table, getting a decent hand vac is not a bad idea at all.
There Are Pool Table Cleaning Products
The last tip I want to give you is that there are products on the market that are actually designed for cleaning pool tables. I never really use these as I try to take good care of mine (ever since the Pepsi incident) however I do know some people who have a can of spray-on hand just in case.
You can sometimes get a set where you get a brush and a can of spray which might be the way to go if you do not already have a brush for your pool table.
Resources
LegacyBilliards.com, GoldEagle.com, and WikiHow.com
Declutter your home once and for all (Even if you have no time and don't know where to begin)! Learn More.