Your pantry is one of the most important rooms in your home. It may not see as many visitors as your living room or kitchen, but it's where you store all of your food. This makes it a crucial part of your home and one that should be well-organized and decorated.
A well-decorated pantry can make your life easier and help you stay organized. It can also make your kitchen feel more inviting and stylish. After all, why should your living room and kitchen get all the decorating love?
Here are 10 ideas that will help you decorate your pantry and make it the perfect space for storing all your food.
1. Make It Pop With Color
Most of the pantries you've seen are probably white or at least a very light shade. This is because white makes the space feel bigger and brighter. But that doesn't mean you have to stick with this boring color.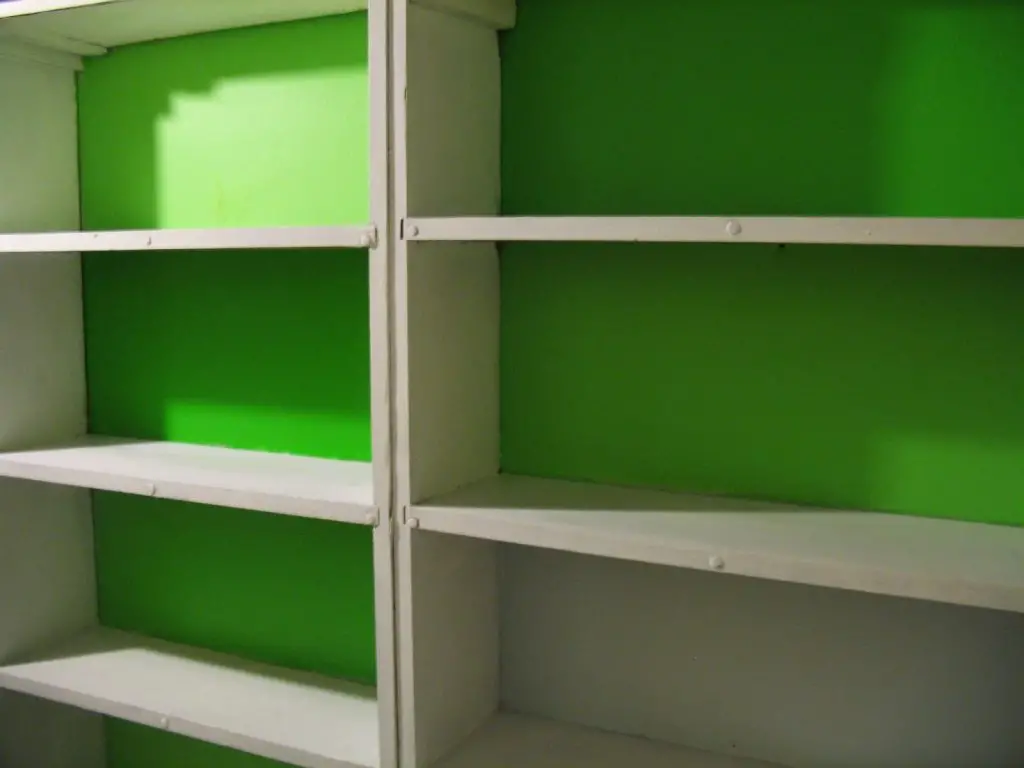 If you want your pantry to stand out, go for a bolder color. You could paint the walls a bright red or blue or use wallpaper with a fun pattern. Just make sure you choose a color that you'll still love after a few years.
While we have nothing against white pantries, we do think a little color can go a long way.
2. Add Decals or Wallpaper
If you don't want to paint your pantry walls, you can always add some decals or wallpaper. This is a great way to add a pop of color or pattern without committing to anything permanent.
Decals, if you haven't seen them before, are like temporary tattoos for your walls. They come in all sorts of designs, from geometric shapes to flowers to animals.
Wallpaper is another good option. It's a bit more permanent than decals, but it's also easier to remove if you change your mind later on.
There are tons of fun and funky wallpapers out there that would be perfect for a pantry. You could also go for a more subdued look with some simple black and white decals.
3. Use Floating Shelves
Who wants to waste valuable pantry space with bulky shelving units? Not us!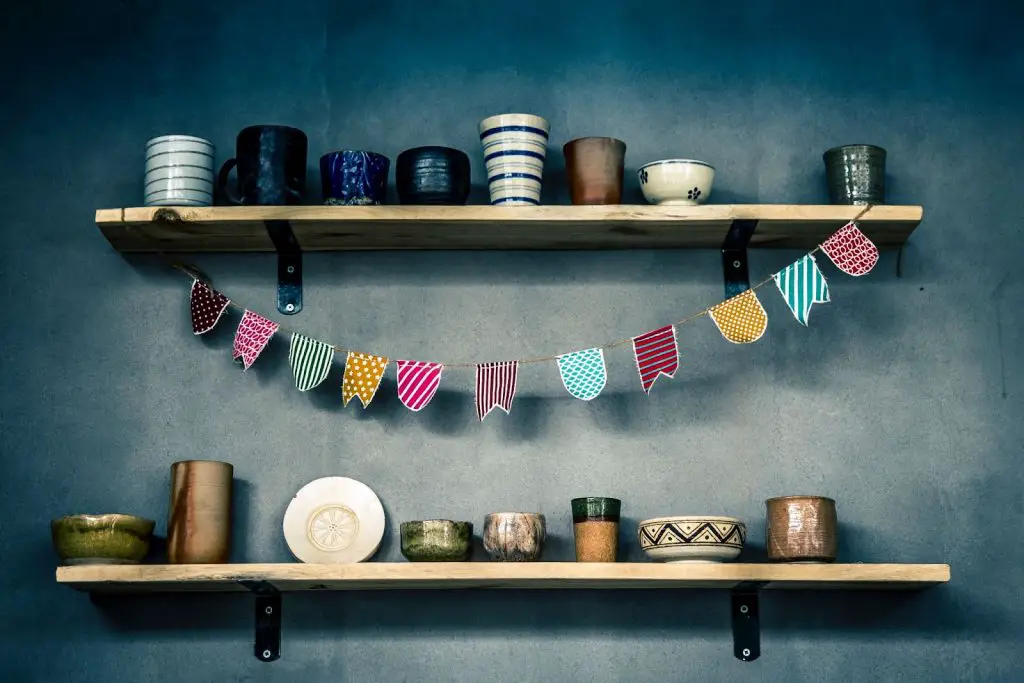 We love floating shelves because they're sleek and stylish, and they don't take up as much space as traditional shelving units. They're also great for displaying pretty jars and cans of food.
If you're not familiar with floating shelves, they're basically shelves that are mounted on the wall without any visible supports. This gives the illusion that they're "floating," hence the name.
4. Install a Pegboard
A pegboard is a great way to organize your pantry and make it look a little bit more stylish. You can use it to store everything from pots and pans to spices and baking supplies.
Pegboards are essentially boards with evenly spaced holes that you can use to hang things up. They're usually made of wood or metal, and they come in all sorts of sizes.
Yes, we know that the intended use for pegboards is probably a bit different than what we're suggesting. But we think they make great pantry storage solutions!
You can buy pegboards at most hardware stores, or you can make your own if you're feeling crafty.
5. Keep It Neat With Wicker Baskets
Wicker baskets are a great way to keep your pantry organized and tidy. They're perfect for storing things like snacks, cereals, and other dry goods.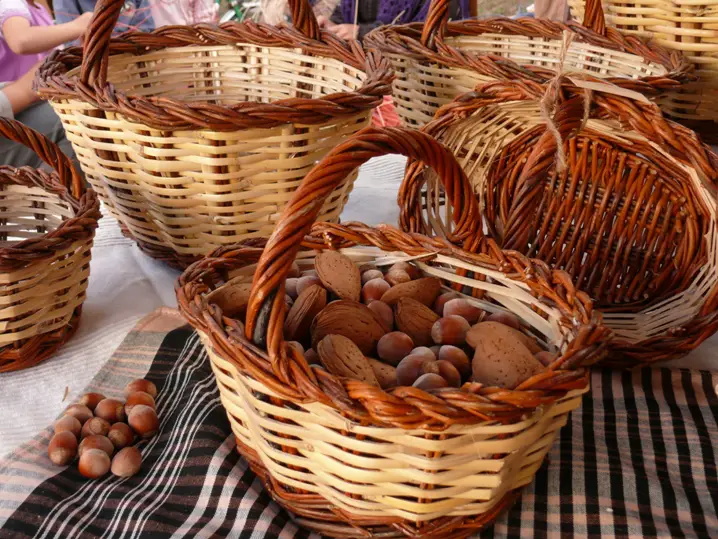 Wicker baskets come in all sorts of sizes, so you can find ones that fit your needs perfectly. You can also find them in a variety of colors and styles, from classic to modern. These beautifully handwoven baskets will make your pantry look more like a stylish boutique than a storage space.
Just make sure you get baskets with tight-fitting lids to keep your food fresh and free from pests.
6. Create a Chalkboard Wall
If you're aiming for an old-school vibe, consider adding a chalkboard wall to your pantry. This is a great way to keep track of what you have and what you need.
You've probably seen chalkboard walls in restaurants, cafes, and other commercial spaces. But they're just as popular in home kitchens. A chalkboard wall is a fun and functional way to organize your pantry.
You can use chalkboard paint to turn any wall into a chalkboard. Or, if you're feeling ambitious, you can install an actual chalkboard.
7. Install Cabinet Pulls or Knobs
We can't overstate the importance of good hardware. Just because your pantry is hidden away doesn't mean you should skimp on style.
Updating your cabinet pulls or knobs is a quick and easy way to give your pantry a new look. There are tons of different styles to choose from, so you're sure to find something you love.
Cabinet pulls are the long, horizontal handles that you see on most cabinets. Cabinet knobs, meanwhile, are the small, round handles that are attached to the door with a single screw.
They may sound like any other home improvement project, but new cabinet pulls, or knobs can make a big difference in the look of your pantry.
8. Add Some Lighting
Many pantries are dark and dingy, which makes it hard to see what you have. This can lead to wasted space and frustration when you're trying to find what you need.
Your pantry should be a well-lit space so you can easily see what's inside. If your pantry doesn't have any windows, consider adding some artificial lighting. There are all sorts of lighting options to choose from, including overhead lights, track lights, and under-cabinet lights.
Find a style that fits your pantry and your personal taste. After all, good lighting will make your late-night snack searches much more pleasant.
9. Accessorize With Plants or Flowers
Accessorizing is one of the most crucial design tips, no matter what kind of space you're working with. And your pantry is no exception!
Adding a few plants or flowers to your pantry is a great way to brighten up the space and make it feel more like home. If you have the time and energy, you can even grow your own herbs to keep in the pantry.
Not everyone has a green thumb, though. If that's the case, fake plants are always an option. Just make sure to get ones that look realistic. No one wants to be greeted by a wilted fern whenever they open the pantry door.
10. Add a Rug
Before you write this design tip off as crazy, hear us out. Adding a rug to your pantry might seem like an odd choice, but it can actually make the space feel cozier and more inviting.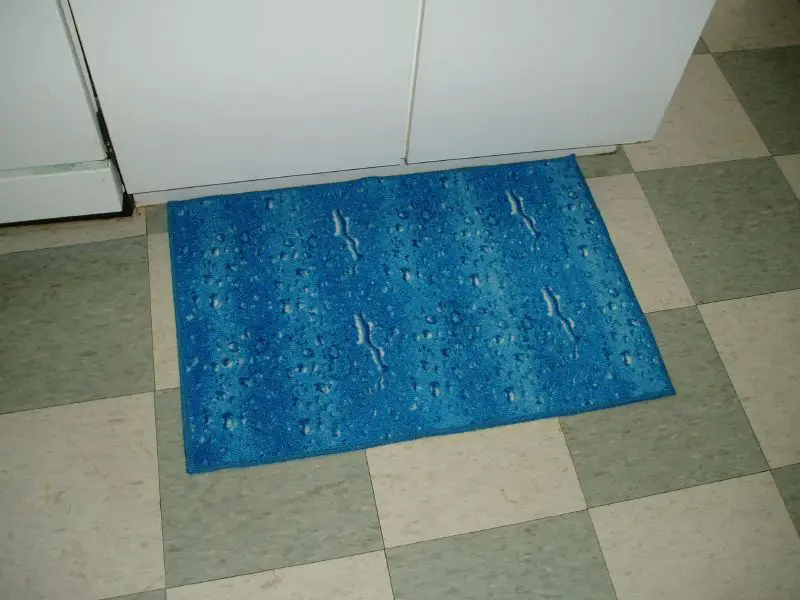 Think about it: most rooms in your house have some kind of floor covering, so why not your pantry? A small rug or mat can add color and personality to your pantry, and it's a great way to keep your feet from getting cold on tile or concrete floors.
Of course, you'll want to choose a rug that's easy to clean. A machine-washable option is always best.
The Bottom Line
When it comes to decorating your pantry, there are endless possibilities.
The 10 tips we've listed here are just a starting point. With a little creativity, you can transform your pantry into the perfect space for storing and preparing food.
Recommended Reading:
Declutter your home once and for all (Even if you have no time and don't know where to begin)! Learn More.