Deep drawers may hold much storage space, but they are not the best for accessibility and convenience. This problem can be overcome with a few organization tips and tricks to help you make the most of your deep drawer situation.
Here's how you can organize a deep bathroom drawer. 
Empty out your drawers.
Sort your items.
Discard old products.
Set aside duplicates. 
Take measurements and shop for organizers.
Organize and label products.
Arrange organizers systematically. 
Place frequently used items at the top.
Relocate other items.
Keep reading for a detailed breakdown of each essential step towards organized deep bathroom drawers. If clutter is a pet peeve of yours, you can thank me later for these tips.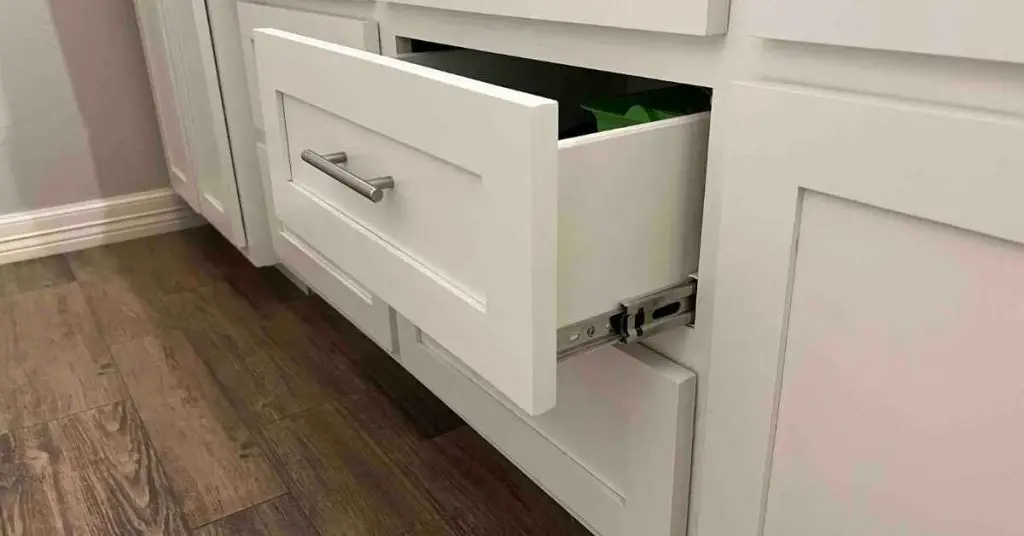 1. Empty Out Your Drawers
The first step to organizing and decluttering any space is to empty it out. It's like starting a work of art on a clean canvas. Emptying your drawers also helps you get your bearings around what you're working with.
Without trying, your mind will take notes of what you saw coming out of your drawer, which will come in handy when it comes time for sorting. 
2. Sort Your Items
Now that you've got everything out onto an open space, either on the floor or on a table, you can start on the next essential step: sorting. Sorting can be done in stages and broken down into several groups. You can separate them into the following categories:
Toiletries. These are your toothpaste, shampoos, conditioners, and body washes. You can set them aside to decide later if you want to put them in a separate storage container or a different drawer altogether. 
Skincare. Skincare items can be further sorted into daytime skincare and nighttime skincare. 
Make-up. Make-up can be sorted into bases, blushes, eye make-up, highlighters, and lip make-up.
Accessories. Accessories can also be further sorted into their specific uses, such as hair accessories, travel accessories, and more. 
Hair removal products/equipment. This can include electronic epilators, shavers, batteries, and shaving creams.
Hair care equipment. These are blow dryers, hair straighteners, and curling irons. 
Frequently used items. This can be a mixed container of items you use daily but want to keep off your vanity and countertops. 
3. Discard Old Products
As you go through your products, check the expiry dates, if any. Discard expired or expiring products. Then put aside the products that are due to expire this year. Be responsible in discarding flammable items, such as old batteries of an electric razor. 
Products that aren't expiring but have leaking tubes or bottles and have not been used in a while should be considered contaminated and should be discarded to prevent skin irritation or allergic reactions. 
4. Set Aside Duplicates
When things we need get lost in the clutter, we sometimes tend to buy a replacement. This can lead to duplicates.
You can keep the duplicate for when the one you use runs out. Or, if you have multiple duplicates, you can give the old ones away to friends or set them aside for donation. Keep only what you need (source).
5. Take Measurements and Shop for Organizers
The obvious next step is to take measurements and go shopping for organizers and storage boxes. You can also order your storage containers online if you're willing to wait for the shipping time. You can cluster your sorted products in temporary containers in the meantime. 
If your drawer is deep vertically, you can use stackable storage containers like the Stylio Acrylic Drawer Organizers (link to Amazon). Their stackability helps you maximize vertical space in the drawer while keeping its contents visible and easy to find. 
6. Organize and Label Products
Once you have your organizers on hand, the next step is to organize your products according to their uses. This makes it easier for you to find your items. Labeling them also helps you access your items easier. You can also use labels to indicate expiry dates. 
Label-making devices such as the Phomemo Label Maker Machine (link to Amazon) can help you make neat and consistent labels for your storage containers.
7. Arrange Organizers Systematically
Now that you've sorted your items, it's time to organize your organizers! Trusting you took your measurements, they should be able to fit into your drawer without a hitch. How you arrange your organizers is crucial to how convenient your access to your products is. 
Items that are sealed and furthest from their expiry date should be at the bottom of your drawers and are vertically deep. Next, place your items that are used infrequently. The rest should follow according to how often you use them and in what order. 
For example, if you use hair styling tools daily, it should go on top of something like your hair removal tools since you use them every other day or so. Items nearing expiry should also be placed near the top so that you will remember to use them up first.
8. Place Frequently Used Items at the Top
I like to have a storage container of assorted items that I use daily or regularly but want to keep out of sight. This is a great way to do it if you want to keep your countertops minimalistic. It keeps your items accessible. If there is a top drawer you can put them in, I usually put them there instead. 
9. Relocate Other Items
Other non-personal items can be relocated to another drawer or cabinet. Under-sink organizers can free up space in your drawer for personal things.
The Saka Under Sliding Cabinet Organizer (link to Amazon) is a great tool that will help you add extra storage space under your sink. It's very affordable and conveniently available on Amazon! 
Final Thoughts
Deep drawers may be great for having more storage space capacity, but they aren't ideal for accessibility and convenience.
With these helpful tricks, you can maximize storage space without sacrificing accessibility and order. Keeping your drawers organized and clutter-free can do wonders for minimizing the stress of daily preparations.
Declutter your home once and for all (Even if you have no time and don't know where to begin)! Learn More.