Organizing your cutlery is essential to keeping your kitchen neat and functional. If you don't have much kitchen space or are looking for an exciting way to organize your silverware, there are many options that can help you keep your forks, spoons, and knives organized.
Here are 14 tips on how to organize forks, spoons, and knives: 
Use a drawer with a conventional silverware tray.
Create a vertical silverware storage drawer.
Make your own table silverware organizer.
Use plastic storage drawers.
Hang them from silverware holders on the wall.
Make a customized organizer in the drawer.
Use a wooden tray and mason jars. 
Create a fabric cabinet door organizer.
Use double-stacked silverware trays in a drawer. 
Use a large silverware dispenser. 
Buy a vertical table silverware holder.
Store them in separate caddies.
Buy a silverware stand.
Invest in hanging silverware.
Let me walk you through 14 unique ways to keep your silverware organized. After reading this article, there's a good chance you'll find a silverware organization method that appeals to you.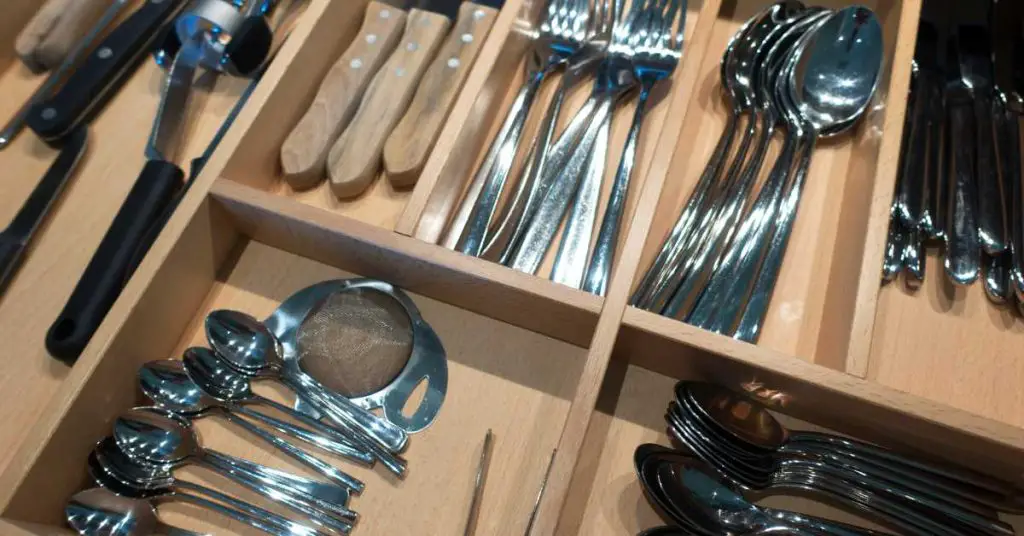 1. Use a Drawer With a Conventional Silverware Tray
The most straightforward way of organizing your forks, spoons, knives and other utensils is to use a conventional silverware tray. The best way to do this is to empty out your drawer, put a brand new silverware tray in, and start organizing!
You can buy silverware trays in supermarkets, big box stores, or online and choose from plastic, wood, or bamboo. They come with individual indentations for spoons, forks, and knives to simplify silverware organization. 
The Rubbermaid No-Slip Silverware Tray (link to Amazon) is sturdy, easy to clean, and comes in black or gray. 
2. Create a Vertical Silverware Storage Drawer
Storing your silverware horizontally in a silverware organizer is a traditional method that works well. However, if you have a deep kitchen drawer, you might consider creating a vertical silverware storage solution to optimize your space. 
Here's how to make a vertical silverware storage drawer: 
Remove the drawer, set it aside, and determine how many compartments you want. 
Buy or find a suitable piece of wood to use as drawer partitions, and measure the dimensions for each partition. Remember that the thicker the wood, the less space you'll have for flatware storage (plywood is an excellent option as it's easy to cut and thin).
Cut the wood according to each partition's required dimensions. 
Secure the partitions in the drawer using wood glue, and allow it to set for 24 hours. 
Place your cutlery inside the storage drawer, and enjoy using it! 
3. Make Your Own Table Silverware Organizer
Don't have a drawer for storing your silverware? No problem! Making a table or countertop silverware organizer is easier than you think. 
This is what you'll need to make your silverware organizer: 
A drill. 
Nuts and screws.
Three metal cups (cheap ones from the dollar or craft store will work well).
Handle (a used one from an old paint roller is ideal).
Super glue.
Optional extras include a chalk or glitter marker and a strip of ribbon or lace. 
Once you've gathered your supplies, you can make your organizer: 
Drill a hole in each metal cup to connect them with screws and nuts. 
Arrange the metal cups in your desired pattern (i.e., in a line or grouped) and secure them with the screws and nuts. 
Using super glue, attach the handle to the organizer, and allow it to set for at least six hours. 
Write the words "forks," "spoons," and "knives" on the metal cups with your glitter or chalk marker, and tie the ribbon or lace to it for an elegant finish. 
Leaving your silverware organizer undecorated and unpainted gives it a natural and rustic look. However, you can easily give it a coat of gloss paint to match your kitchen's decor. 
4. Use Plastic Storage Drawers
Do you have limited kitchen storage, and are your drawers already full? If so, storing your silverware in plastic storage drawers on your countertop might be a suitable option for you. You could store one silverware type per drawer and use any remaining drawers for other kitchen utensils. 
The IRIS USA CDD-XS3 Compact Desktop 3-Drawer System (link to Amazon) comes as a two-pack, and you can stack them to save countertop space. 
Plastic is not the most elegant material, and if you want to personalize it or make it look more elegant, you could always give it a coat of gloss paint or cover it with wallpaper. 
if you want a solution in a different material, consider the following: 
Old drawer-style toolbox.
Large wooden or leather jewelry box with drawers.
Bamboo craft materials organizer.
5. Hang Them From Silverware Holders on the Wall
If you're short on drawer, cabinet, and countertop space, you could always hang your silverware from holders on the wall. 
You can buy one from a home goods store, or you could make your own using only a few items: 
Wall railing (this can be a small bathroom railing, for example).
Holders (each holder should house a different silverware type, and you can find ones you like at the craft or dollar store).
String or ribbon (try and pick out ribbon or string that doesn't fray or snap easily).
Drill (if you're renting, it's worth checking that your landlord doesn't mind if you drill a few tiny holes in the wall).
Here's how to install a wall silverware storage solution: 
Attach the railing to the wall according to the instructions included. This will involve drilling holes into the wall and securing the railing with screws. 
Wrap the string or ribbon around the silverware holders a few times and secure it with a knot, leaving some more ribbon or string for tying it to the railing. 
Tie the silverware holders to the railings and fill them with your forks, spoons, and knives. 
Instead of suspending the silverware holders to the railing with string, you could use hooks. In this case, the holders would need a top handle, or you could drill a hole in them to accommodate the hooks. 
6. Make a Customized Organizer in the Drawer
Using a conventional silverware organizer is an excellent idea, but it wastes storage space in the drawer. Instead of inserting a store-bought organizer in the drawer, why not build one into it? This is a great option if you're trying to use up spare pieces of wood in your garage or basement. 
Making a customized organizer in a kitchen drawer follows the same process as creating a vertical one (as illustrated in point two). The only difference is that you'll probably need less wood as it will be a horizontal storage solution. 
7. Use a Wooden Tray and Mason Jars 
Do you usually eat at your kitchen or dining room table? If so, storing your silverware on the table could be convenient and save valuable storage space in your kitchen. 
A wooden tray with handles could work well for this as it creates a portable silverware solution. Find a suitable wooden tray that is compact and matches the style of your kitchen or dining room table. The Multicraft Imports WS400 Wood Tray (link to Amazon) is an excellent choice because it's compact and you can paint it or leave it in its neutral light brown color. Pair it with some mason jars for a look reminiscent of a stylish restaurant!
You can easily personalize the mason jars to suit your kitchen's decor: 
Paint them with acrylic enamel paint. 
Stick embellishments on them (such as precious stones or tiny glass tiles). 
Tie a piece of twine or ribbon around them.
Place the mason jars on the wooden tray, fill them with your silverware, and you're good to go! 
8. Create a Fabric Cabinet Door Organizer
City apartments can have tiny kitchens with very few or no drawers. If this is the case with you, and you need somewhere convenient to store your silverware, use a fabric silverware organizer to hang inside one of the cabinet doors. 
If you have a sewing machine, you can easily make one from scrap fabric (denim and linen are excellent choices). 
Otherwise, you can just buy a fabric organizer. The KIMBORA 6 Large Mesh Pockets Closet Door Hanging Organizer (link to Amazon) is a two-pack with handy hooks so you can hang it over your cabinet door. 
9. Use double-Stacked Silverware Trays in a Drawer
Some people don't like the idea of a vertical silverware storage solution, and if this sounds like you and you have a deep drawer, why not create a double-stacked set-up? 
This method requires a few hours of DIY but can be well worth the effort once you see the final result. 
Here's what you'll need: 
4 Drawer runners.
A drill and some screws.
A pencil.
Two suitably-sized wood or bamboo silverware organizers .
After buying your equipment, you can start making the double-stacked silverware organizer: 
Place the silverware organizers in the drawer, and use a pencil to mark out the desired location (they should be in a stacked position). 
Using a drill and the screws included with your drawer runners, attach them to the sides of the drawer. 
Attach the included rollers onto the sides of the silverware organizers, and install the organizers in the drawer. 
10. Use a Large Silverware Dispenser
If you have a lot of silverware for a large household, copy what the restaurants do and use a large silverware organizer. 
Although this is not the most elegant-looking solution, it arranges large quantities of silverware neatly, and you can place it on your kitchen table, countertop, or inside a cabinet. 
The Winco 4-Compartment Cutlery Bin (link to Amazon) comes in a neutral gray color and is easily transported from one place to the next. It also has an additional compartment that you could use for teaspoons or steak knives. 
11. Buy a Vertical Table Silverware Holder
Vertical countertop silverware holders are inexpensive and come in a wide range of designs and materials. You can buy them at supermarkets, home goods stores, and online. 
A drawback to silverware holders is that they can look generic and plain. However, you can often personalize them with paint, ribbon, or embellishments and enhance the look of your kitchen. 
The Ikee Design Wooden Utensil Holder (link to Amazon) has a rustic design with clearly-marked fork, knife, and spoon compartments. It's not expensive, but if you don't like its look, you could give it a lick of chalk paint for a shabby chic look or cover it with black gloss paint to add sophistication. 
12. Store Them in Separate Caddies
If you're on a tight budget and don't have money to spend on your silverware storage solution, why not use something you already have in your kitchen? You can store your spoons, forks, and knives in separate caddies on your kitchen countertop. 
Here are some caddie ideas: 
Storage canisters without the lids.
Large mugs.
Beer mugs.
Mason jars.
Old spaghetti sauce jars.
If your caddies are mismatched, you could make them look better by painting them all the same color. Acrylic enamel paint, for instance, works well on glass, and many people have a spare pot lying around in their basement or garage. 
13. Buy a Silverware Stand
Many people find that silverware stands look more elegant than table top caddies, which are often plain-looking and do nothing for your kitchen's decor. 
If this sounds like you, you might prefer a silverware stand. Silverware stands come in various designs, colors, and looks; you should find one to suit your kitchen. You can buy them online, in big box stores, or home goods stores. 
Sorbus Silverware Holder With Caddy (link to Amazon) has separate holders for: 
Knives.
Forks.
Spoons.
Teaspoons.
The classy light wood and silver compliment each other perfectly, and you can use it on your countertop, dining, or kitchen table. 
14. Invest in Hanging Silverware
You might be looking for a silverware storage solution before investing in a set of spoons, knives, and forks. Why not buy hanging silverware with a stand if this sounds like you? 
Flatware stands don't take up much room and make grabbing a piece easy. The Montgomery Ward 20-Piece Hanging Flatware Set (link to Amazon) is made from high-quality stainless steel and has a contemporary style. 
Key Takeaways
Not having a dedicated storage solution for your forks, spoons and knives can quickly result in a messy kitchen. Thankfully, there are many organization options available, and the most suitable one will depend on: 
Your personal preferences.
Your drawer space availability.
Your countertop space availability.
Your budget.
How creative you want to get.
Declutter your home once and for all (Even if you have no time and don't know where to begin)! Learn More.