When you have lived in your house for several years, you may notice that you have accumulated many items. Keeping things organized when there's too much stuff and not enough space can be challenging, especially in the kitchen. If you have a deep kitchen utensil drawer, you may be wondering what the best way to keep it organized is.
Here's how to organize a deep kitchen utensil drawer.
Buy a utensil organizer.
Use containers.
Separate bulky and small items.
Use a stackable drawer organizer.
As you prepare to organize what feels like a bottomless kitchen utensil drawer, you should know what to look for. This article will discuss the different options for drawer organization in great detail.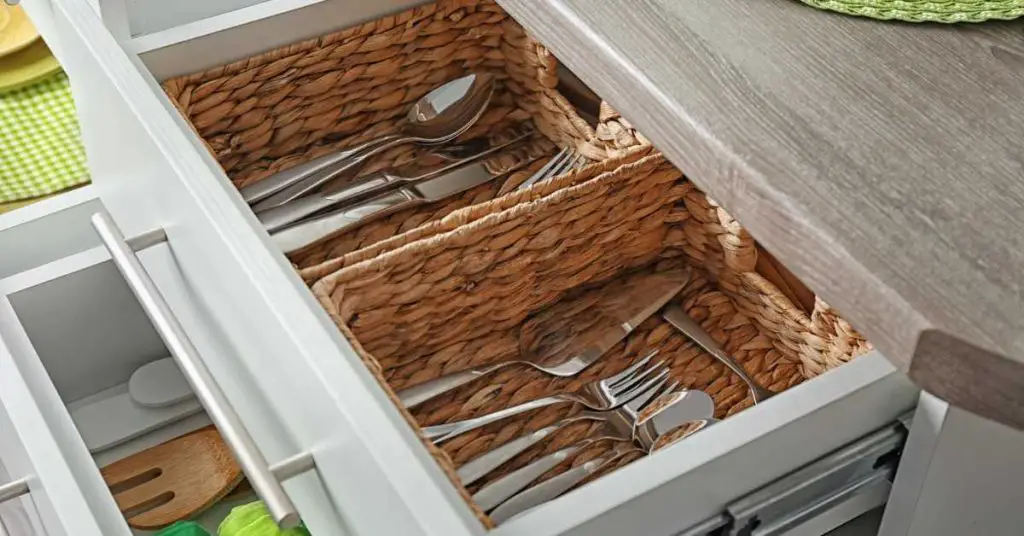 1. Buy a Utensil Organizer
One of the biggest issues with kitchen utensil drawers is that things can get quickly disorganized. You may notice that all your utensils have been dumped in your kitchen drawer in no particular order, which will make it look cluttered and overcrowded. 
If that sounds like you, the first solution is to buy a simple utensil organizer. Here are several options of ideal utensil organizers from Amazon that may help you. 
Bamboo Silverware Organizer (link to Amazon). This bamboo silverware organizer is a great way to organize your utensils. It is made of eco-friendly materials, and you can adjust the size based on your needs. You can use it as an organizer with five compartments or expand it to have seven compartments. 
Oxo Good Grips Expandable Utensil Organizer (link to Amazon). This utensil organizer is also adjustable, allowing you to expand or contract it to fit the size of your drawer. Also, this drawer has additional dividers that will enable you to store silverware in several directions, utilizing all the space in the organizer. 
mDesign Expandandable Kitchen Drawer Organizer Tray (link to Amazon). If you want a straightforward utensil organizer, this tray is your best option. It is made of plastic making it the easiest option to clean. Also, it has the simplest design in terms of the compartments. 
These are all great options for utensil organizers, depending on your needs. Starting out with a utensil tray is a great first step to an organized deep kitchen utensil drawer.
2. Use Containers
Another excellent way to organize your kitchen utensil drawer is by using containers. You may see a wide variety of items in your drawer that need to be organized. Besides utensils, you may also have other things such as kitchen appliances, serving utensils, and other oversized items in your drawer.
Keeping similar items in the same place is a great way to keep your kitchen organized. Many of the items you need for cooking, serving, and eating will all be in the same place. However, this could also get excessively messy. Using containers is an excellent way to help keep things organized in your drawer. 
There are several styles of containers that you could use. One option is the OXO Good Grips POP 10-Piece Canisters (link to Amazon). While these are traditionally used for food storage, they also work great for storing materials. The different sizes allow you to store utensils, serving spoons, and perhaps even napkins in separate containers within the same drawer.
Storing your items in containers will tremendously help keep your kitchen drawer organized. You will no longer have to search your drawer for a small object. Instead, your items will be nicely contained in containers according to their use. Another advantage of using containers is that they are easy to wash, so you can make sure they stay clean without much trouble! 
3. Separate Bulky and Small Items
Another tip that will help you keep your kitchen drawer organized is separating your bulky and small items. Perhaps you keep several pots, pans, and lids in the same drawer as your utensils and other kitchen items. You may be tempted to store some of your utensils and smaller items inside your larger pots and pans.
However, while this may help with storage space, it will ultimately cause more disruption to your kitchen drawer organization. Suppose you want to store utensils inside a large pot that you keep in the same drawer. Every time you use the large pot, you will need to take all of your utensils out of the pot. 
You will be less likely to keep your drawer organized if you continue taking out and putting items back inside other objects. It is best to separate bulky and small items to prevent this situation. Keep your bulky items like pots and pans on one side of the drawer and smaller items like utensils can go on the other side of the drawer. 
4. Use a Stackable Drawer Organizer 
If your kitchen utensil drawer is extremely deep vertically, you may be able to use a stackable drawer organizer. A stackable organizer will allow you to capitalize on the depth of your kitchen drawer. This will allow you to use the various layers to organize different kitchen items. 
This STYLIO Stackable Drawer Organizers (link to Amazon) allows you to organize utensils based on which ones you use the most. You can put your most-used utensils on top and the items you use less frequently on the bottom. This type of organizer allows you to fully utilize the space you have in your kitchen drawer and keep everything in order. 
A stackable drawer organizer is one of the best ways to keep a deep kitchen utensil drawer organized as they will allow you to manage the space in an aesthetically pleasing way. You can choose between plastic, wood, and acrylic options for stackable drawer organizers, so go with whatever suits the rest of your kitchen! 
Conclusion 
Keeping your deep kitchen drawer organized can help beyond just aesthetics. Organization has many positive psychological benefits, including helping us feel safe. And who doesn't want to feel safe in their own home (source)?
To keep your deep kitchen utensil drawer organized, you should start by buying a utensil organizer. You should then use containers, separate items by size, and perhaps even use a stackable drawer organizer to take your drawer to the next level. 
Declutter your home once and for all (Even if you have no time and don't know where to begin)! Learn More.