Cleaning your car upholstery is a simple and easy way to help maintain the value of your car. Your car upholstery is the first thing that is seen when you and your passengers enter your car, so keeping your upholstery clean will make each car ride more pleasant.
Liquid Spills and Stains
Try to clean up liquid spills as soon as they happen. If liquid seeps deep into the upholstery of your car seats, then it may cause your fabric to emit unpleasant aromas.
If you encounter stains on your upholstery, then you should consider purchasing car upholstery cleaner. Make sure that the car upholstery cleaner is made specifically for the type of fabric that your car seats are made of.
Read more about the best portable and powerful car vacuum cleaners.
Read the instructions carefully and consider doing a small inconspicuous test area inside of your car to make sure that the cleaner does not have an adverse reaction to the fabric of the upholstery.
If you are using rags or towels to clean and scrub your upholstery, then make sure that they are clean prior to using them on your car seats. Allow your car upholstery to dry completely before sitting on any seats or placing the car mats back in their places.
Prior to cleaning your upholstery, you should remove all the trash and debris in your car by following the instructions below.
Crumbs, Dirt, Sand, etc…
Debris is often tracked into your car through your shoes and can make your car appear untidy if it is not tended to regularly. To pick up debris easily, you might consider getting a hand held vacuum cleaner that you can use to quickly and easily pick up dirt and other material.
If you do not have a vacuum easily accessible, then consider stopping by a car wash that has vacuum hoses available to use.
Also, learn how to remove dog hair from your car.
Most of those do-it-yourself car washes will have high powered vacuum hoses available for use, usually costing anywhere from $0.75 to $1.00 for three minutes.
Clean Your Clothes Without A Single Drop of Toxic Laundry Detergent. Patented Magnetic Technology. Learn More.
Before vacuuming your car upholstery, remove all the trash from your car, most of these car washes will have trash cans available for you to use. After discarding all of the trash in your car, take out your floor mats so that you can easily vacuum underneath them.
When vacuuming your car, use your vacuum hose to get into to the cracks of the seats where a lot of debris often collects. Positioning your driver and passenger seats so that they are nearly horizontal will give you better access to the area in the sections of those seats to be vacuumed.
Vinyl and Leather Seats
If you have vinyl or leather seats, then fabric car upholstery cleaner will not work. With vinyl seats, you should search for vinyl seat cleaners which are found in most auto parts stores.
 These vinyl cleaners usually come in a spray bottle and simply require you to spray onto your vinyl upholstery and wipe down with a clean cloth.
With leather seats, you should use a leather cleaner and a clean cloth. A leather conditioner will help to keep your leather soft.
In addition to wiping down and conditioning your leather car upholstery, you should consider investing in UV protector because over time leather upholstery becomes vulnerable to sun spots and cracking if not cared for properly.
Upholstery Replacement
For many, a change in car upholstery can be all they need to achieve that personalized look. For one, there are different kinds of materials being offered by professional car upholsterers that suit different tastes of customers.
For instance, for those who think that traditional car upholstery is too neutral or masculine for their taste, car upholstery shops offer materials like fabrics, leatherette, and leather that are more bright-colored or light-colored.
For another, car upholstery shops also offer car restoration services that are fast and affordable. Car owners can have their car back in no time and enjoy the new and beautiful interior they have been dreaming of.
Restoring Your Upholstery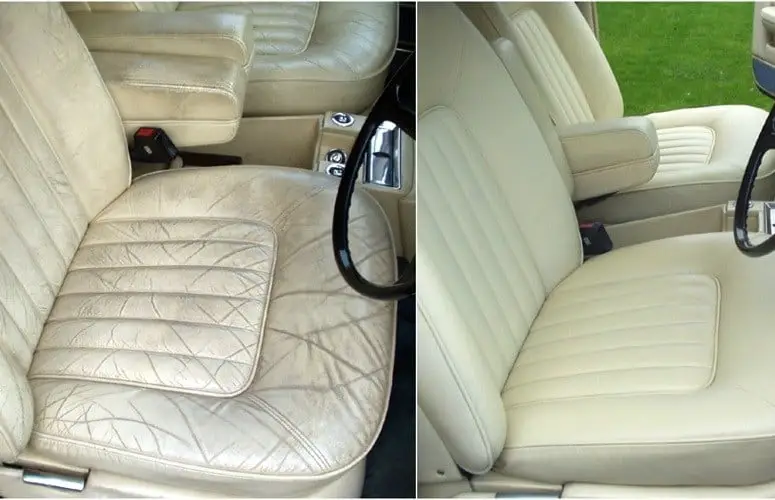 When it comes to car upholstery, professional upholsterers are able to help car owners who want to restore the original appeal of their car's interior no matter if they have been damaged due to external factors like time, or have been scratched and torn by your pet.
Discover how to clean car floor mats.
Car upholstery shops have experienced staff that can bring back the original image of your car's interior from the way it was like when you first bought it. They have the resources to help you restore the original style of the vehicle's interior by repairing or replacing seating either with similar or the actual original material.
They can also install new custom-fitted carpets that are made of similar or original material. You can even choose from contemporary styles to original pile carpets in various colors.
Use Soap and Water
It doesn't matter what your car is wearing. Whether vinyl, leather or cloth, the best advice is to remove the front seats so you can work better on them, but the back seats can stay.
 Removing the front seats should give you more freedom of space to be able to wash them thoroughly. Plus, it also creates space inside the car so you can easily move around while you're working on the back seats.
It's time for some real work. Remove the front seats by loosening the bolts that hold them in place, then lay them down on the ground beside the car.
Now you can start work on either the front seats or the back seats. Mix a small amount of car soap and water and then soak a sponge in the mixture. Squeeze the sponge so it doesn't drip.
Then, holding the sponge, scrub it gently against the upholstery, making sure there's just enough moisture in the sponge to wipe the seats clean without getting them too wet. That's the trick here. Soak the seats with too much water and you're going to have a tough time drying them up.
There are many who make their car into a mini dining room and keep staining the interiors with food. While going for the upholstery cleaning the first step is to clean the upholstery stains.
The stains due to liquids emit bad odors and are very difficult to remove. If you leave the liquid stains for a long time it will be very difficult to clean them. Therefore, it is very important to clean the car upholstery immediately when the stains are being made due to liquids.
Vacuum Regularly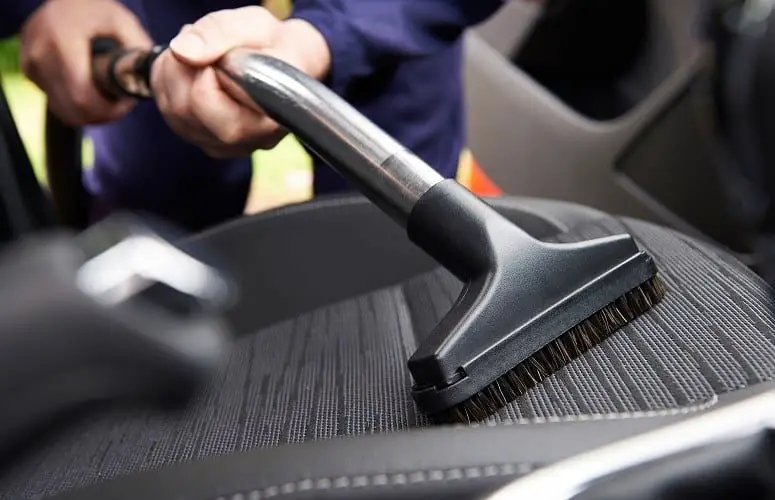 For cleaning the upholstery, the best way is to vacuum the interiors by using a vacuum cleaner. It helps in taking out all kinds of accumulated dirt in no time.
Vacuuming should be done on each weekend depending on how much you are using the car. If you do this regularly, the accumulation of dirt will be minimized.
There are a few car-lovers who prefer to use steam cleaners for cleaning the car upholstery as these are also quite useful and fairly easy to handle. The leather upholstery of your cars can be cleaned using a leather condition formula.
You have to dilute the solution and apply it on to the leather portion in a circular manner. Leave it for drying for at least 10 to 15 minutes and then carefully rub it with a soft cotton cloth. In order to upkeep the leather upholstery, you should apply this formula at least three to four times in a year.
If you want to keep your car smelling fresh and the air quality good, investing in an air purifier that is designed specifically for cars is a good idea.
Resources
FamilyHandyman

, Bowden'sOwn, and ArtOfManliness

Declutter your home once and for all (Even if you have no time and don't know where to begin)! Learn More.