Unfinished wood floors can add a rustic appeal to your home that looks completely natural. However, it is important to know how to properly clean unfinished wood floors so that they do not become damaged.
A lot of cleaners will contain harmful chemicals that will endanger the integrity of the floor and cause permanent damage. This is definitely something that you can easily avoid if you know how to properly clean your unfinished wood floors.
Learning The Basics Of Unfinished Hardwood Floor Cleaning
Unfinished hardwood floors are making a comeback in a big way. They are becoming more and more common in homes.
It is vital to know how to keep these types of floors clean without causing damage. The following tips and hints will make it easy for you to learn how to clean your unfinished hardwood floors the right way.
Remove All Dust And Dirt From The Floor
The first step in cleaning unfinished wood floors is to make sure that there is not any dust or dirt on the floors. This can easily be accomplished with a broom and dustpan. However, a broom and dustpan might not remove all of the dirt from your unfinished hardwood floors.
If you have a cordless vacuum that works on wooden floors, it is suggested that you use it to remove any dirt or dust you missed with a broom. Dust and dirt can start to build up on unfinished hardwood floors making them appear dingy. This can easily be avoided with regular cleanings.
Trisodium Phosphate Is A Great Stain Remover That Is Safe For Unfinished Hardwood Floors
The next step is to remove any stains that are on your unfinished hardwood floors. Getting stains out of hardwood floors that are unfinished can be quite an undertaking if you do not have the expertise on how to remove them.
Using trisodium phosphate on unfinished hardwood floor stains is completely safe for your floors. Trisodium phosphate can help you easily remove stains from your floors without costing you an arm and a leg.
Use a small brush, like a toothbrush, to gently scrub the stain with trisodium phosphate. Scrubbing in small circles is the most effective way to remove stains from unfinished hardwood floors.
Make Sure To Thoroughly Dry The Floor
When you have finished scrubbing the floor with trisodium phosphate, you should then rinse the floor using clean water.
Once you have fully rinsed away the trisodium phosphate, you will need to take a white rag or towel to make sure that you soak up all of the water.
Water and unfinished hardwood floors do not mix at all, and leaving even just a little water on your unfinished wooden floors can cause damage to the wood. It can even warp the wood. Take extra care to make sure that your floors are completely dry.
Use A Sander To Remove Stains Once And For All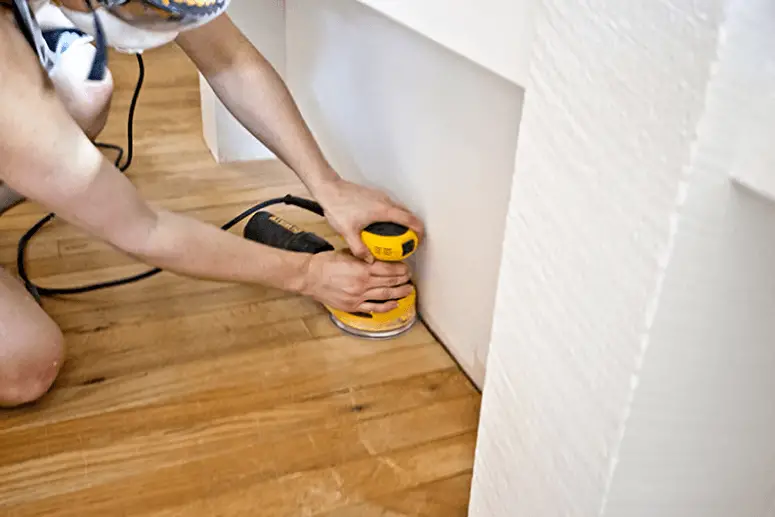 If you do not have any luck using trisodium phosphate to remove stains on your unfinished hardwood floors, you do have the option of sanding the stain out. Since the floors do not have a finish, you do not have to worry about damaging them.
The process is simple. You need to apply your sander to the stain for a period of just a few minutes. Make sure that you do not sand in one area for too long. Once the stain is removed, you will need to clean up the dust with a broom and dustpan, or a vacuum cleaner that works best on wooden floors.
Using Mineral Spirits To Clean Unfinished Hardwood Floors
Another way to clean unfinished hardwood floors is with mineral spirits. Mineral spirits are great for unfinished hardwood floors because they do not contain a lot of chemicals. All you need to do is apply some to a dry rag and work your way across the floor.
Oftentimes, mineral spirits will clean areas that other cleaners cannot begin to touch. Again, it is important to clean all dust and dirt from the unfinished hardwood floors before attempting to clean them with anything.
When you are finished, make sure that you do not leave excess mineral spirits on the floor. Mineral spirits can be purchased in most local stores and are extremely affordable.
Avoid Chemical Based Cleaners For Unfinished Hardwood Floors
It is not a good idea to use chemical-based cleaners on your unfinished hardwood floors. Regular floor cleaners will cause irreversible damage to your floors. One cleaner that you can use is Murphy's Oil Soap (link to Amazon). 
You can simply mix a couple of tablespoons with some hot water and apply the solution to your floor using a mop. Work the mixture into a small section of the floor. This will not only clean the floor. It will also sanitize it.
Do not add too much Murphy's Oil Soap or your floor will be greasy. One tablespoon per gallon of water should do the trick. When you are finished mopping a small section, use a dry rag to finish drying the area before moving on to the next area.
Consider All Of Your Options
These are the best ideas on how to keep your unfinished hardwood floors clean without causing them any damage. Try all of the techniques until you find the one that you like best or the one that works best for your floors.
Mineral spirits are the most commonly used item to clean unfinished hardwood floors because there is less chance for damage and they provide positive results.
Trisodium phosphate is the preferred method of removing stains from unfinished hardwood floors. While sanding works, it can be difficult to judge when to stop sanding.
Final Word
Cleaning unfinished hardwood floors is simple if you know what products to use and how to apply them.
The methods mentioned here are the safest ways to clean and sanitize your unfinished hardwood floors without causing them any damage whatsoever. Use a broom and dustpan on your floors on a regular basis to keep them in the best possible shape.
Resources
Wikipedia

, DIY

, and Murphy Oil Soap

Declutter your home once and for all (Even if you have no time and don't know where to begin)! Learn More.