Hanging gloves under your sink is a great way to store them. It allows them to drip dry, which reduces the probability that they'll get moldy and stinky. It's also one of the best ways to declutter your kitchen and make the most of the cabinet space under your kitchen sink. 
Here are 5 different ways to hang gloves under your sink: 
Use grommets to hang your gloves from metal hooks.
Stick a clothespin and use it to hang your gloves. 
Use a binder clip and a command hook. 
Install a towel bar and use it to hang your gloves.
Use home-office wall-manager components. 
I'll discuss these methods in further detail in this article. Read on to see how each technique works and choose the best way for your situation.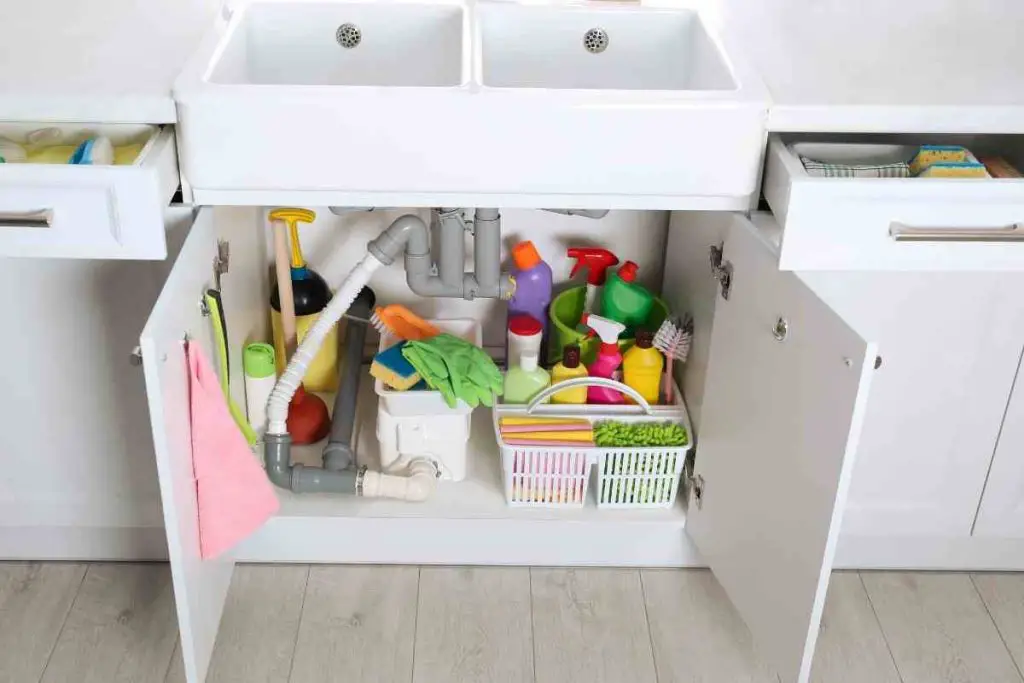 1. Use Grommets To Hang Your Gloves Or Rags From Metal Hooks
Attaching grommets to your gloves will help you hang them from metal hooks like a professional organizer. 
You can use permanent or temporary hooks. 
Drilling the hooks in is a more permanent solution. It's not a big deal as you can always use the hooks to hang something else. The only downside is that you'll end up with a hole in the cabinet door. 
How To Install a Metal Hook in the Kitchen 
You can get a handyperson to drill the hooks in for you. However, as long as you have a drill, it's a relatively easy process: 
Set your drill to clockwise rotation. 
Choose an appropriate drill bit. To ensure a good fit, the diameter of the drill bit shaft should be a little smaller than the diameter of the metal hook you'll be using. 
Connect the drill bit to the drill. 
Run the drill to make a hole. 
Set the direction of rotation to anticlockwise and run the drill to pull it out of the hole. 
Using your hand, rotate the hook into the hole. If it gets difficult, you can use a tool like a screwdriver to help turn it. 
Using Adhesive Metal Hooks
If you want a solution that you can easily undo, or you don't want holes in your kitchen cabinet door, use an adhesive hook. 
One of these FineGood Metal Utility Hooks (link to Amazon) would be an excellent option. They are made of stainless steel, so they won't rust and will last long. Also, when you want to remove them, you can use a hair dryer to heat the adhesive, and they'll easily come off.  
Unfortunately, you can't buy gloves that come with grommets. Maybe they'll start making them in the future, but you'll have to add the grommets yourself for now. 
You'll need to buy some supplies and use tools like a hammer and an eyelet tool to install the grommets. The procedure is of moderate difficulty.
2. Stick a Clothespin and Use It To Hang Your Gloves
Another simple and innovative way to hang your gloves under your sink is to use a clothespin. You probably have many clothespins at home, so you won't need to buy one. 
Additionally, instead of having to use a drill like in the first method, you can use superglue gel to stick the clothespin to the inside of your cabinet door. This is probably the cheapest and most hassle-free way to hang your gloves in the kitchen. 
You can get this high-strength Loctite Super Glue Gel (link to Amazon) at a low price. It is reliable and resistant to moisture, so you can expect your clothespin to stay stuck for long. 
For a nice aesthetic touch, you can paint the clothespin so that it matches the color of the inside of your cabinet door. 
3. Use a Binder Clip and a Command Hook 
This is another easy and visually-appealing way to hang your gloves under the sink. All you need is a binder clip and a command hook. 
One of the best advantages of this method is that it leaves no damage. You won't need to drill any holes, and unlike with super glue gel, the best types of command hooks come off clean. 
This Command Medium Wire Toggle Hook (link to Amazon) is an excellent choice for damage-free attachment. You can remove the hooks without any marks or residue. And you don't need any tools or additional adhesives like super glue gel when installing the hook. 
Binder clips are handy tools that are very easy to find. You can even get one from your home office. If you need to buy some, these cheap Dsteline Binder Clips (link to Amazon) will hold your gloves firmly and securely. 
Once you have installed the command hook, you only need to clip the gloves with the binder clips and hang them on the hook. 
4. Install a Towel Bar and Use It To Hang Your Gloves And Rags
You can install a small towel bar (or rack) in the cabinet beneath your sink and use it to hang your gloves. 
A simple towel bar consists of a horizontal metallic rod attached to the wall. You can use it to hang dish towels, but it's also convenient for hanging gloves. You just throw them onto the rod and leave them drip-drying. 
The best advantage of this method is that it doesn't only help you organize one element–your dishwashing gloves. A towel bar under your kitchen sink can provide a place for you to store other things you use in the kitchen. 
Instead of a towel bar, you can use a tension rod to achieve the same setup. You can hang all sorts of supplies and cleaning products on a tension rod, including spray bottles, towels, and gloves. You can also use a tension rod or towel bar and S-hooks to hang gloves with grommets. 
5. Use Home-Office Wall Manager Components
You can use home-office wall manager components to transform the inside of your cabinet door into a useful storage space. This will help you unlock the full potential of that vertical space and provide a convenient place to hang your dishwashing gloves. 
The Martha Stewart Home Office Wall Manager (link to Amazon) has parts that would be great for this application. You can hang the accessory board using adhesive strips. Once the board is in place, you can attach the clips you'll use to hang the gloves. 
Recommended Reading:
How To Organize a Deep Bathroom Drawer (9 Tips)
Declutter your home once and for all (Even if you have no time and don't know where to begin)! Learn More.