Whether you're in the market for a new home or looking to renovate, you have the unique opportunity to choose the type of flooring you'd like in your kitchen. In most cases, tile is ideal for kitchens, because there are multiple ways it makes cleaning easier.
Best Options for Kitchen Flooring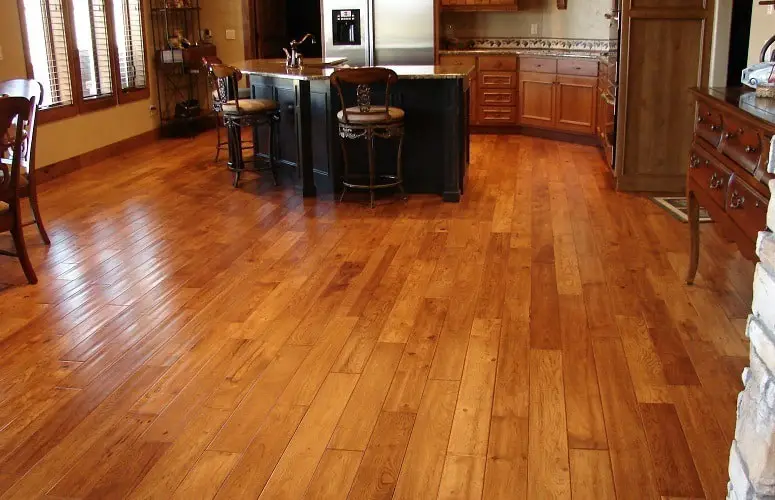 There are lots of different options for types of tile for kitchen flooring, and it's easy to feel overwhelmed if you're undertaking the endeavor of choosing. Here are a few smart choices to consider.
Dark Tile
Dark tiled floors can be an ideal option for homes in cooler regions as the tint of the flooring will attract sunlight and therefore heat. Avoid dark floors and walls if your home resides in a state with routine sun or a hotter atmosphere as it may trifle with your utility costs.
If you believe dark-colored tile is best suited for your home, there are some perks to this choice. The darker coloring is an ideal aesthetic when combined with lighter-colored cabinets or countertops as it creates contrast and invites a modern feel.
Dark tile may help hide tracked-in mud or dirt, as well, helping you keep your home cleaner-looking for a longer amount of time.
Slate Tile
Slate is another option for kitchen flooring that helps your home keep an orderly, fresh appearance. Slate look tile gives any kitchen an upscale presentation and adds interest to the eye with its textured ripples.
Due to its texture, slate floors may be more difficult to clean as dirt can become wedged in its crevices more easily than a tile with a smooth texture. However, there are tactics when using cleaning appliances to help make this issue non-existent which we will touch upon later in this article.
Wood Tile
If you're searching for a more classic appearance in your kitchen, consider wood-style tiles. A benefit of this type of flooring is that you get the look of wood floors as well as the easy functionality of tile.
Wood floors warp, stain, and splinter more easily with tile floors, requiring more frequent maintenance or attention from professionals that can result in a costly bill. Tiles that have the grain and coloration of wood keep your kitchen feeling classic and elegant without compromising your ability to efficiently clean it.
Keeping Your Kitchen Floor Spotless and Beautiful
Maintaining an unblemished kitchen is one of the more important tasks for any homeowner or renter. We spend a lot of our time in our kitchens – cooking meals to enjoy with friends and family or even just crowding around snacks while enjoying a glass of wine.
Learn how to tile a bathroom floor.
The functionality of the kitchen, as well as its ability to be a great space for entertaining, make it one of the most used rooms in a home. And due to the fact that food is handled day-in and day-out in our kitchens, there is often the need for routine cleaning.
Sweeping
Although the types of tile for kitchen flooring will vary from home to home, all require the same attention when it comes to keeping a clean, organized home. Whether it's the pesky, flaky skin of onions or garlic or the stray cracker or chip that didn't quite make it to our plates, kitchen floors end up being the destination of crumbs and dirt.
Most kitchen floors are tiled, which traditionally call for sweeping and bi-monthly mopping. And depending on the types of tile flooring, the particular household chore of cleaning the kitchen floor can be daunting and difficult. Tiles may not always be even, especially depending on the thickness of grout or if the floors are lacquered over or not.
These attributes of tile can make sweeping in general, an already difficult task, even more rough on the back and knees as it calls for you to bend and reach into awkward corners and under tables or stand-alone islands where the filth usually hides.
Mopping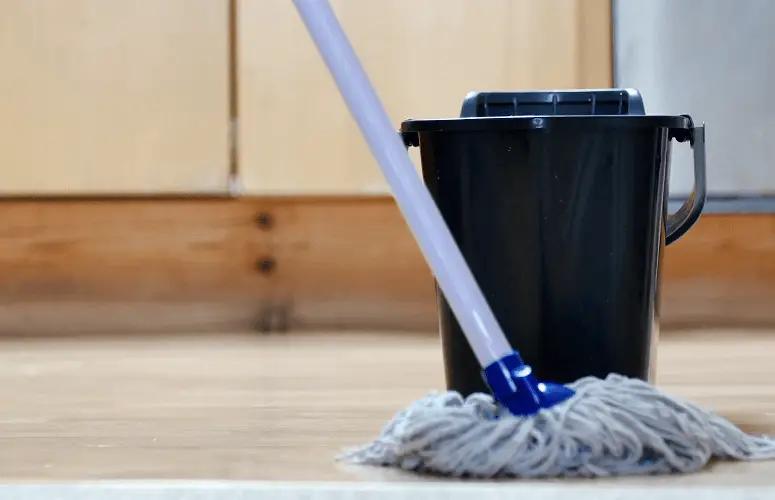 Just as sweeping calls for its enforcer to hovel over the floor and stretch under hard-to-reach areas, mopping isn't much different. Add the extra task of mixing cleaner or carrying around a heavy bucket full of water, mopping is even more troublesome.
Mopping also requires a wait time as the tile slowly dries. If not done properly, mopping can leave behind residue, a moldy scent, or a sticky film making all of that effort more than frustrating. In order to avoid these issues, following the directions on the bottle of floor cleaner is important when attending to your kitchen floors with a mop.
Vacuuming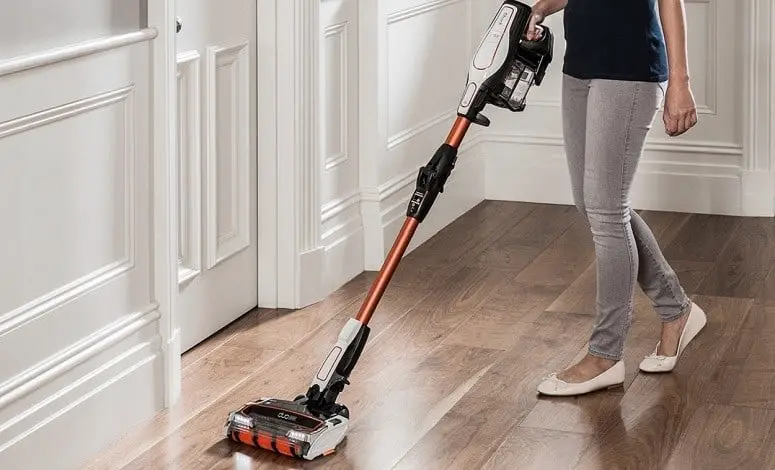 Sweeping and mopping tile floors is great for a quick spot-check before inviting company to your home, but a thorough and easier way of cleaning kitchen floors may be using a vacuum cleaner that is best for tile floors.
The modern vacuum often comes with adjustable settings to help you go from thick carpet to wood floors to tiled floors, without causing any damage.
Because vacuums use the power of suction to rid of dirt and crumbs, there's no need to worry about missing any hidden filth in the unlevel surface tile floor may have.
Vacuums with adjustable attachments can offer you a less strenuous way of cleaning under the fridge or oven, helping you reach into the deep, hidden trouble areas that can horde unknown crumbs and dirt for weeks or more.
Conclusion
Our kitchens can be the heart of our home. A place where memories are made, traditions are kept alive, and meals are shared.
Keeping this mecca for food, family, and fun clean and germ-free helps us feel more relaxed and comfortable as well as more confident and ready to show off the decor and functionality of our home to neighbors and friends.
Tile flooring is a popular choice for kitchens for many reasons, with the main reason being that it ensures maintaining a clean and beautiful home takes less time and effort.
You should also learn more about cleaning a travertine shower.
Resources
Declutter your home once and for all (Even if you have no time and don't know where to begin)! Learn More.