Shark Navigator Lift Away Professional Review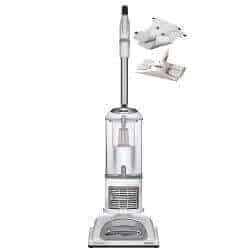 The Shark Navigator Lift-Away Professional vacuum cleaner offers a lightweight vacuum with a feature many others in its class don't have; a powerful vacuum that never loses suction! It combines the power of an upright vacuum cleaner with lightweight portability for tight spaces, stairs, and above-floor cleaning.
Shark has been producing vacuums for many years but never has there been such a strong combination of powerful suction, with their exclusive never lose suction technology, as well as decreased weight, allowing you to move and clean your home much easier than before. The Shark Navigator Lift-Away Professional really is the best Shark vacuum on the market today.
Never Lose Suction Technology
The Shark Navigator Lift-Away is one of the most powerful vacuums on the market today, and thanks to the never lose suction technology it will continue to be as powerful for many years. If you have never owned a Shark before, you will almost feel embarrassed by how much dirt comes out of your carpet!
This model also features adjustable suction which is really useful when you want to vacuum a small rug and don't want it sucked up the vacuum. The suction can be turned down on the handle, which is a really simple but innovative idea, and then turned back to full suction once the rug has been vacuumed.
Read More: Full review of the IONFlex 2x Duoclean
Lightweight, Portable Canister
At a lightweight 14 pounds, there should be no problem taking this vacuum wherever you need it; portability of cleaning has never existed like this before on an upright vacuum.
The lift-away function is where this vacuum cleaner really shines. The canister comes apart from the rest of the machine with a push of a button, this enables you to clean high or hard to reach areas with minimal fuss. It also means you can vacuum your stairs without having to wrestle a heavy upright up each stair as you try to keep your balance.
The lift-away function is also incredibly handy for getting rid of the dirt as quickly and easily as possible, you just push a button on the portable canister and the dirt falls out of the bottom and into the trash!
Features and Specifications of the Shark Navigator Lift-Away Professional
Never Loses Suction Technology
Lightweight, extra-large capacity portable canister that easily lifts away for convenient above floor and hard to reach cleaning
HEPA filter with Anti-Allergen Complete Seal Technology
Swivel steering for excellent control when maneuvering throughout the home
Dust-Away Attachment with 2 microfiber pads combines powerful suction with a soft pad to vacuum large particles and dust bare floors in one easy step
Weight – 13.7lbs
Lift-Away canister weight – 7.5lbs
Hose Length – 8.5 feet
Cord Length – 30 feet
10 amp motor
Customer Reviews and Scores
The Shark Navigator Lift-Away vacuum has an incredible 7000+ reviews on Amazon, with an amazing average score of 4.6 out of a possible 5 stars.
Almost every positive review speaks about the awesome suction power, with one reviewer saying "This vacuum absolutely sucks! And I mean literally, it does wonders on the floor!"
Another user goes on to say "Can I say this is the BEST vacuum I have ever owned! I could not believe the dirt and dust it picked up from my carpets and floor rugs. It has great suction and makes my carpets (that are 10 years old) look 100x's better!"
A few reviews mention the fact that this vacuum cleaner is quite top-heavy which means it is easy to tip over. I didn't notice it myself when I used the product, but there must be an issue if more than one person mentions the problem. One helpful reviewer has a solution to this, apparently, it is all to do with the hose placement – "There are two places to attach the suction hose, the second place is lower on the vacuum at the base. If you attach the suction hose to the lower area the vacuum no longer tips over."
All in all, the amount of positive reviews means it is very easy for me to also recommend the Shark Navigator Professional vacuum cleaner.
Final Thoughts
If you're considering purchasing the Shark Navigator Lift-Away Professional vacuum cleaner, there are a multitude of features that make cleaning your home an effortless and enjoyable task.
If you're looking for a lightweight vacuum that never loses suction, for a price that is honestly much cheaper than other companies that promise the same thing, it is definitely a product worth looking into.