Best Shark Vacuum: Which One is Right For Me in 2018?
If you have been searching for your next vacuum cleaner, then you will probably be aware that Shark is a very popular and reliable manufacturer. Shark has a number of vacuum cleaner models on the market, and they all excel at one job or another, and some excel at everything. That brings you to your next question:
Which shark vacuum is best for me?
Best Shark Vacuum Cleaners
Image
Name
Learn More
Weight (lbs)
Features

Shark Navigator Lift-Away Professional

view
prices
Read Review
13.7
Detachable lightweight canister, Never loses suction technology, Anti-Allergen Complete Seal technology + HEPA, Swivel steering for easy movement

Shark ION Robot 750

view
prices
Read Review
5.5
Wi-Fi and voice enabled, Smart sensor navigation, Low profile design, Dual-brush edge cleaning

Shark Rocket Ultra-Light Upright

view
prices
Read Review
7.6
Never loses suction technology, Lightweight with swivel steering, Versatile with lots of accessories

Shark Navigator Freestyle

view
prices
Read Review
7.5
Very powerful for a cordless, extended run time for longer cleaning, 2 speed settings for carpet and hard floors
I will give you a rundown of the top four Shark vacuums available today, and explain why they are the best. There are many more Shark models than the four on this page and most if not all will be perfectly capable of keeping your home clean. I have chosen these four on the basis of customer reviews, performance, features and price.
Top 4 Shark Vacuum Cleaners in 2018
---
Shark Navigator Lift-Away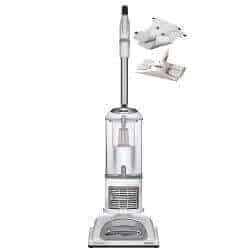 The Shark Navigator Lift-Away Professional has been the number one selling vacuum cleaner from Shark for over 5 years now. It has thousands of positive reviews on Amazon alone, with many customers saying they are glad they chose it instead of a more expensive Dyson.
Positive reviews from lots of happy customers usually indicate a very good product. The Navigator Lift-Away is no exception, and the vacuum is well built. It has a solid plastic case that will withstand daily wear and tear, and the extension hose is made from metal which is nice change from the plastic hoses on other models.
Main Features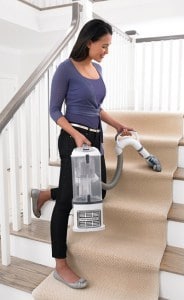 The main feature of the Shark Navigator is the Lift-Away function. This revolutionary technology allows your upright vacuum to turn into a portable canister with the touch of a button. This allows you to clean hard to reach areas, such as on top of furniture and stairs. It really is a game changer, and saves the hassle of needing different vacuums for different jobs.
Another winning feature of the Shark Navigator is the sheer amount of tools that it ships with. There is an attachment for everything, including a Dust-Away attachment for hardwood floors. The combination of the Anti-Allergen Complete Seal Technology and a HEPA filter means that 99.9% of dust and allergens are trapped inside the vacuum, making it ideal for allergy sufferers.
My Top Recommendation
If I were to recommend any vacuum, not just a Shark vacuum, it would be the Navigator Lift-Away Professional. The performance, amount of features and the versatility means that this Shark gives higher-end models, such as Dysons, a run for their money. Add in the fact that this will save you hundreds of dollars compared to those models, It really is hard to look at anything else.
---
Shark Ion Robot 750
The Shark Ion Robot 750 is the perfect, easily usable vacuum for your home. Not only does it recharge after cleaning has been completed, but it also has detail-oriented dual brushes that allow it to dig deep into surfaces.
With multiple features such as a long battery lifespan and its low-profile design, you can rest assured that it will keep your area spotless.
Enhanced Sensors
Shark has gained its stellar reputation by making high-quality vacuums for their customers that are cost and energy efficient while being aesthetically pleasing, and this robot vacuum is no different. The Shark Ion Robot 750 meets and exceeds shopper's expectations due to its enhanced sensors. It consists of multiple sensors that help it work in elevated areas and prevent it from falling off the stairs and other surfaces.
The reason why this robot vacuum is so popular is due to its functionality, and overall maintenance ability. For instance, it includes proximity sensors that can help it detect obstacles, pets, and other people in its path. It is small details like these that keep your vacuum working for the long term.
Voice Control and Wi-Fi Connectivity
Phone apps are increasing in demand when it comes to automatic robotic vacuum cleaners. Most of these are usually reserved for high-end machines. Fortunately, the Shark Ion Robot 750 Vacuum has not been forgotten in this department.
Through Shark's iPhone or Android app, you can create a strict cleaning schedule, receive maintenance alerts, and program it to spot clean your room. Also, this vacuum is compatible with Amazon Alexa and Google Home which allows you to create voice commands to start and power off the vacuum.
When using the app, you'll frequently be updated about the current status of the machine. If the Shark becomes stuck, the app will immediately notify you. You don't have to be near the vacuum to understand what's going on.
Top Navigation System
The Shark Ion Robot 750 is only 2.6 inches tall. This means that it can roll underneath mattresses, coffee tables, and mattress frames, removing dust and dirt that a standard vacuum cannot reach.
Since it weighs 5.5 pounds and has rubber gripped side wheels, it's able to go from carpets to hardwood floors without getting stuck or compromising its performance.
If you live in a limited apartment space, or your home office needs extra attention when cleaning, look into purchasing the Shark Ion Robot 750. It can thoroughly clean dirty areas without encountering any obstacles. Get this vacuum if you need a cleaning assistant that works faster than traditional vacuum cleaners.
---
Shark Rocket Ultra-Light Upright
Shark is known for producing versatile vacuum cleaners, and the Rocket Ultra-Light Upright carries on that tradition. This is a corded upright stick vacuum that converts into a handheld to clean hard to reach places. It also makes it ideal for cleaning the stairs, or giving the car a much needed spring clean.
Abundance of Attachments
Like the Navigator Lift-Away, the Rocket comes with an abundance of attachments for any situation that may arise. There is also a Dust-Away attachment for cleaning hardwood floors. It is ultra-lightweight, weighing in at just 7.9 pounds and has an extra-long cord of 30 feet.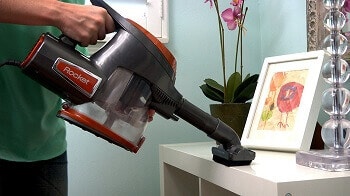 The versatility doesn't stop at the upright to handheld functionality; there is also a switch that allows you to change from hard surfaces to carpets. When the carpet setting is selected the brushroll is activated, agitating the carpet and giving a deeper clean.
Ultra-Lightweight and Extra-Long Cord
If you are trying to decide what the best Shark vacuum is and are torn between the Rocket Ultra-Light Upright and the Navigator, this would be a good option if you are after something more lightweight and easier to handle. The extra-long cord ensures that you can clean the car without using extension cables, and will also be able to clean the whole staircase without unplugging at the bottom and then plugging back in at the top.
---
Shark Navigator Freestyle Cordless Stick
The third vacuum on my list is the Navigator Freestyle Cordless Stick. The cordless feature is a big plus point and this vacuum has also been rated as the best stick vacuum for picking up pet hair. The Navigator Freestyle may not have the amount of positive reviews that the previous two models have, but it is still a very worthy member of this list.
Constant Charging
The docking station is very small and takes up no room at all. Unlike some other cordless vacuums, you can actually leave the vacuum on charge constantly and it won't ruin the battery. This means that it will always be ready when you need it, and you don't have to remember to take it off charge.
Excels on Solid Flooring
The Navigator Freestyle Cordless excels on solid floors such as hardwood and tile, and if you have pets the pet hair will be attracted to it like a magnet.  There is also a setting you can change to for cleaning carpets, and this will activate the brushroll to really get into the fibers of the carpet. In my opinion and according to a lot of the reviews it is not as good at cleaning carpets as the other two Shark models on this page. However if the cordless functionality is what clinches it for you, then this vacuum will still do a decent all round job.
---
Conclusion
All four vacuum cleaners on this page are exceptional in their own way, and they will all perform well for the job you need them for.
In my view, the best all-rounder is the Shark Navigator Lift-Away Professional. The versatility, performance, and the number of attachments coupled with a comparatively lower price tag means that I would be recommending this vacuum cleaner even if this page wasn't just about Shark vacuums. It really is that good.
If you find that you often don't have the time to vacuum, or you just really dislike vacuuming, then the Shark ION Robot 750 may be for you. It has an abundance of features and you really can just leave it to do its job, with minimal input.
If you want a lighter vacuum with a bit more portability then the Shark Rocket Ultra-Light Upright could be the model for you. The extra-long cord should enable you to clean large areas faster, and also faraway places like your car.
The Shark Navigator Freestyle Cordless Stick is a good option if you like a cordless vacuum, and also if your home has mainly solid flooring such as tile or wood.
These are my top Shark vacuum cleaner recommendations, and I hope your question: Which shark vacuum is best for me? has now been answered.
Categorised in: Vacuum Cleaners